Profit From the Core
: Growth Strategy in an Era of Turbulence - Updated
Chris Zook with James Allen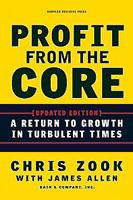 Format:
Hardcover, 192pp.
ISBN:
9781422131114
Publisher:
Harvard Business School Press
Pub. Date:
January 26, 2010
Average Customer Review:

For Bulk Orders Call: 626-441-2024

Description and Reviews
From
The Publisher:
When
Profit from the Core
was published in 2001, it became an international bestseller, helping hundreds of companies find their way back to profitable growth after the bursting of the Internet bubble. The 2007 global financial meltdown reaffirmed the perils of pursuing heady growth through untested strategies, as firms in industries from finance to retailing to automobiles strayed too far from their core businesses and suffered the consequences.
In this updated edition of
Profit from the Core
, authors Chris Zook and James Allen show that a renewed focus on the core is more critical than ever as firms seek to rebuild their competitive advantage coming out of the downturn—and that a strong core will be the foundation for successful expansion as the economy recovers. Based on more than ten years of Bain & Company research and analysis and fresh examples from firms responding to the current downturn, the book outlines what today's executives and managers need to do now to revitalize their core, identify the next wave of profitable growth, and build on it successfully.
Zook and Allen explain how companies can:
Develop a strong, well-defined core and use it to establish a leadership position
Follow the golden rule of strategy: discourage competitors from investing in your core
Assess whether your core is operating at its full potential
Uncover hidden assets in your core that provide the seeds for new growth
Find a repeatable formula to apply core business strengths in adjacent markets
Building on powerful and proven ideas to meet today's formidable business challenges,
Profit from the Core
is the back-to-basics strategy field guide no manager should be without.

Reviews
"This back-to-basics book couldn't have come at a better time for CEOs and managers of 'old economy' and 'new economy' companies looking for growth. Their focus should be on expanding and innovating in and around their core business, rather than on chasing whatever the capital markets view as the current hot business model."
—Brook Byers, Venture Capitalist, Kleiner Perkins Caufield & Byers
"Anyone who has built a successful business knows that these core business concepts are central to sound strategy. Core business theory and value creation are inseparable twins."
—James L. Vincent, Chairman of the Board, Biogen, Inc.
"The authors make a compelling argument for sustainable, profitable growth. They bring a refreshing approach to corporate strategy, arguing that the job of CEO isn't to adopt the latest fad du jour from business gurus, but rather to focus on creating a winning business."
—Mark Wössner, Former President and CEO of Bertelsmann AG
"Striking the right balance between focusing on your core business and expanding into new areas has never been more challenging. Zook and Allen provide extremely helpful tools, frameworks, and case studies for navigating strategic choices in a turbulent business environment."
—Debra Dunn, Vice President, Strategy and Corporate Operations, Hewlett-Packard
"Zook and Allen remind us that, in the long run, very few companies achieve sustained and profitable growth. To make yours one of them, heed these lessons."
—David S. Pottruck, President and Co-CEO, The Charles Schwab Corporation

About the Authors
Chris Zook
is Director and Head of the Worldwide Strategy Practice for Bain & Company.
James Allen
, formerly a Director of Bain's Worldwide Strategy Practice, is CEO of eVolution Global Partners, a venture capital firm founded by Kleiner Perkins Caufield & Byers, Bain, and the Texas Pacific Group.

Table of Contents
| | | |
| --- | --- | --- |
| | Preface | vii |
| | Acknowledgments | xiii |
| 1 | Desperately Seeking Growth | 1 |
| 2 | The Profitable Core | 23 |
| 3 | The Alexander Problem | 61 |
| 4 | The Redefinition Dilemma | 109 |
| 5 | Growing from the Core | 147 |
| | Notes | 155 |
| | Bibliography | 161 |
| | Index | 171 |
| | About the Authors | 185 |