Who Said So?
the Questions Revolutionary Businesses Ask That Make Them Successful
Michael E. Parker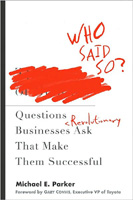 Format:
Hardcover, 208pp.
ISBN:
9780470212806
Publisher:
Wiley
Pub. Date:
January 28, 2008
Average Customer Review:

For Bulk Orders Call: 626-441-2024

Description and Reviews
From
The Publisher:
A narrative introduction to the powerful Value-Centered Management methodology
In
Who Said So?
, Michael E. Parker introduces the unique leadership philosophy known as Value-Centered Management. Using the exciting, creative format of a
business narrative
, the book contrasts the familiar pains of traditional business management styles with the Value-Centered methodology by contrasting father and son managers and their different philosophies. The story follows an MBA graduate who is assigned the tough task of retaining an important, yet dissatisfied client. Filled with doubt and frustration, he turns to his father, whose unique management philosophy helps begin a journey of business discovery. Along the way, the reader learns the importance of determining what customers truly value, building a customer-driven culture that focuses on those key values, and implementing money-saving Lean principles.
Who Said So?
is a business story that will transformthe way you serve all your clients and accounts. Using a compelling fictional narrative that contrasts the different management styles of a father and son, it introduces a revolutionary management philosophy called Value-Centered Management.
Value-Centered Management is a customer-focused approach that leads to amazing results that will pleasantly surprise even the most jaded manager or success-minded business professional. In
Who Said So?
, you'll follow John, a successful yet frustrated team manager, as he discovers and implements this new and revolutionary management style in order to save his biggest client—and his career.
What John discovers changes his entire perspective on management and business. While tradition divides our businesses into different departments with different goals and motivations, Value-Centered Management unites an organization behind one goal—giving customers exactly what they value. Like John, you might think you have to do things the traditional way in order to succeed, but who said so? If a business isn't focused exclusively on customers, what is it focused on?
Who Said So?
answers these questions and more. It shows you how to find out what your customers truly value and do what it takes to give it to them. It's an aggressive and effective way to build an organization solely around what your customers want most. As this dramatic business fable unfolds, you'll discover the courage it takes to look at your organization from a value-centered perspective and learn all the steps to rebuild your business with the customer at the center.
Who Said So?
is a
novel
, but one that imparts important and valuable business insight. Step inside and meet John, a manager—perhaps just like you—who has to do something radical to save his most important account. Does he have what it takes to seek out what his customer truly values and then deliver it?
DO YOU?

About the Author
Michael E. Parker
is President and CEOof Stellar Enterprise. Previously, he worked for Toyota, implementingLean principles through-out the company's North American operations. He frequently delivers seminars on Lean management to companies outside of the manufacturing arena and is the founder of the Value-Centered Management Institute.

Table of Contents
| | | |
| --- | --- | --- |
| | Contents | |
| | Forerword by Gary Convis | |
| | ntroduction | |
| | | |
| 1 | Is This As Good As It Gets? | |
| 2 | Isn't There A Better Way? | |
| 3 | How Can I Be Sure To Deliver What My Customers Value? | |
| 4 | When's The Last Time I Had My Heart Checked? | |
| 5 | Lean Management Is For Manufacturing, Right? Wrong | |
| 6 | Finally a Structure that puts the Customer Where They Belong, at the Top | |
| 7 | From A Traditional Organization To A Value-Centered Organization; Now, How Do You Stay Healthy? | |
| 8 | How Some Companies Just Keep Getting Better | |
| | Epilogue | |

Find Items On Similar Subjects

Hard Facts, Dangerous Half-Truths And Total Nonsense
: Profiting From Evidence-Based Management

Smart Questions
: Learn to Ask The Right Questions for Powerful Results