The Organization of the Future 2
: Visions, Strategies, and Insights on Managing in a New Era
Edited by Frances Hesselbein and Marshall Goldsmith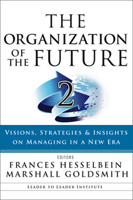 Format:
Paperback, 368pp.
ISBN:
9781119009375
Publisher:
Jossey-Bass
Pub. Date:
February 3, 2009
Average Customer Review:

For Bulk Orders Call: 626-441-2024

Description and Reviews
From
The Publisher:
The Organization of the Future 2
builds on the success of first bestseller, offering insightful wisdom on the most important issues facing any organization today and into the future.
With twenty inspiring chapters, this book celebrates the wisdom of some of the most recognized thought leaders of our day, emerging and established experts who share their unique vision of what the organization of the future should look like and must do to survive in the 21st Century.
Major changes have occurred in the world of Organizations since 1997. Not since the Industrial Revolution has the speed of development been so fast or have the environments organizations operate in been so turbulent. At the end of the 20th Century, globalization and the development of the electronic world and the impact of all of this on our societies and how we work, was just becoming evident. Now that we are firmly in the 21st Century, new realities and the future is a bit more clear. Multinational mega organizations, like Walmart and Microsoft, have emerged and in some industries there has been major consolidation through mergers and acquisitions yet at the same time some smaller and midsized companies have flourished. New models like dispersed leadership and management have blossomed with outstanding success. In many cases, we have moved way beyond the ideas of horizontal or flat organizations. Focusing on working better as teams and empowering staff closest to customers to make important decisions has also resulted in unfounded success. Many pyramids have been turned upside down but some organizations still hold on to old ways and they are in danger of distinction in the new world order.

About the Editors
Frances Hesselbein
is the founding president and current chairman of the Board of Governors of the Leader to Leader Institute and editor in chief of its journal Leader to Leader. She served as CEO of the Girl Scouts of the USA and was awarded the Presidential Medal of Freedom, the highest civilian honor in the United States. In addition, she has been awarded honorary doctoral degrees from 20 colleges and universities
Marshall Goldsmith
has been recognized by the American Management Association as one of 50 great thinkers who have influenced the field of management and by BusinessWeek as one of the most influential practitioners in the history of leadership development. In addition to The Leader of the Future 2, Dr. Goldsmith is the author or coeditor of 22 books including the best-seller, What Got You Here Won't Get You There.
Established in 1990 as the Peter F. Drucker Foundation for Nonprofit Management, the Leader to Leader Institute furthers its mission—to strengthen the leadership of the social sector—by providing social sector leaders with essential leadership wisdom, inspiration, and resources to lead for innovation and to build vibrant social sector organizations.

Table of Contents
| | | |
| --- | --- | --- |
| | | |
| | Preface (Frances Hesselbein) | |
| | Introduction (Marshall Goldsmith) | |
| | | |
| | PART ONE: STRATEGY AND VISION: SETTING THE DIRECTION OF THE ORGANIZATION OF THE FUTURE | |
| 1 | Outsmart Your Rivals by Seeing What Others Don't (Jim Champy) | |
| 2 | Organization Is Not Structure but Capability (Dave Ulrich and Norm Smallwood) | |
| 3 | The Leader's Mandate: Create a Shared Sense of Destiny (James M. Kouzes and Barry Z. Posner) | |
| 4 | A Different Kind of Company (Srikumar S. Rao) | |
| 5 | Free to Choose: How American Managers Can Create Globally Competitive Workplaces (James O'Toole) | |
| 6 | Managing the Whole Mandate for the Twenty-First Century: Ditching the Quick-Fix Approach to Management (Paul Borawski and Maryann Brennan) | |
| | | |
| | PART TWO: ORGANIZATIONAL CULTURE: VALUES, EMOTIONS, HOPE, ETHICS, SPIRIT, AND BEHAVIOR | |
| 7 | The Values That Build a Strong Organization (Thomas J. Moran) | |
| 8 | Revisiting the Concept of the Corporation (Charles Handy) | |
| 9 | Mobilizing Emotions for Performance: Making the Most of the Informal Organization (Jon R. Katzenbach and Zia Khan) | |
| 10 | Beyond Retirement: Mature Workers Are Essential Talent for Organizations of the Future (Richard J. Leider) | |
| 11 | The Best Hope for Organizations of the Future: A Functioning Society (Ira A. Jackson) | |
| 12 | Reframing Ethics, Spirit, and Soul (Lee G. Bolman and Terrence E. Deal) | |
| 13 | Environment Drives Behavior and Expectations (Bill Strickland with Regina Cronin) | |
| | | |
| | PART THREE: DESIGNING THE ORGANIZATION OF THE FUTURE | |
| 14 | Dynamic Organizations for an Entrepreneurial Age (Christopher Gergen and Gregg Vanourek) | |
| 15 | Multidimensional, Multinational Organizations of the Future (Jay R. Galbraith) | |
| 16 | Designing Organizations That Are Built to Change (Edward E. Lawler III and Christopher G. Worley) | |
| 17 | Refounding a Movement: Preparing a One-Hundred-Year-Old Organization for the Future (Kathy Cloninger) | |
| 18 | Three Challenges Facing Nonprofits of the Future: People, Funding, and Strategy (Roxanne Spillett) | |
| 19 | Pioneering the College of the Future: Building as We Walk (Darlyne Bailey) | |
| | | |
| | PART FOUR: WORKING TOGETHER | |
| 20 | The Organization of the Future Will Foster an Inclusive Environment (Lee Cockerell) | |
| 21 | The Leader as Subculture Manager (Edgar H. Schein) | |
| 22 | The New High-Performance, Horizontal Organization (Howard M. Guttman) | |
| | | |
| | PART V: LEADERSHIP | |
| 23 | The Leadership Blueprint to Achieve Exponential Growth (David G. Thomson) | |
| 24 | Leadership Judgment: The Essence of a Good Leader (Noel M. Tichy and Christopher DeRose) | |
| 25 | The Leader of the Future (William A. Cohen) | |
| 26 | Leadership by Perpetual Practice (Debbe Kennedy) | |
| | | |
| | Index | |

Find Items On Similar Subjects

The Leader of the Future
: New Visions, Strategies, and Practices for the Next Era • P