The Student Leadership Challenge
: Five Practices for Becoming an Exemplary Leader / 3rd Edition
James M. Kouzes and Barry Z. Posner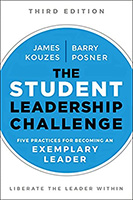 Format:
Paperback, 336 pp.
ISBN:
9781119421917
Publisher:
Jossey-Bass
Pub. Date:
3rd edition March 7, 2018
Average Customer Review:

For Bulk Orders Call: 626-441-2024

Description and Reviews
From
The Publisher:
LIBERATE THE LEADER WITHIN
Do you think of yourself as a leader? In this updated andexpanded second edition of The Student Leadership Challenge,James Kouzes and Barry Posner apply their extensive research andexpertise to demonstrate that anyone can be a leader, regardless ofage or experience. They challenge high school and undergraduatecollege students to examine their own leadership actions andaspirations. In this book, you'll learn from first-handleadership stories from young leaders like yourself around theworld, helping you to deeply explore and understand The FivePractices of Exemplary Leadership®:
Model the Way
Inspire a Shared Vision
Challenge the Process
Enable Others to Act
Encourage the Heart
Framed within these Five Practices, the authors guide youthrough the concrete actions you can take to become an exemplaryleader, from finding your voice and clarifying your own values, torecognizing others' contributions and celebrating theirvictories. They ask you to reflect at the end of each chapter onyour own leadership experiences and abilities now and for thefuture. This new edition also includes an access code so you cantake the Student Leadership Practices Inventory® Self Online,a brief, 30-question assessment to help you explore your ownleadership behavior and determine the steps you can take toliberate the leader within and become your best self.

Reviews
"Employers are looking for students who have contentknowledge and practical experience working in teams and leadingothers. The Student Leadership Challenge is an excellentexample of the behaviors needed to accomplish extraordinary tasksthat can get you noticed by a potential employer."
—Kevin Bailey, vice president for student affairs,University of West Florida"

About the Authors
James M. Kouzes
is Dean's Executive Professor of Leadership, Leavey School of Business, Santa Clara University.
Barry Z. Posner, Ph.D.
is Dean of the Leavey School of Business at Santa Clara University. Kouzes and Posner are the coauthors of
A Leader's Legacy, Credibility, Encouraging the Heart
, and
The Leadership Challenge Workbook
, and over a dozen other books and workbooks on leadership and leadership development. They also developed the highly acclaimed Leadership Practices Inventory (LPI) and LPI Online, 360-degree assessment tools based on the Five Practices.

Table of Contents
Preface: Making Extraordinary Things Happen with Others xi
1 Introduction: When People Are at Their Best as Leaders 3
The Five Practices of Exemplary Leadership
PRACTICE 1: MODEL THE WAY
2 Commitment #1: Clarify Values 22
Find Your Voice
Affirm Shared Values
3 Commitment #2: Set the Example 40
Live the Shared Values
Teach Others to Model the Values
PRACTICE 2: INSPIRE A SHARED VISION
4 Commitment #3: Envision the Future 66
Imagine the Possibilities
Find a Common Purpose
5 Commitment #4: Enlist Others 89
Appeal to Common Ideals
Animate the Vision
PRACTICE 3: CHALLENGE THE PROCESS
6 Commitment #5: Search for Opportunities 114
Seize the Initiative
Exercise Outsight
7 Commitment #6: Experiment and Take Risks 136
Generate Small Wins
Learn from Experience
PRACTICE 4: ENABLE OTHERS TO ACT
8 Commitment #7: Foster Collaboration 164
Create a Climate of Trust
Facilitate Relationships
9 Commitment #8: Strengthen Others 186
Enhance Self-Determination
Coach for Competence and Confi dence
PRACTICE 5: ENCOURAGE THE HEART
10 Commitment #9: Recognize Contributions 212
Expect the Best
Personalize Recognition
11 Commitment #10: Celebrate the Values and the Victories 234
Create a Spirit of Community
Get Personally Involved
12 A Call to Action for Young Leaders 257
Your Continuing Leadership Journey
Acknowledgments 269
About the Authors 273
Index 277




Find Items On Similar Subjects



The Leadership Challenge: Sixth Edition