Launching a Leadership Revolution
: Mastering the Five Levels of Influence
Chris Brady and Orrin Woodward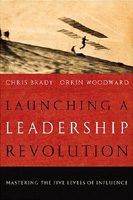 Format:
Hardcover, 288pp.
ISBN:
9780446580717
Publisher:
Business Plus
Pub. Date:
October 22, 2007
Average Customer Review:

For Bulk Orders Call: 626-441-2024

Description and Reviews
From
The Publisher:
Sooner or later, we are all called to lead in some capacity. Leadership skills are vital in corporate settings, small businesses, church or community organizations, and even within the home. Chris Brady and Orrin Woodward have recognized this need and have jointly created an in-depth, step-by-step guide for developing leadership skills.
Utilizing an abundance of historical examples, the authors have developed a unique 5-step plan that charts a course for creating and maintaining strong leadership in any organization. The plan guides the reader through the "Five Levels of Influence":
Learning: a leader must be able to learn from anyone
Performing: perservere through failure to find success
Leading: extend your ability by expanding your team
Developing Leaders: learn to trust your people
Develop Leaders who Develop Leaders: create a legacy
This book is full of prescriptive advice, quotes and anecdotes that illustrate their principles.

Reviews
Brady and Woodward offer a detailed examination of what defines a leader, the qualities necessary to fulfilling the role and the common path previous leaders have traveled toward achieving personal greatness. Initially self-published, this effort follows up the duo's earlier bestselling effort, Leading the Consumer Rebellion. Contending that each of us has a natural wellspring of talent and ability buried within and will eventually be thrust into a moment requiring leadership skills, they lay the groundwork for being prepared to perform when that opportunity arises. The leadership concepts are strengthened by anecdotes like one involving the New England Patriot's quarterback Tom Brady, who led his team to three Super Bowl wins despite a resounding lack of confidence in his ability to do so. But quotes on leadership from sources as diverse as Mark Twain and golfer Tiger Woods, often three and four to a paragraph, can get distracting. The authors also occasionally get carried away with charting their concepts and awkward metaphors (e.g., driving against the traffic of mediocrity; avoiding the shoulder of frustration). But overall, this manual is one from which any potential leader—whether of a country, corporation or a small staff—could draw insight. (Oct. 22)
—Publishers Weekly, Copyright © Reed Business Information, a division of Reed Elsevier Inc. All rights reserved.

About the Author
Chris Brady
lives in Florida.
Orrin Woodward
lives in Michigan.

Customer Reviews
Write your own online review
.

A great college level text book on leadership!
October 22, 2007
Reviewer: Bruce Oliver from Connecticut, United States
Launching a Leadership Revolution is a book that I recommend for everyone interested in developing their leadership skills. It is the most in depth, thought provoking book on leadership that I've read in years. Normally I read a book in one to two days but this took me a week. As a former business college professor I'd use it as a text book for business schools conducting courses on leadership and ethics. Whether you are the owner of a company, work for a company or if you are self-employeed, you will benefit from the book. It is meant for all who have individual or organizational goals and need help developing the infrastructure to achieve an end that is mutually beneficial to all involved.

Leadership Development at its best!
October 7, 2007
Reviewer: TJ Tucker from Manhattan, NY. United States
Launching a Leadership Revolution is the most practical application of personal and organizational leadership development available in today s leadership-starved world. The extensive leadership experience of the authors has convinced them that ...most people (and their organizations) have much more potential locked away inside of them then they realize. Leadership is the key that opens the lock on that potential. Whether your focus is in the home, school, your church, corporate setting, athletics, or even government service, this foundational leadership guide will assist anyone in raising the level of his or her influence. As the authors so simply pen, studying the Five Levels of Influence clears the fog, maps the journey, and allows the aspiring leader to see farther into his own future. Launching a Leadership Revolution is a must-read for every leader, aspiring and seasoned.

Find Items On Similar Subjects

Tribal Leadership
: Leveraging Natural Groups to Build a Thriving Organization