Tribal Leadership
: Leveraging Natural Groups to Build a Thriving Organization
Dave Logan, John King and Halee Fischer-Wright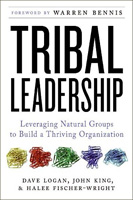 Format:
Hardcover, 320pp.
ISBN:
9780061251306
Publisher:
Collins
Pub. Date:
January 22, 2008
Average Customer Review:

For Bulk Orders Call: 626-441-2024

Description and Reviews
From
The Publisher:
It's a fact of life: birds flock, fish school, people "tribe."
Every company, indeed every organization, is a tribe, or if it's large enough, a network of tribes—groups of 20 to 150 people in which everyone knows everyone else, or at least knows of everyone else. Tribes are more powerful than teams, companies, or even CEOs, and yet their key leverage points have not been mapped—until now. In
Tribal Leadership
, Dave Logan, John King, and Halee Fischer-Wright show leaders how to assess their organization's tribal culture on a scale from one to five and then implement specific tools to elevate the stage to the next. The result is unprecedented success.
In a rigorous eight-year study of approximately 24,000 people in over two dozen corporations, Logan, King, and Fischer-Wright refine and define a common theme: the success of a company depends on its tribes, the strength of its tribes is determined by the tribal culture, and a thriving corporate culture can be established by an effective tribal leader.
Tribal Leadership
will show leaders how to employ their companies' tribes to maximize productivity and profit: the authors' research, backed up with interviews ranging from Brian France (CEO of NASCAR) to "Dilbert" creator Scott Adams, shows that over three quarters of the organizations they've studied have tribal cultures that are merely adequate, no better than the third of five tribal stages.
Leaders, managers, and organizations that fail to understand, motivate, and grow their tribes will find it impossible to succeed in an increasingly fragmented world of business. The often counterintuitive findings of
Tribal Leadership
will help leaders at today's major corporations, small businesses, and nonprofits learn how to take the people in their organization from adequate to outstanding, to discover the secrets that have led the highest-level tribes (like the team at Apple that designed the iPod) to remarkable heights, and to find new ways to succeed where others have failed.

Reviews
The authors, management consultants and partners of JeffersonLarsonSmith, offer a fascinating look at corporate tribes—groups of 20–150 people within a company that come together on their own rather than through management decisions—and how executives can use tribes to maximize productivity and profit. Drawing upon research from a 10-year study of more than 24,000 people in two dozen organizations, they argue that tribes have the greatest influence in determining how much and what quality work gets done. The authors identify the five stages of employee tribal development—Life sucks, My life sucks, I'm great and you're not, We're great and Life is great—and offer advice on how to manage these groups. They also share insights from the health care, philanthropic, engineering, biotechnology and other industries and include key points lists for each chapter. Particularly useful is the Tribal Leader's Cheat Sheet, which helps determine and assess success indicators. Well written and enlightening, this book will be of interest to business professionals at all levels.
—Publishers Weekly, Copyright © Reed Business Information, a division of Reed Elsevier Inc. All rights reserved.

About the Authors
Dave Logan
is cofounder and senior partner of the management consulting firm CultureSync, a consulting firm specializing in strategy, cultural design, and high performance. A professor at USC's Marshall School of Business, he is a former associate dean, and holds a PhD in organizational communication from USC. A frequent keynote speaker, he has worked with groups as diverse as Fortune 500 companies, universities, non profits, and high tech start-ups. He and his wife, Harte, live in Los Angeles.
John King
is cofounder and senior partner of CultureSync. A frequent international speaker, he is part of the leadership development team at Sierra Health Foundation and is on the faculty of several corporate universities and the California Leadership Institute. The over 25,000 graduates of his training programs have gained worldwide success and appeared on all national media. John lives in Marina del Ray, California.
Halee Fischer-Wright
is a partner of CultureSync, focusing on healthcare, education, high tech and financial services. Also a practicing physician, faculty member at the University of Colorado School of Medicine, and president of a 400-physician group, her work focuses on creating cultures that inspire excellence. She received her MD from the University of Colorado, and her business masters from USC. She and her husband, Michael, live in Denver.

Table of Contents
| | | |
| --- | --- | --- |
| | Acknowledgements | ix |
| | Foreword | xiii |
| | | |
| | Part I: The Tribal Leadership System | |
| 1 | Corporate Tribes | 3 |
| 2 | The Five Tribal Stages | 11 |
| 3 | The Tribal Leadership Navigation System | 34 |
| | | |
| | Part II: Your Journey as a Leader: Leading Others Through the Stages | |
| 4 | Stage 1: On the Verge of a Meltdown | 41 |
| 5 | Stage Two: Disconnected and Disengaged | 53 |
| 6 | Stage Three: The Wild, Wild West | 76 |
| 7 | The Tribal Leadership Epiphany | 108 |
| 8 | Stage Four: Establishing Tribal Leadership | 130 |
| | | |
| | Part III: Owning Tribal Leader: Stabilizing Stage Four | |
| 9 | Core Values and a Noble Cause | 151 |
| 10 | Triads and Stage Four Networking | 183 |
| 11 | A Tribal Leader's Guide to Strategy | 206 |
| | | |
| | Part IV: Toward Vital Work Communities (Stage Five) | |
| 12 | Early Stage Five: Life Is Great | 239 |
| | | |
| | Appendix A: A Tribal Leader's Cheat Sheet | 253 |
| | Appendix B: The Story of Our Research | 265 |
| | Appendix C: How to Reach Us | 281 |
| | Index | 285 |

Find Items On Similar Subjects

Tribes
: We Need You to Lead Us