The Mirror Test
: Is Your Business Really Breathing?
Jeffrey W. Hayzlett with Jim Eber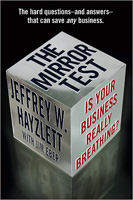 Format:
Hardcover, 256pp.
ISBN:
9780446559829
Publisher:
Business Plus
Pub. Date:
May 5, 2010
Average Customer Review:

For Bulk Orders Call: 626-441-2024

Description and Reviews
From
The Publisher:
Jeff Hayzlett is a big, boisterous guy who has the guts to get in your face and tell you exactly why your business isn't doing well. In short, he asks the questions that most business managers are afraid to ask. And as Jeff points out, if you aren't willing to look at what's working and what isn't - and then take the necessary steps to fix them -- well, you and your colleagues and employees are in for a tough ride.
Known for his outspoken appearances on numerous TV reality shows, Hayzlett has built his career on having the ability to get his people to look up and pay attention to the problems at hand. THE MIRROR TEST will teach readers -- through entertaining and timely anecdotes -- how to thoughtfully yet aggressively evaluate, deconstruct, and then reconstruct one's business..
In his unique, confrontational manner, Hayzlett will coach small business owners and managers on topics such as:
Give your business the mirror test - is your company really breathing?
Here's how you and your company must adapt...or die.
The bottom line of your business really is... your bottom line. You have to focus on it.
Hayzlett's big booming approach is direct and to the point, but done so with a smile on his face. Chock full of inspirational business stories and insights from his own career, Hayzlett and THE MIRROR TEST comprise a force to be reckoned with.

About the Author
Jeff Hayzlett
is the chief marketing officer for Kodak. He has 25 years of international marketing and management experience and has received numerous global awards and honors, including the Frost & Sullivan Lifetime Achievement Award for marketing. He is currently chairman of the board of directors of the Business Marketing Association (BMA), a member of the board of directors of the Electronic Document Systems Foundation (EDSF), a member of the advisory board of the CMO Council and serves as chairman of SMEI's Foundation for Marketing Education. He is also a permanent trustee to the SMEI Academy of Achievement Sales and Marketing Hall of Fame.
Jim Eber
is a veteran business management writer who has worked for various publishing houses, including Workman.

Find Items On Similar Subjects

Running the Gauntlet
: Essential Business Lessons to Lead, Drive Change, and Grow Profits