Running the Gauntlet
: Essential Business Lessons to Lead, Drive Change, and Grow Profits
Jeffrey W. Hayzlett and Jim Eber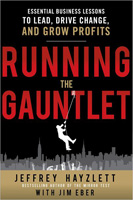 Format:
Hardcover, 256pp.
ISBN:
9780071784092
Publisher:
McGraw-Hill
Pub. Date:
December 13, 2011
Average Customer Review:

For Bulk Orders Call: 626-441-2024

Description and Reviews
From
The Publisher:
Change your ATTITUDE. Change your BUSINESS. Change your FUTURE.
What's stopping you from making the changes your business needs to thrive? The most dangerous move in business is the failure to make a move at all. The history of business is filled with companies that are no more because their leaders refused to enact change when the writing was on the wall. Fear. Apathy. Lack of personal responsibility. These simple human flaws can turn a good company into a dead company.
The writing on the wall has never been clearer than it is now—and marketing phenomenon Jeffrey Hayzlett is on a mission to make you see it, understand it, and heed it. Today's business environment is so competitive and volatile that you can't afford to be satisfied with business as usual. You must make changes now to compete in the future.
Building on the principles and concepts in his first book The Mirror Test, Hayzlett takes you on a step-by-step journey to:
Develop a "takeover mentality" for your business
Summon the vision and courage necessary for driving change
Sharpen the mental and emotional toughness to make strategic, lasting change
Execute the right changes and deal with any disruptions they might cause
Sustain and manage your company's new-found momentum
Change is already happening all around you—to products, to organizations, to entire industries. Eventually, it will happen to your company, whether from outside forces or your own initiative.
You've always had the ability to institute positive change in your company. Now, with Running the Gauntlet, you have the inspiration and knowledge to make it happen and take control of it—instead of letting it control you.

Reviews
"If the shoe fits, wear it! Jeff's advice fits any hard-charging business owner and leader."
—Tony Hsieh, New York Times bestselling author of Delivering Happiness and CEO, Zappos.com
"I've seen a lot of sharks, and Hayzlett's advice comes like a Hammerhead. He can smell blood from a mile away, so when Hayzlett jumps in big waters, some sharks have to jump out."
—Daymond John, founder and CEO, FUBU, and star of ABC's business show Shark Tank
"If Jeff were a wine, it would be strong, sassy, and bold - just like his savvy business advice. This is a wine you want to open again and again."
—Gary Vaynerchuk, co-founder, Vaynermedia.com
"Running the Gauntlet just played the Trump Card. This book is terrific!"
—Ivanka Trump, EVP Trump Organization
"It's time someone grabs you (and your business) by the shirt collar and shakes you! Strap on your chaps—business celebrity Jeff Hayzlett is going to take you on a rough-and-tumble ride that just might change the life of your business forever. Muster the courage and buy this book!"
—Darren Hardy, Publisher, SUCCESS magazine, and bestselling author of The Compound Effect

About the Authors
Jeffrey Hayzlett
is the author of the bestselling business book The Mirror Test, a former Fortune 100 C-Suite Executive, and a leading business expert. Jeffrey has made multiple media appearances on Fox Business, MSNBC's Your Business, and NBC's Celebrity Apprentice with Donald Trump. From small business to international corporations, he puts his extraordinary entrepreneurial skills and creativity into play, launching ventures blending his leadership perspectives, insights into professional development, mass marketing prowess, and affinity for social media.
Jim Eber
is a veteran business marketing writer who has worked with many companies and publishing houses. This is his second book with Jeff.

Find Items On Similar Subjects

The Mirror Test
: Is Your Business Really Breathing?