Make the Impossible Possible
: One Man's Crusade to Inspire Others to Dream Bigger and Achieve the Extraordinary
Bill Strickland with Vince Rause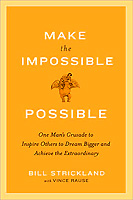 Format:
Paperback, 240pp.
ISBN:
9780385520553
Publisher:
Broadway Business
Pub. Date:
October 30, 2009
Average Customer Review:

For Bulk Orders Call: 626-441-2024

Description and Reviews
From
The Publisher:
"Success is the point where your most authentic talents, passion, values, and experiences intersect with the chance to contribute to some greater good." --Bill Strickland
According to MacArthur Fellowship "genius" award winner Bill Strickland, a successful life is not something you simply pursue, it is something that you create, moment by moment. It is a realization Strickland first came to when, as a poor kid growing up in a rough neighborhood of Pittsburgh, he encountered a high school ceramics teacher who took him under his wing and went on to transform his life.
Over the past thirty years, Bill Strickland has been transforming the lives of thousands of people through the creation of Manchester Bidwell, a jobs training center and community arts program. Working with corporations, community leaders, and schools, he and his staff strive to give disadvantaged kids and adults the opportunities and tools they need to envision and built a better, brighter future.
Strickland believes that every one of us has the potential for remarkable achievement. Every one of us can accomplish the impossible in our lives if given the right inspiration and motivation to do so. We all make ourselves "poor" in one way or another when we accept that we are not smart enough, experienced enough, or talented enough to accomplish something. Bill Strickland works with the least advantaged among us, and if he can help them achieve the impossible in their lives, think what each of us can do.
Among Bill Strickland's beliefs:
People are born into this world as assets, not liabilities.
It's all in the way we treat people (and ourselves) that determines a person's outcome
The sand in the hourglass flows only one way.
Stop going through the motions of living--savor each and every day. Life is here and now, not something waiting for you in the future.
You don't have to travel far to change the life you're living.
Bill grew up in the Pittsburgh ghetto, four blocks from where he came to build one of the foremost job training centers in the world. He now speaks before CEOs and political leaders, church congregations and civic leaders. You only need to change your thinking to remake your world.
Through lessons from his own life experiences, and those of countless others who have overcome their circumstances and turned their lives around, Make the Impossible Possible shows how all of us can build on our passions and strengths, dream bigger and set the bar higher, achieve meaningful success and help mentor and inspire the lives of others.

Reviews
"Passionate. Inspirational. Hopeful. Optimistic. Powerful. Compelling. And most important— it works . . . Here is the cure to what ails this country. Take it home. Read it. Then live it."
—Alan M. Webber, founding editor, Fast Company magazine
"Bill Strickland is a genius, because he sees the inherent genius in everyone. Bill's ability to inspire hope is powerful, universal, and world changing. Make the Impossible Possible will show you how you can achieve even your wildest dreams. Bravo!"
—Jeff Skoll, first president of eBay, founder and chairman, Skoll Foundation
"I have lived a jazz life for the better part of my 95 years, but it was not until I read Bill's book that I truly understood the influence that jazz has had on my success.…Kudos to Bill who has not only put into words what I have always felt in my heart, but who has also laid out a path that others can follow."
—John Levy, NEA Jazz Master, manager of Cannonball Adderley, Wes Montgomery, Joe Williams, Nancy Wilson, and many others.
"We often hear the word inspire, likely allowing it to pass and not sink in our psyche. However we often will never forget things that inspire us. A visit to see Bill Strickland's concept in Pittsburgh was one of those events for me. Now you can read about how he was driven to build it."
—Jim Hackett, President and CEO, Steelcase, Inc.
"Are you yearning to pursue what others say is an unrealistic or impractical dream? This is the book for you. By telling his remarkable story, Bill Strickland shows us that an impossible notion is just an idea nobody had the guts to try. With great flair and amazing range—you'll read about jazz, pottery, airplanes, even orchids!—he reveals how each of us can change our part of the world. Like the man who wrote it, this book is inspired and inspiring."
—Daniel H. Pink, New York Times bestselling author of A Whole New Mind
"Bill Strickland could sell anything . . . Read this book and you'll understand why he is such an inspiration to practicing and aspiring entrepreneurs."
—James Heskett, Harvard Business School
"This is a provocative tale of meaning and substance about Bill Strickland's life and endeavors. At its heart, it's a story about greatness -- and the relentless pursuit of making the world a better place. One person. One town. One moment at a time. As we read it, it's humbling -- could we ever dare attempt something as profound as Bill has? His message on this point is quite clear: Within each of us is this greatness to be unleashed."
—Keith Yamashita, Chairman, Stone Yamashita Partners
"One of the most innovative social enterprise thinkers I have ever met. The 'Strickland' thought process is that of a highly trained jazz musician, coupled with a keen business sense . . . He is definitely one of my major heroes."
—Quincy Jones

About the Author
Bill Strickland
is president and CEO of Manchester Craftsmen Guild and Bidwell Training Center. Manchester Craftsmen's Guild today offers programs in ceramics, photography, digital arts and painting to over 500 kids a year, as well as 3,400 additional students in the Pittsburgh inner-city school district. Ninety percent of the students receive high school diplomas of which 85% go on enroll in college or secondary education. Bidwell Training Center trains more than 600 adults each semester for professional careers like the culinary arts, pharmacology, and horticultural technology. Through partnerships with major corporations in the area, Bidwell Training Center has helped 73% of its graduates land meaningful full-time employment. Manchester Bidwell is now a breathtaking facility that includes a 350-seat jazz auditorium, a 40,000-square-foot greenhouse covering half a city block, a state-of-the-art chemistry lab, a full-scale ceramics department, and a culinary institute. He has received a MacArthur Foundation "genius" grant, lectured at Harvard Graduate School of Education, and served on the board of the National Endowment for the Arts. He lives in Pittsburgh, Pennsylvania.

Table of Contents
| | | |
| --- | --- | --- |
| | | |
| 1 | From the Ghetto to Harvard Business School | 1 |
| 2 | Growing Up | 28 |
| 3 | A Dream Is Born | 50 |
| 4 | Expanding Our Mission | 72 |
| 5 | The Secret to Success | 102 |
| 6 | Impossibility Thinking | 128 |
| 7 | The Power of Passion | 147 |
| 8 | Swing | 172 |
| 9 | Reach | 193 |
| 10 | Purpose | 219 |
| | | |
| | Index | 228 |

Find Items On Similar Subjects

The Element
: How Finding Your Passion Changes Everything