I Hate People!
Kick Loose from the Overbearing and Underhanded Jerks at Work and Get What You Want Out of Your Job
Jonathan Littman and Marc Hershon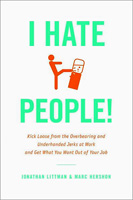 Format:
Hardcover, 272pp.
ISBN:
9780316032292
Publisher:
Little, Brown and Company
Pub. Date:
June 10, 2009
Average Customer Review:

For Bulk Orders Call: 626-441-2024

Description and Reviews
From
The Publisher:
Face it, whether your company has 10 employees or 10,000, you must grapple with people you can't stand in the office. Luckily Jonathan Littman and Marc Hershon have written I HATE PEOPLE!, a smart, counter-intuitive, and irreverent turn on the classic workplace self-help book that will show you how to identify the Ten Least Wanted—the people you hate—while revealing the strategies to neutralize them.
Filled with the real-life methods that business managers and executives use at Fortune 500 companies—from Procter & Gamble to IBM and Google—to overcome the human debris of the workplace.
I Hate People!
is an essential book for those who refuse to let the drones get in their way. It includes invaluable tips on how to:
Outfox the Ten Least Wanted—the underminers, micromanagers, and backstabbers who prowl the corporate minefield.
Become a Soloist—one of those bold individualists who dare to work alone or with a few handpicked talented poeple—while artfully deflecting the rest.
Dig Your Cave and Island Hop—sanity-saving techniques that will help you effectively carve out space and time for yourself.
Rejecting the failed culture of phony niceness that has harmed so many companies and individuals, I Hate People! offers a handy, amusing compass to help you navigate today's perilous workplace ... while leaving the idiots behind.

Reviews
Playboy contributing editor Littman (coauthor of The Art of Innovation) and Hershon, comedian and branding expert, offer a guide for surviving corporate life, flush with clever nomenclature for specific types of exasperating co-workers, such as the "Stop Sign," who always has a reason your idea won't work, or the "Bulldozer," who bullies his projects through the system. But rather than offering constructive ways of collaborating with problematic colleagues, Hershon and Littman spend most of the book suggesting ways to avoid them altogether by being a "soloist," a corporate loner who taps into innovative reserves rather than bending to be a team player. The authors give examples of such successful soloists as Craig Newmark, corporate misfit and founder of Craig's List. While amusing and filled with entertaining examples of antisocial geeks who made good, the aim and audience of the book is unclear. The reader is left wondering if it is better to opt out of corporate life altogether rather than have to confront co-workers who exhibit chronically unacceptable behavior. (June)
—Publishers Weekly, Copyright © Reed Business Information, a division of Reed Elsevier Inc. All rights reserved.


Reader's Index
Send us your favorite quotes or passages from this book
.
• "Corporate America is in the midst of a crisis. The spirit of the individual has played a huge part in forging our nation's history. Yet the scourge of teamwork pap has made solo efforts in companies seem unwanted, crazy, even dangerous." Pg. 66

About the Authors
A contributing editor for Playboy,
Jonathan Littman
is the coauthor of The Ten Faces of Innovation. He has also written two nonfiction books about famous computer hackers, The Watchman and The Fugitive Game.
Marc Hershon
is a branding expert who has dreamt up names for countless hit products, including BlackBerry, Swiffer, Pentium, and Dasani. He is also a comedy veteran who has worked closely with Jerry Seinfeld, Dana Carvey, Paul Reiser, and Robin Williams.

Table of Contents
| | | |
| --- | --- | --- |
| | | |
| 1 | I Hate People | 3 |
| | | |
| | Part One: The Ten Least Wanted | |
| 2 | Stumbling Blocks | 23 |
| 3 | Wrong Turns | 35 |
| 4 | Time Wasters | 49 |
| | | |
| | Part Two: Flying Solo | |
| 5 | The Soloist | 65 |
| 6 | Solocrafting | 105 |
| | | |
| | Part Three: Office Life | |
| 7 | Running Interference | 147 |
| 8 | Off My Plate | 167 |
| 9 | The Disrupters | 181 |
| 10 | Fool the Rules | 189 |
| | | |
| | Part Four: Spaces and Places | 147 |
| 11 | Dig My Cave | 201 |
| 12 | Island Hopping | 231 |
| | Time to Go Solo | 259 |
| | Acknowledgments | 262 |

Find Items On Similar Subjects

The No Asshole Rule
: Building a Civilized Workplace and Surviving One That Isn't