Makers
: The New Industrial Revolution
Chris Anderson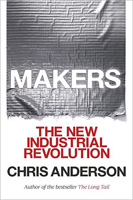 Format:
Paperback, 272pp.
ISBN:
9780307720962
Publisher:
Currency
Pub. Date:
April 8, 2014
Average Customer Review:

For Bulk Orders Call: 626-441-2024

Description and Reviews
From
The Publisher:
Wired
magazine editor and bestselling author Chris Anderson takes you to the front lines of a new industrial revolution as today's entrepreneurs, using open source design and 3-D printing, bring manufacturing to the desktop. In an age of custom-fabricated, do-it-yourself product design and creation, the collective potential of a million garage tinkerers and enthusiasts is about to be unleashed, driving a resurgence of American manufacturing. A generation of "Makers" using the Web's innovation model will help drive the next big wave in the global economy, as the new technologies of digital design and rapid prototyping gives everyone the power to invent — creating "the long tail of things".

Reviews
"Chris understands that the owners of the means of production get to decide what is produced. And now you're the owner. This book will change your life, whether you read it or not, so I suggest you get in early."
—Seth Godin, bestselling author of Tribes and Purple Cow
"A visionary preview of the next technological revolution. If you want to know where the future is headed, start here."
—Tom Rath, author of StrengthsFinder 2.0
"Makers is must read for understanding the transformative changes that are shaping, and will shape, the future of inventing."
—Dan Ariely, author of Predictably Irrational and The Upside of Irrationality
"Inspiring and engaging. Anderson delivers a compelling blueprint of a future where America can lead in making things again."
—Elon Musk, co-fouder of Tesla Motors and CEO of SpaceX
"In Makers, Chris Anderson gives us a fascinating glimpse of a hands-on future, a future where 'if you can imagine it, you can build it.'"
—Dan Heath, co-author of Switch and Made to Stick
"For those who have marveled at the way software has helped disrupt industry after industry - buckle up, that wave is coming soon to an industry near you. Chris Anderson has written a compelling and important book about how technology is about to completely shake up how America makes things. Required reading for entrepreneurs, policy makers, and leaders who want to survive and thrive in this brave new world."
—Eric Ries, author of The Lean Startup
"The Maker movement powered by desktop manufacturing will revolutionize the global economy. Chris Anderson once again reinvents the future in "Makers": a big vision driven by down-to-earth and practical ideas. A must read for anyone who wants to see the leading edge of change."
—Peter Schwartz, Co-founder of Global Business Network and author of The Art of the Long View

About the Author
I'm the editor of
Wired
Magazine and the author of "The Long Tail: Why the Future of Business is Selling Less of More", "FREE: The Future of a Radical Price" and "Makers: The New Industrial Revolution". I live in Berkeley, CA, with my wife and five children. In my spare time, I have a hobby-gone-wrong in the form of an aerial robotics community at DIY Drones and 3D Robotics, a company I co-founded that makes aerial robotic technolgy. We develop open source autopilots and unmanned aerial vehicles (UAVs), which some people find thrilling and others find worrying. You can make up your own mind: diydrones.com

Table of Contents
Part One: The Revolution
1
The Invention Revolution
2
The New Industrial Revolution
3
The History of the Future
4
We Are All Designers Now
5
The Long Tail of Things
Part Two: The Future
6
The Tools of Transformation
Four Desktop Factories
7
Open Hardware
8
Reinventing the Biggest Factories of All
9
The Open Organization
10
Financing the Maker Movement
11
Maker Businesses
12
The Factory in the Cloud
13
DIY Biology
Epilogue The New Shape of the Industrial World
Appendix: The 21st Century Workshop
Getting started with CAD
Getting started with 3-D printing
Getting started with 3-D scanning
Getting started with laser cutting
Getting started with CNC machines
Getting started with electronics
Acknowledgments
Notes
Index

Find Items On Similar Subjects

The Long Tail
: The Radical New Shape of Culture and Commerce