The Long Tail
: The Radical New Shape of Culture and Commerce
Chris Anderson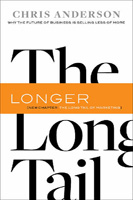 Format:
Paperback, 267pp.
ISBN:
9781401309664
Publisher:
Hyperion
Pub. Date:
Revised edition July 8, 2008
Average Customer Review:

For Bulk Orders Call: 626-441-2024

Description and Reviews
From
The Publisher:
What happens when the bottlenecks that stand between supply and demand in our culture go away and everything becomes available to everyone?
"The Long Tail" is a powerful new force in our economy: the rise of the niche. As the cost of reaching consumers drops dramatically, our markets are shifting from a one-size-fits-all model of mass appeal to one of unlimited variety for unique tastes. From supermarket shelves to advertising agencies, the ability to offer vast choice is changing everything, and causing us to rethink where our markets lie and how to get to them. Unlimited selection is revealing truths about what consumers want and how they want to get it, from DVDs at Netflix to songs on iTunes to advertising on Google.
However, this is not just a virtue of online marketplaces; it is an example of an entirely new economic model for business, one that is just beginning to show its power. After a century of obsessing over the few products at the head of the demand curve, the new economics of distribution allow us to turn our focus to the many more products in the tail, which collectively can create a new market as big as the one we already know.
The Long Tail
is really about the economics of abundance. New efficiencies in distribution, manufacturing, and marketing are essentially resetting the definition of what's commercially viable across the board. If the 20th century was about hits, the 21st will be equally about niches.

Reviews
"Anderson's insights with the Long Tail continue to influence Google's strategic thinking in a profound way."
—Eric Schmidt, CEO, Google
"I can't begin to tell you how thrilled I was by The Long Tail."
—Howard Look, VP, TiVo
"If you haven't already read The Long Tail, you'd better -- it's the new Tipping Point."
—Andy Lark, VP, Sun Microsystems

About the Author
Chris Anderson
is editor in chief of Wired magazine, a position he has held since 2001. He has worked at The Economist, where he served as U.S. business editor. His career began at the two premier science journals, Science and Nature, where he served in several editorial capacities. He holds a Bachelor of Science degree in Physics from George Washington University and studied Quantum Mechanics and Science Journalism at the University of California at Berkeley. He lives in Berkeley, California.

Find Items On Similar Subjects

Makers
: The New Industrial Revolution

Flock and Flow
: Predicting and Manging Change in a Dynamic