Rework
Jason Fried and David Heinemeier Hansson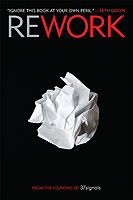 Format:
Hardcover, 256pp.
ISBN:
9780307463746
Publisher:
Crown Business
Pub. Date:
March 9, 2009
Average Customer Review:

For Bulk Orders Call: 626-441-2024

Description and Reviews
From
The Publisher: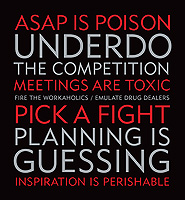 From the founders of the trailblazing software company 37signals, here is a
different
kind of business book – one that explores a new reality. Today, anyone can be in business. Tools that used to be out of reach are now easily accessible. Technology that cost thousands is now just a few bucks or even free. Stuff that was impossible just a few years ago is now simple. That means anyone can start a business. And you can do it without working miserable 80-hour weeks or depleting your life savings. You can start it on the side while your day job provides all the cash flow you need. Forget about business plans, meetings, office space – you don't need them.
With its straightforward language and easy-is-better approach,
Rework
is the perfect playbook for anyone who's ever dreamed of doing it on their own. Hardcore entrepreneurs, small-business owners, people stuck in day jobs who want to get out, and artists who don't want to starve anymore will all find valuable inspiration and guidance in these pages. It's time to rework work.

Reviews
"Jason Fried and David Hansson follow their own advice in REWORK, laying bare the surprising philosophies at the core of 37signals' success and inspiring us to put them into practice. There's no jargon or filler here just hundreds of brilliantly simple rules for success. Part entrepreneurial handbook for the twenty-first century, part manifesto for anyone wondering how work really works in the modern age, REWORK is required reading for anyone tired of business platitudes."
—Chris Anderson, New York Times bestselling author of The Long Tail and Free
"House-husband, housewife, Fortune 500 CEO, cab driver, restaurateur, venture capitalist -- this is 'the book for you,' a book of true wisdom, business wisdom, life wisdom. The clarity, even genius, of this book actually brought me to near-tears on several occasions. Just bloody brilliant, that's what!"
—Tom Peters, New York Times bestselling author of In Search Of Excellence, Thriving On Chaos and Leadership
"If given a choice between investing in someone who has read REWORK or has an MBA, I'm investing in REWORK every time. This is a must read for every entrepreneur."
—Mark Cuban, co-founder of HDNet and Broadcast.com and owner of the Dallas Mavericks
"Inspirational...REWORK is a minimalist manifesto that's profoundly practical. In a world where we all keep getting asked to do more with less, the authors show us how to do less and create more."
—Scott Rosenberg, Co-Founder of Salon.com and author of Dreaming In Code and Say Everything
"The brilliance of REWORK is that it inspires you to rethink everything you thought you knew about strategy, customers, and getting things done. Read this provocative and instructive book—and then get busy reimagining what it means to lead, compete, and succeed."
—William C. Taylor, Founding Editor of Fast Company and coauthor of Mavericks At Work
"For me REWORK posed a new challenge: stifling the urge to rip out each page and tape it to my wall … Amazing, powerful, inspirational -- those adjectives might make me sound like a fawning fan, but REWORK is that useful. After you've finished it, be prepared for a new feeling of clarity and motivation."
—Kathy Sierra co-creator of the bestselling Head First series and founder of javaranch.com
"In typical 37signals fashion, the wisdom in these pages is edgy yet simple, straightforward, and proven, embodying many of our beliefs and philosophies at Zappos.com. Read this book multiple times to help give you the courage you need to get out there and make something great."
—Tony Hsieh, CEO, Zappos.com
"37signals has created this book on management with the assumption that an organization is a piece of software. Editable. Malleable. Sharable. Fault-tolerant. Comfortable in Beta. Reworkable. The authors live by the credo 'keep it simple, stupid' and REWORK possesses the same intelligence – and irreverence – of that simple adage."
—John Maeda, author of The Laws of Simplicity
"REWORK is a must read for free agents and corporate executives alike. Leave your sacred cows in the barn and let 37signals unconventional wisdom and experience show you the way to business success in the 21st century. No MBA jargon or consultant-speak allowed. Just practical advice we can all use. Great stuff."
—Saul Kaplan, Chief Catalyst, Business Innovation Factory

About the Authors
Jason Fried
is the co-founder and President of 37signals. Jason believes there's real value and beauty in the basics. Jason co-wrote all of 37signals books, and is invited to speak around the world on entrepreneurship, design, management, and software.
David Heinemeier Hansson
is a partner in 37signals. He has been working with the Net with varying levels of success since 1996 — in the fields of game journalism, marketing, project management, design, and development. In July 2004, he released the framework Rails (also known as Ruby on Rails). It's the infrastructure software that is used to build all the applications at 37signals and thousands of other popular sites.

Find Items On Similar Subjects

Simplicity
: The New Better Competitive Advantage in a World of More, Better, Faster