Simplicity
: The New Competitive Advantage in a World of More, Better, Faster
Bill Jensen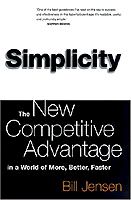 Format:
Paperback, 240pp.
ISBN:
9780738204307
Publisher:
Perseus Press
Pub. Date:
January 2001
Average Customer Review:

For Bulk Orders Call: 626-441-2024

Description and Reviews
From
The Publisher:
Choosing among infinite possibilities is the toughest part of today's work, when information is abundant and the most precious resources are people's time and attention. We need easy-to-use tools that help us choose what to do and what not to do, especially when any hesitation or misstep can spell disaster. But how do you make sense of the clutter? In Simplicity, Bill Jensen offers a highly engaging and pragmatic approach to competing in the fast-paced information age by being disciplined about how you make sense of everything around you. Drawing on a groundbreaking study of over 2500 people in 460 companies, Jensen presents new tools and strategies for applying common sense and critical thinking to any business situation-from running more effective meetings to leading large-scale change programs. Simplicity is about working smarter, not harder; it gives you the power to create more flexible and productive organizations, more compelling experiences for colleagues and customers, and more fulfilling work for everyone.
Simplicity is...
* All about competing on clarity
* Being disciplined about how you make sense of things
* Being passionate about how you use people's time and attention
* When everyone knows how to get what they need to make a decision
Among the questions Simplicity answers:
* What is your cost of confusion and the value of clarity?
* Are you using clarity to go faster, work smarter?
* Do you have a strategy for creating a simpler company?
* How will you continuously figure out what you don't know?
Either create less clutter or make more sense of it faster than the competition-and you win.




Reviews

"This is very important. Leaving clarity behind to get speed is abdication. As leaders, we've got to be clear and focused."

—Matt Kissner, CEO, Pitney Bowes Financial Services
"Keeping things simple is profoundly misunderstood. If you begin by honoring the social mind, you engage in what I call 'cognitive judo.' You let the world do more of the work for you. Follow that principle and things that were hopelessly complicated actually start to straighten out in a very interesting way."
—John Seely Brown, Chief Scientist, Director of Xerox PARC

An Interview With Bill Jensen
Q: What is this book about?
A: Simplicity is about changing how we use people's time and attention at work. Even at top performing and most admired companies, work is becoming way too complex. We need easy-to-use ideas and tools that help us cut through the clutter in order to work smarter. Making the complex clear always helps people work smarter because it's a lot easier to figure out what's important and ignore what isn't. We're living in a world of infinite choices—too much of our time and attention is being diverted from the important stuff. We need the power of simplicity.
Q: What's the big "Aha!" that begins your book?
A: Companies are horrific wasters of our time. Most employers and Teammates—even the well-intentioned ones—make things far too complicated and actually make it hard to work smarter. Simplicity describes why you should be "mad as hell and not gonna take it anymore" about how your time and attention are wasted. The book is based on seven years of research with over 460 companies that found the biggest sources of work complexity all had to do with how we share and organize what we know—how unclear we are as we ask people to work smarter. Business is not very good at meeting the needs of most knowledge workers.
Q: Besides striking an emotional chord, does Simplicity actually help us with what to do?
A: Yes! Section 2, Simpler Workdays, details exactly what anyone can do to create a simpler workday for him or herself. Its focus is to help people use time differently. For example, one chapter is dedicated to changing how much time you spend listening to and scanning unimportant things. It provides a step-by-step guide for "hitting delete and finding the goodstuff." There's also an explanation of the five things you need to think about when preparing to use your co-workers' time. It teaches you how to quickly and effectively contract with others when their day is filled with infinite choices.
Q: So why is simplicity the new competitive advantage?
A: Section 3, Simpler Companies, explains how senior execs should work backwards from what people need to do their work. As a result, employees will be able to make smarter decisions—and they'll be able to make them faster. This makes for a more productive company. That's the competitive advantage.
Q: Who is the reader for this book?
A: The book is geared to two target audiences. First, it will appeal to anyone who feels that "enough is enough." It taps into so many of the frustrations we all feel about the absurdities of how business gets things done. Because each chapter is designed to be truly helpful, anyone trying to leave those absurdities behind and improve their career track can benefit from this book. Second, it will appeal to anyone with the title of VP or above—or anyone who is heading there. Power-users of the book will find the details they need to make changes in recruitment, retention, training, and development. It will give them a whole new approach to leadership.
Q: How did today's workplace become so complex?
A: The short answer is lack of common sense. In Chapter 1, I describe simplicity as nothing more, or less, than the discipline of common sense. While some readers of the book have praised it as forward thinking, I think its nothing more than chronicling some pretty obvious approaches to work that are, unfortunately, quite rare. But the less flippant, more important answer is that, throughout the 80s and 90s while companies were forced to change so much and while information and learning became so critical to those changes, nobody worked backwards from the people doing the work. We never stopped to ask, "What do Jane and Joe need in order to work smarter?"
Q: Realistically, how long would it take to simplify a workplace?
A: How long did it take for CDs to take over the sales of LP records? How long did it take the Internet to completely influence so many facets of our lives? The tools, talents, and technology to simplify the workplace are available now. When it happens at your company, it will seem to occur almost overnight. And the resistance won't occur among the rank-and-file. It will be from senior execs who can't let go. We'll get simple at whatever point the marketplace starts using simplicity as a competitive weapon. At that point, the senior-level resistance will "miraculously" melt away.
Q: Do you think certain kinds of companies—certain industries—tend to be less simple than others?
A: The companies closest to getting simple are the Internet-type firms that started up in the past couple of years. But I need to be extremely clear: getting simple isn't just about the technology. Mostly, it's mindset—senior exec's willingness to be user-centered and respectful of people's time in how they build their company. It just happens to be the Internet-type technologies that are being started by twenty-something people who think this way. Larger, more established companies will be a long-time coming in getting user-centered.
Q: This is your first book. What made you want to write it?
A: Two things. For my entire life, I've always been curious about how things work, especially the more elegant tools, machines, and activities. I've always tried to study how to make things simple. More recently, the seven-year study on work complexity that provided a lot of content for the book actually began as a school assignment. In 1992, I was working on my thesis for a graduate degree in Organizational Development—an aspect of human resources. The paper was fine for academic credit, but I felt there was so much more I had to learn. So in 1992, I committed my own firm to studying Corporate America's ability to design work in the information age.
Q: What will the workplace be like in the next millenium?
A: Honestly, nobody knows. If I knew, I'd be a lot richer and living a pretty simple life on some tropical island. But I do know that, if you aren't aggressive in getting simpler, 80 million kids will do it to you. Beginning this year, the first of 80 million kids known as Gen Y or Net Geners will insist on radically changing how companies use their time and attention. This is because this is the first generation—ever—to grow up on user-centered, mass-market, interactive information experiences. Net Geners will seek simplicity by questioning everything the company builds to use their time and attention. Unlike any generation before, they will not join your team assuming that infrastructure—the tools and structures that your company builds—is the domain of senior management. The Net, as we know it, was built in their lifetime—and not a single senior exec approved or supervised it. They will look for an equal partnership in building what it takes for them to work smarter. By the time the Net Geners hit critical mass—sometime around 2008 or 2009—senior execs will be forced to cede a lot of what they're still controlling to the workforce, or else the talent won't come work for them.




About the Author

Bill Jensen is President/CEO of the Jensen Group, a change and communication consulting firm. An expert on applying the principles of simplicity in business management and organizational design, he speaks and writes widely on the subject. He lives in Morristown, New Jersey.




Table of Contents


| | | |
| --- | --- | --- |
| | Prologue: The Simplicity Manifesto | 1 |
| Section 1 | • The Aha | 5 |
| 1 | Simplicity: What it is and why it works | 8 |
| 2 | Simplicity's Evil Twin: How work got so complex | 19 |
| 3 | So What? Does it hurt enough to do something about it? | 34 |
| Section 2 | • Simpler WorkDays | 43 |
| 4 | Using Time: Getting ready to use people's time and attention | 46 |
| 5 | Planning: The starter kit for simpler work | 62 |
| 6 | Contracting: Behavioral communication | 71 |
| 7 | Listening and Scanning: Hit delete, find the good stuff | 80 |
| 8 | Engaging: Bringing it all together for the right kind of order | 88 |
| Section 3 | • Simpler Companies | 105 |
| 9 | Simpler to Know: A strategy for working backwards | 108 |
| 10 | Feels Simpler: Build trust with what you build | 128 |
| 11 | Simpler to Use: Designing content for decision making | 140 |
| 12 | Simpler to Do: Using project design to make informed choices | 160 |
| 13 | Simpler to Succeed: Designing work for easy navigation | 172 |
| Section 4 | • Simpler FutureWork | 191 |
| 14 | Lead through Navigation: Changing how we structure companies | 195 |
| | Epilogue: The Power to Do What's Important | 207 |
| | Endnotes | 209 |
| | Acknowledgments | 210 |
| | Indexes: Subject, People, Organizations | 213 |

Find Items On Similar Subjects

New Rules for the New Economy
: 10 Radical Strategies for a Connected World