The Education of an Accidental CEO
: Lessons Learned from the Trailer Park to the Corner Office
David Novak with John Boswell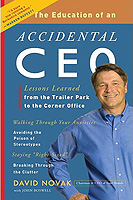 Format:
Paperback, 320pp.
ISBN:
9780307451798
Publisher:
Three Rivers Press
Pub. Date:
April 28, 2009
Average Customer Review:


For Bulk Orders Call: 626-441-2024

Description and Reviews
From
The Publisher:
David Novak—one of today's most engaging, unconventional, and successful business leaders—lived in thirty-two trailer parks in twenty-three states by the time he reached the seventh grade. He sold encyclopedias door to door, worked as a hotel night clerk, and took a job as a $7,200-a-year advertising copywriter with the hopes of maybe one day becoming a creative director. Instead, he became head of the world's largest restaurant company at the ripe old age of forty-seven.
While David never went to business school, he did learn from the greatest of teachers—experience—and plenty of other very smart people as well: Magic Johnson on the secret to teamwork, Warren Buffett on what he looks for in the companies he buys, John Wooden on ego, and Jack Welch on one thing he'd do over. Now he wants to share with you what he discovered about getting ahead and getting noticed; motivating people and turning businesses around; building winning teams and running a global company of nearly one million people; and always staying true to yourself.
The Education of an Accidental CEO
is filled with David Novak's street-smart wisdom:
From his formative years...
Walking through your anxieties
voiding the poison of stereotypes
Staying "right-sized"
Breaking through the clutter
From his years as an ad executive and chief marketing officer ...
How not to roll over like Fluffy the dog
Seeing yourself as a brand
When to pull the plug on the Super Bowl
As the COO of Pepsi Cola and then as president of KFC and Pizza Hut ...
Why a gold watch can have less value than a floppy rubber chicken
Knowing when "the answers are in the building"
Knowing when to do nothing
What it takes to revitalze a company
And as CEO of Yum! Brands, Inc. ...
How to "shock the system"
How to avoid the slow-no's
Managing two up and two down
David Novak's ideas for building an entire culture around reward and recognition—getting everyone from division presidents to dishwashers to buy into recognizing the achievements of others—is studied by other companies and discussed here in great detail. Whether you are the CEO of a global conglomerate or a budding entrepreneur, there is something here that will help you get where you want to go.

Reviews
"The Education of an Accidental CEO is a wonderful journey tracking the aspects of leadership. David Novak is a classic type-A personality who possesses the insatiable desire to improve and make those around him rise to new levels. Everyone is in search of the secret. You'll find it in this book. A motivational must"
—Rick Pitino
"David Novak is a great business leader and a wonderful guy. Our companies have very little in common, yet I have learned a lot from Dave. He is great with people, an innovator and one of the best global thinkers I have met. This book is filled with the 'little things' that authentic leaders do every day to build a great business. The best leaders are the best learners. Dave's 'journey' brings the skill of learning to life."
—Jeffrey R. Immelt, chairman and CEO of General Electric
"An entertaining, humorous, honest and inspiring message from an extraordinary person who engenders trust and instills self-confidence. Throughout this book David Novak brightens your mood and improves your outlook."
—Larry Bossidy, retired chairman and CEO of Honeywell International and co-author of Execution and Confronting Reality
"If CEOs were selected like NFL quarterbacks, David Novak would be a first-round draft pick. I would certainly like to have him running a Berkshire company. After you read this book, you will know why."
—Warren Buffett
"Just plain fun to read....More important, though, is the message—no matter whether you are a CEO or just starting out—that each and every day provides the opportunity to learn and get better at what you do, because as David says 'you never know what you're capable of.' His book is smart with heart and you'll see how far openness and honesty can get you. In short, very far."
—Jamie Dimon, chairman and CEO of JPMorgan Chase
"David Novak is completely authentic and means every word....What a great lesson for anyone striving for real success."
—Patrick Lencioni, author of The Five Dysfunctions of a Team, and president of the Table Group
"David has always had the natural leadership gift of 'taking people with him,' but he has never stopped learning, always valued others no matter what their background, and always stayed true to who he is. His great personal story provides lessons to anyone who has the privilege of leading."
—Brenda Barnes, chairman and CEO of the Sara Lee Corporation

About the Author
David Novak
is chairman and CEO of Yum! Brands, Inc., home to KFC, Pizza Hut, Taco Bell, Long John Silver's, and A&W All American Food. He has been recognized as one of Institutional Investor's top CEOs, and for the past five years Yum! has achieved growth of at least 13 percent earnings per share. He lives in Louisville, Kentucky, with his wife, Wendy. All of David's proceeds from the book will be donated to the United Nations World Food Programme in conjunction with Yum!'s global hunger relief efforts. He also serves as a director of the Friends of the World Food Programme.
John Boswell
is a literary agent, a book packager, and the author or coauthor of seventeen books, including the #1 New York Times bestseller What They Don't Teach You at Harvard Business School. He lives in New York City.

Find Items On Similar Subjects

Doing What Matters
: How to Get Results That Make a Difference - The Revolutionary Old-School Approach