Doing What Matters
: How to Get Results That Make a Difference - The Revolutionary Old-School Approach
James M. Kilts with John F. Manfredi and Robert Lorber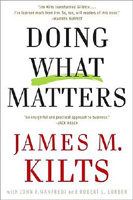 Format:
Hardcover, 336pp.
ISBN:
9780307451781
Publisher:
Crown Business
Pub. Date:
September 4, 2007
Average Customer Review:

For Bulk Orders Call: 626-441-2024

Description and Reviews
From
The Publisher:
When Warren Buffett was asked why the Gillette board of directors chose Jim Kilts to be CEO, he said, "Jim made as much sense in terms of talking about business as anybody I've ever talked to. If you listen to Jim analyze a business situation you get absolutely no baloney. And, frankly, finding someone like that is a rarity."
There is only one CEO in recent times who has faced—and succeeded at—the extraordinary challenges of leading three major companies—Gillette, Nabisco, and Kraft—into prosperous futures by doing what matters on the fundamentals.
That CEO is Jim Kilts. In this vivid first-person account he reveals his system for success that is both cutting-edge and back-to-basics. Doing What Matters—the action plan for identifying and tackling what's important and ignoring the rest—is the key to winning in a warp-speed world where the need for revolutionary speed and decisiveness increases by the day.
Kilts illustrates his ideas with colorful stories, such as "that little red razor." A new product idea he proposed early on at Gillette, it was initially shelved because "everyone knew you couldn't sell a red razor," but went on to become one of Gillette's biggest marketing successes ever.
Jim Kilts's focus on both business fundamentals and personal attributes provides the "complete package," showing how to get results that make a difference through:
Intellectual integrity: The ability to face the unvarnished truth about yourself and your business and using what you see as the basis for action.
Generating emotional engagement and enthusiasm: Using the force of your personality and ideas to infuse people and an entire organization with a sense of purpose and mission.
Action: Gillette, with just five product lines, had over 20,000 SKUs. After studying the issue for over two years, there were still 20,000. How Kilts got Gillette off the dime to pare down the number to 7,000 almost overnight is an astonishing example of getting the rubber to meet the road—with enormous benefits to the business.
Understanding the right things through an overarching concept to frame and filter issues: For Jim Kilts it was Total Brand Value, the framework he used in the consumer products industry for achieving better, faster, and more complete results than the competition.
Whether you're CEO of a multibillion-dollar global company, the brand manager for a product, an entrepreneur starting a small business, or just beginning a career,
Doing What Matters
provides the practical ideas that get results—ranging from a day one action plan for starting a new job to a chorus of cheers and support to a program of total innovation that involves everyone in changes from small to "big bang."

Reviews
In a business book that reads like a case study, turnaround artist and brand-builder Kilts walks managers and CEOs through the lessons he learned while resuscitating shaving-company Gillette. Having revived Nabisco, Kilts was planning to retire until famed investor Warren Buffett persuaded him to upgrade Gillette. With an analytical tone, Kilts describes how he moved the company off the ledge and paved the way for a bidding war. The book is likely to resonate with CEOs accustomed to dense discussions of corporate successes, businessy acronyms (like ZOG, or zero overhead growth) and sorting through heaps of advice. On rare occasions, Kilts gets folksy, as when describing the loss of perspective that comes with immersion in an organization's culture: If you put a frog into boiling water, it jumps out, Kilts writes. If you put a frog into cool water and slowly raise the temperature, the frog gets cooked before it knows what's happening. The slow boil is bad for business, he reasons. But overall, it works as an approach for this book. (Sept.)
—Publishers Weekly, Copyright © Reed Business Information, a division of Reed Elsevier Inc. All rights reserved.
"Jim Kilts transformed Gillette. Before his arrival, the company was a study in self-deception. Great brands were being mishandled, operational and financial discipline was non-existent and fanciful promises to investors were standard practice. In record time, Jim excised these business pathogens. I've learned much from Jim. So, too, will readers of this book."
—Warren E. Buffett
"Doing What Matters is an insightful and practical approach to business by a transformative leader with a great track record of success."
—Jack Welch, Jack Welch, LLC
Jim Kilts is a proven wizard at making companies run.
—Wall Street Journal

About the Author
James M. Kilts
, a founding partner of the private equity firm Centerview Partners, previously was chairman and CEO of the Gillette Company and prior to that CEO of Nabisco and Kraft. He has been a visiting lecturer and executive-in-residence at the University of Chicago, where he established the James M. Kilts Center for Marketing at the Graduate School of Business.
John F. Manfredi
, managing partner of Manloy Associates, formerly was senior vice president of investor relations and corporate affairs at the Gillette Company and prior to that executive vice president at Nabisco.
Robert L. Lorber
is president and CEO of the Lorber Kamai Consulting Group and associate professor at the University of California at Davis.

Find Items On Similar Subjects

Doing What Matters
: How to Get Results That Make a Difference -
Paperback

What Really Matters
: Service, Leadership, People, and Values