The Game-Changer
: How You Can Drive Revenue and Profit Growth with Innovation
A.G. Lafley and Ram Charan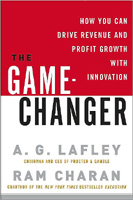 Format:
Hardcover, 352pp.
ISBN:
9780307381736
Publisher:
Crown Publishing Group
Pub. Date:
April 8, 2008
Average Customer Review:


For Bulk Orders Call: 626-441-2024

Description and Reviews
From
The Publisher:
How you can increase and sustain organic revenue and profit growth . . . whether you're running an entire company or in your first management job.
Over the past seven years, Procter & Gamble has tripled profits; significantly improved organic revenue growth, cash flow, and operating margins; and averaged earnings per share growth of 12 percent. How? A. G. Lafley and his leadership team have integrated innovation into everything P&G does and created new customers and new markets.
Through eye-opening stories A. G. Lafley and Ram Charan show how P&G and companies such as Honeywell, Nokia, LEGO, GE, HP, and DuPont have become game-changers. Their inspiring lessons can help you learn how to:
• Make consumers and customers the boss, not the CEO or the management team
• Innovate to grow a mature business
• Develop higher growth, higher margin businesses
• Create new customers and new markets
• Revitalize a business model
• Reach outside your own business and tap into the abundant brainpower and creativity of the world
• Integrate innovation into the mainstream of your managerial decision making
• Manage risk
• Become a leader of innovation
We live in a world of unprecedented change, increasing global competitiveness, and the very real threat of commoditization. Innovation in this world is the best way to win—arguably the only way to really win. Innovation is not a separate, discrete activity but the job of everyone in a leadership position and the integral, central driving force for any business that wants to grow organically and succeed on a sustained basis.
This is a game-changing book that helps you redefine your leadership and improve your management game.

Reviews
"A. G. Lafley has made Procter & Gamble great again."
—The Economist
"Of all the firms on the 2007 ranking of the 'World's Most Innovative Companies,' few are more closely associated with today's innovation zeitgeist than . . . Procter & Gamble . . . now famous for its open approach to innovation."
—BusinessWeek
"Lafley brought a whole lot of creativity and rigor to P&G's innovation process."
—Fortune magazine
"A. G. Lafley has reenergized a venerable giant . . . with a style and energy that will be the subject of business school cases for years to come."
—Chief Executive magazine
"The proof of Lafley's approach is plain enough. . . . P&G has not only doubled the number of new products . . . but also more than doubled its portfolio of billion-dollar brands and its stock price."
—U.S. News & World Report
"Ram Charan is the most influential consultant alive."
—Fortune magazine
"Ram has this rare ability to distill meaningful frommeaningless."
—Jack Welch
"Among the world's most sought after CEO advisers."
—BusinessWeek
"Ram Charan is my 'secret weapon' . . . constantly providing depth to issues, not just answers."
—Ivan Seidenberg, chairman and CEO of Verizon Communications
"Ram Charan knows more about corporate America than anyone."
—Dick Harrington, CEO of The Thomson Corporation

About the Authors
A. G. Lafley
is the chairman and CEO of P&G, which is consistently recognized as one of the most admired companies in the world and a great developer of business leaders. A.G. was named CEO of the year in 2006 by Chief Executive magazine and serves on the boards of GE and Dell. His first opportunity to manage a business came when he was in the Navy and in charge of retail and services businesses for ten thousand Navy and Marine Corps people and their families. After the Navy he went to Harvard Business School, and then joined P&G following graduation. He started as a brand assistant for Joy in 1977 and was appointed CEO in June of 2000.
Ram Charan
is the coauthor of the bestseller Execution and the author of What the CEO Wants You to Know, Know-How, and many other books. Dr. Charan grew up in India, where he first learned the art and science of business in his family's shoe shop. After earning his M.B.A. and D.B.A. from Harvard Business School, he taught for a number of years at both Harvard and Northwestern. He now advises the leaders and boards of companies around the world, including GE, DuPont, Nokia, Verizon, and the Thomson Corporation. What people around the world proclaim are Ram's practicality and the value he provides in helping them solve business problems. For more information on Ram Charan and his work, visit www.ram-charan.com.

Find Items On Similar Subjects

Execution
: The Discipline of Getting Things Done