Nice Companies Finish First
: Why Cutthroat Management Is Over—and Collaboration Is In
Peter Shankman with Karen Kelly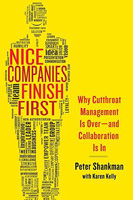 Format:
Hardcover, 256pp.
ISBN:
9780230341890
Publisher:
Palgrave Macmillan
Pub. Date:
April 2, 2013
Average Customer Review:

For Bulk Orders Call: 626-441-2024

Description and Reviews
From
The Publisher:
The era of authoritarian cowboy CEOs like Jack Welch and Lee Iacocca is over. In an age of increasing transparency and access, it just doesn't pay to be a jerk—to employees, customers, competitors, or anyone else.
In
Nice Companies Finish First
, Shankman, a pioneer in modern PR, marketing, advertising, social media, and customer service, profiles the famously nice executives, entrepreneurs, and companies that are setting the standard for success in this new collaborative world. He explores the new hallmarks of effective leadership, including loyalty, optimism, humility, and a reverence for customer service, and shows how leaders like Jet Blue's Dave Needleman, Tony Hseih of Zappos, Steve Jobs of Apple, Ken Chenault of Amex, Indra Nooyi of Pepsi, and the team behind Patagonia harness these traits to build productive, open, and happy workplaces for the benefit of their employees, themselves, and the bottom line.

Reviews
"The book's anti-Machiavellian approach is trendy and humanistic, and it bears repeating by thought leaders."
—Publishers Weekly
"A corporate consultant argues that kinder, gentler corporate leaders and corporations are winning out over older, tougher images of take-no-prisoners leadership...A smoothly put together business leadership primer."
—Kirkus Reviews
"Excellent, thought-provoking book for a new generation of leaders."
—Booklist
"As CEO of one of the fastest-growing clothing lines in the world, I greatly admire Peter Shankman's strategies and techniques, and have implemented many of them at SCOTTEVEST. I highly recommend this book if you are a business owner or entrepreneur trying to build a unique brand and truly productive work environment."
—Scott Jordan, CEO, Scottevest
"Shankman has put in a wakeup call for leaders to examine each of their daily interactions from the bottom to top. Through memorable examples, he offers straightforward and practical advice on how to conduct oneself in a way that will lead to win-win relationships with the people that matter most – essentially everybody in our world."
—Leigh Thompson, professor, Kellogg School of Management and author of Creative Conspiracy
"Fresh thinking that feels familiar. And it should – we've been told 'play nice' since we were kids. But Peter expands the thought to encompass flexibility, compassion and the secret sauce: collaboration."
—Cathy Calhoun, president, North America, Weber Shandwick

About the Author
Peter Shankman
is the founder of Help a Reporter Out (HARO), the largest free source repository for journalists in the world, as well as the founder and CEO of The Geek Factory, Inc., a 15-year-old marketing, branding, and PR company based in New York City with clients worldwide. His PR and social media clients have included AmEx, Sprint, the US Department of Defense, Royal Bank of Canada, Snapple, Saudi Aramco, Walt Disney World, Discovery Networks, Harrah's Hotels, and many others. He is the author of Can We Do That?!, which has been named one of the six "must read" PR books by PR Channel, and Customer Service: New Rules for a Social-Enabled World. He is a frequent speaker and has presented at such venues as South by Southwest, BlogWorld, The Public Relations Society of America, and many other trade shows. Shankman sits on the advisory boards of several companies, as well as on the NASA Civilian Advisory Council.

Find Items On Similar Subjects

Nice Guys Can Get the Corner Office
: Eight Strategies for Winning in Business Without Being a Jerk