Nice Guys Can Get the Corner Office
: Eight Strategies for Winning in Business Without Being a Jerk
Russ C. Edelman, Timothy R. Hiltabiddle and Charles C. Manz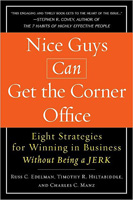 Format:
Hardcover, 288pp.
ISBN:
9781591842095
Publisher:
Portfolio Hardcover
Pub. Date:
July 31, 2008
Average Customer Review:

For Bulk Orders Call: 626-441-2024

Description and Reviews
From
The Publisher:
How to succeed without being an SOB—or a pushover
Many people suffer from Nice Guy Syndrome, held back from higher levels of success by being too selfless at work. It's a tricky problem, because if you start to think that being nice is bad, it's easy to overcompensate with selfishness, intimidation, and intense aggression.
The founders of Nice Guy Strategies teach that nice is not about being weak or soft—that you can hang on to your morals, compassion, and sincerity and still get ahead. The key is to draw on eight practical strategies— The Nice Guy Bill of Rights—that will help you find the right balance.
Each chapter shares insights and stories from both ordinary nice guys and celebrity executives.

Reviews
Finally, a book that teaches nice guys how to be strong, decisive, and get things done much more efficiently and successfully than tyrannical managers.
—George Nadaff, founder & former CEO, Boston Chicken
In this winning success guide, the authors expose "Nice Guy Syndrome," where the afflicted-overly selfless men and women-give away their power in the workplace and often face frustration and career derailment. While 61% of Americans believe that niceness impedes business success, the authors argue that the condition is correctable, and it is possible to succeed without resorting to aggression or excessive competitiveness. Their "Bill of Rights"-eight rights and corresponding strategies emphasizing self-awareness and setting boundaries-will aid readers in fending off the typical mistakes "nice guys" make: "valuing agreeableness over assertiveness", overcommitting and prioritizing other people's needs. Equally valuable are the authors' demonstration of the roots of self-sabotaging behavior and the revelation that certain "nice guy" behaviors may be less well-intentioned than they seem. Drawing on extensive interviews with 350 business professionals and an assortment of celebrity CEOs, this well-organized and psychologically astute book excels in its presentation of a simple and encouraging message: that "nice" doesn't have to mean "weak" and that nice guys can make it to the top. (Aug.)
—Publishers Weekly, Copyright © Reed Business Information, a division of Reed Elsevier Inc. All rights reserved.

About the Authors
Russ Edelman, Tim Hiltabiddle
, and
Charles Manz
are cofounders of the consulting firm Nice Guy Strategies, based in Massachusetts. Edelman is an entrepreneur who has launched two successful technology-consulting companies. Hiltabiddle is a partner and chief creative officer in a marketing firm. Manz is a chaired professor of leadership at the University of Massachusetts.

Find Items On Similar Subjects

Leading with Kindness
: How Good People Consistently Get Superior Results

Positive Leadership
: Strategies for Extraordinary Performance