The Synergist
: How to Lead Your Team to Predictable Success
Les McKeown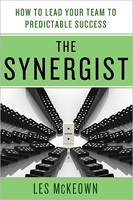 Format:
Hardcover, 272pp.
ISBN:
9780230120556
Publisher:
Palgrave Macmillan
Pub. Date:
January 3, 2012
Average Customer Review:

For Bulk Orders Call: 626-441-2024

Description and Reviews
From
The Publisher:
Why do so many teams fail to preform - achieving compromise at best and gridlock at worst? And what does it take to end this gridlock? Wall Street Journal bestselling author and speaker Les McKeown shows how to take any team from gridlock to world class success.
In his new book, McKeown argues that every successful team includes a critical player, the Synergist, who can take the three exisiting types - The bold dreamers (Visionaries), the pragmatic realists (Operators), and the systems designers (Processors) - and knit them together into a dynamic, well-rounded team. Most importantly, according to McKeown, the Synergist is a role that anyone can learn.
While most attempts at teamwork improvement deal only with the symptoms of group dysfunction such as distrust, poor communication, and fear of change, McKeown address the root cause: the innately unstable Visionary-Operator-Processor triangle. Because each of the three styles' motivations, views, and goals are incompatible, without a Synergist every team will eventually implode, stall, or underperform. Only the Synergist can put aside their own agenda and interpret the language of difficult personalities, captuire the best from each person, and put the good of the enterprise ahead of their own ego.
McKeown- who has used techniques presented here in his consulting with Harvard University, American Express Financial Services, the US Army, Pella Corporation, Microsoft, United Technologies Corporation, and more- shows how any individual can fill this critical role, whether or not they're the formal leader of the group.
With thought-provoking self-assesments and an extensive Synergist Toolkit, he teaches how anyone can learn to be an effective Synergist by recognizing the vital signs of inneffective teamwork and making the right interventions at these pivitol moments.

About the Author
Les McKeown
is the president and COE of Predictable Success, a consulting firm with clients that include T-Mobile, Microsoft, The US Army, Harvard University, Bose, British Aerospace and many more. McKeown's previous book, Predictable Success hit the Wall Street Journal and USA Today best-seller list in 2010. McKeown is a regular contributor to the Huffington Post and has appeared on CNN, ABC, BBC, Inc, Entrepreneur magazine, USA Today and The New York Times. Les speaks to businesses around the country helping management achieve a systematic approach to success.

Find Items On Similar Subjects

Predictable Success
: Getting Your Organization On the Growth Track—and Keeping It There