Predictable Success
: Getting Your Organization On the Growth Track—and Keeping It There
Les McKeown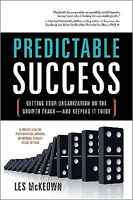 Format:
Paperback, 256pp.
ISBN:
9781626340763
Publisher:
Greenleaf Book Group Press
Pub. Date:
March 4, 2014
For Bulk Orders Call: 626-441-2024

Description and Reviews
From
The Publisher:
If you own, manage or work for any kind of organization, you have one goal above all else--success. And not just occasional, elusive or temporary success. You're looking for:
Success that you understand and can control
Success you can maintain indefinitely
Success you can replicate
Success you can scale
Success that isn't dependent on you alone
Success that you can teach to others
In short, you're looking for Predictable Success. In this timely, no-nonsense guide, experienced business advisor Les McKeown takes you step-by-step through a startlingly simple, intuitive and universal process that shows you how to bring sustained, lasting, predictable success to your organization. Steeped in a street-smart, savvy insider's deep understanding of exactly how business works in the real world, Predictable Success provides you with a precise road map to success, starting from wherever you are today.
Whatever your challenge,
Predictable Success
shows you the exact steps to take to restore equilibrium to your organization, re-ignite confidence in your own management skills and lead your team forward to the next stage in growth.

Reviews
''Predictable Success provides an incredibly useful blueprint for any leader who is looking for sustainable growth.''
—Marshall Goldsmith, million-selling author of Succession Are You Ready? and What Got You Here Won't Get You There-a WSJ #1 bestseller
''Les really captures the integration of key business processes, people, and leadership to consistently deliver a compelling vision, comprehensive plan, and profitable growth for the benefit of all stakeholders.''
—Alan Mulally, President and CEO, Ford Motor Co.
''Predictable Success isn't a textbook - it's a sensible and strategic playbook for any leader seeking to take their organization to the next level, and provides the conceptual framework to ensure a successful outcome.''
—David A. Brandon, Chairman and CEO, Domino's Pizza
''I learned more from Les than in my cumulative 15 years previous business experience. Les came in from the outside and was able to both accurately identify our current and future business challenges as well as provide us with strategies and solutions for dealing with them effectively. It was like he had been there all along!''
—Gregg White, Vice President, Finials Doors & Windows
''It's difficult to predict success. Failure is far easier to predict because it's where most people end up. But if you want predictable success, then this book is for you. And, you might find that Les' formula for predicting success is not what you think.''
—Michael Port, author of the NY Times bestseller, The Think Big Manifesto
''Les McKeown has an intuitive understanding of why and how business works. Predictable Success is practical and easy to understand - exactly what any executive needs to grow his business.''
—Keith Ferrazzi, #1 NY Times Bestselling author of Never Eat Alone & Who's Got Your Back
''I've experienced first-hand the positive impact and lasting change that Les McKeown's Predictable Success brings to a growing business - and to its leaders. If you want to structure your organization to get to the next stage in growth, and also want to develop personally as a leader, I strongly recommend you get started with Predictable Success.''
—Matt Long, President, J.E. Higgins Group
''Predictable Success is the 'ah-ha' book. Les's insight and real-world stories are not only entertaining, they clearly detail the different stages in the lifecycle of a company, and more importantly, how to avoid declining into 'treadmill' and 'death rattle'. A 'don't-miss' business book!''
—David Greer, CEO, Wire Belt Company, Inc
''Les is the Butch Harmon of business consulting.''
—Graydon Bevis, President, Pella Windows and Doors, Colorado
''Over the past three years, Les McKeown's Predictable Success has completely revolutionized how I and my team manage our business. Working with Les vastly accelerated our success, and saved us from a multitude of potential 'dead-ends'. I'm convinced our investment in Predictable Success has repaid itself many times over. I thoroughly recommend Les McKeown and the Predictable Success program for any business wanting to break through to the next stage in growth.''
—John Estabrook, CEO, Horne Building Specialties, Inc.
''Using the Predictable Success process, Les helped us identify the changes we needed to make in how we were running the business, guided us each step of the way, and held us accountable for implementing the actions we agreed. With Les's facilitation, we re-defined our management roles, brought in new expertise to the management team, and restructured our group interactions and communications. If you're a business owner or a CEO looking to take your business to the next level, I'd strongly recommend you contact Les McKeown. The best investment you can make in your future growth is in the Predictable Success program.''
—John Higman, President & CEO, Pacific Architectural Millwork
''If you want a road map to get the next stage with your organization, I urge you to get on board with Les McKeown. Quite simply - there is no better, more intuitive, results.'
—Jeff Stanley, SVP Human Resources, Wells Dairy, Inc.

About the Author
Les McKeown
is the president and CEO of Predictable Success. Les has launched and managed over 40 businesses and is the co-founder of an incubation company that assisted hundreds of entrepreneurs launch businesses employing thousands of employees worldwide. Since moving to the US in 1999, Les helps founder-owners, CEO's, C-level executives and their teams identify and eliminate personal and organizational barriers to growth. Les lives in Marblehead, MA, with his wife and two dogs, and receives occasional care packages from his three children.