Jeffrey Gitomer's Little Teal Book of Trust
: How to Earn It, Grow It, and Keep It to Become a Trusted Advisor in Sales, Business and Life
Jeffrey Gitomer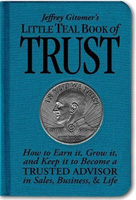 Format:
Hardcover, 208pp.
ISBN:
9780137154104
Publisher:
FT Press
Pub. Date:
December 17, 2008
Average Customer Review:

For Bulk Orders Call: 626-441-2024

Description and Reviews
From
The Publisher:
Trust is the basis for all relationships. This book will help you:
Tell the truth.
This is the number one element of trust AND relationships.
Do what you say you will do.
This is a test for being trustworthy and reliable.
Communicate in a timely manner.
This shows you are responsible, on top of it, and that you care.
Bring value beyond your product or service.
What you do to help others be more successful is a true reflection of your character.
Be on time.
Being on time shows you respect the other person's time.
Be friendly.
Smiling people are the gateway to open communication.
Be sincere.
This can only come from belief in what you do, loving what you do, and caring for others.
Show and say genuine thanks.
Be grateful for the opportunity to be of service.
Be consistent.
I believe this element of trust is the most difficult to master because it combines all the other elements.
Give trust.
You become trustworthy by giving trust.
Trust is a combination of the value that others perceive in you, and their willingness to harmonize with and accept your advice to help them succeed. It's people seeking and taking your advice both as a counselor and a confidante. Someone who trusts you to a point where they call at some critical stage, because they know you are the ONE who can help them in a way that others cannot. But how do you develop trust?
Follow the advice of Jeffrey Gitomer, bestselling author of the Little Books, which have now sold more than two million copies worldwide. As the world's foremost expert on selling, Gitomer is uniquely qualified to speak on the issue of trust, having earned a position of trust, both to his customers and readers. Gitomer advises that trust is not the product of any secret formula. It's not something you can lay there and wait for it to happen to you. Gaining, building, and maintaining a high level of trust involves thinking, and requires reading, a clear mind, a focus on becoming a world-class expert, studying, risking, failing, the right attitude, and lacing your boots straps tighter when times are tough. But you can do it and when you do, it will lead you to wealth beyond money. It's not success, it's fulfillment - both to you and the people who trust you.This book provides the insights and answers to all of these elements of trust, and gives the reader a solid understanding of the process, and a step-by-step game plan to achieve it.

About the Author
Jeffrey Gitomer
is the world's #1 expert on selling. He is author of the WSJ and BusinessWeek best-seller Jeffrey Gitomer's Little Red Book of Selling (over 400,000 sold) as well as the WSJ and BusinessWeek best-seller The Little Red Book of Sales Answers (Prentice Hall) (over 130,000 sold); The Sales Bible (over 200,000 sold) ; and Customer Satisfaction is Worthless, Customer Loyalty is Priceless. He gives over 100 presentations a year, serving customers ranging from Coca-Cola to Cingular Wireless to Wells Fargo Bank to IBM and Mercedes Benz.

Find Items On Similar Subjects

Jeffrey Gitomer's Little Gold Book of YES! Attitude
: How to Find, Build and Keep a YES! Attitude for a Lifetime of Success

Little Black Book of Connections
: 6.5 Assets for Networking Your Way to Rich Relationships

Little Green Book of Getting Your Way
: How to Speak, Write, Present, Persuade, Influence, and Sell Your Point of View to Others