Little Black Book of Connections
: 6.5 Assets for Networking Your Way to Rich Relationships
Jeffrey Gitomer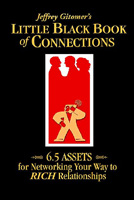 Format:
Hardcover, 220pp.
ISBN:
9781885167668
Publisher:
Bard Press
Pub. Date:
April 1, 2006
Average Customer Review:

For Bulk Orders Call: 626-441-2024

Description and Reviews
From
The Publisher:
Another Giant Leap For Businesskind!
Everybody wants to connect, but not everybody know how to connect. Inside you will find secrets uncovered, myths dispelled, and hundreds of ways to interact, connect, and score. You'll learn things like where to network for the best results, how to network once you get there, and how to follow up s that you capitalize on the connection that you have made.
This is a business book and a life book, not just a sales book. You will learn how to make the initial connection, how to capture the opportunity and how to build rich relationships that last a lifetime.
Here are the 6.5 Assets that get you from who-you-know to who-knows you. Connecting is all about your
friendliness
, your
ability to engage
, and your willingness to
give value first
. When you combine those three attributes, you will have uncovered the secret of powerful connections that lead to rich relationships.


Reader's Index
Send us your favorite quotes or passages from this book
.
• "The question you have to ask yourself is: How can I make people better as a result of connecting with me? Note well: This is not just a strategy to connect at a networking event, this is a strategy to connect with anyone, anywhere, at any time." Pg. 97

About the Author
Jeffrey Gitomer
is the world's #1 expert on selling. He is author of the WSJ and BusinessWeek best-seller Jeffrey Gitomer's Little Red Book of Selling (over 400,000 sold) as well as the WSJ and BusinessWeek best-seller The Little Red Book of Sales Answers (Prentice Hall) (over 130,000 sold); The Sales Bible (over 200,000 sold) ; and Customer Satisfaction is Worthless, Customer Loyalty is Priceless. He gives over 100 presentations a year, serving customers ranging from Coca-Cola to Cingular Wireless, Wells Fargo Bank and IBM to Mercedes Benz.

Table of Contents
| | | |
| --- | --- | --- |
| Asset 1 | Who Do I Know? | 32 |
| Asset 2 | What Do I Want? | 45 |
| Asset 3 | What Do I Do? | 58 |
| Asset 4 | How Do I Connect? | 94 |
| Asset 5 | Who Knows You? | 118 |
| Asset 6 | The Secret Power of Connections | 132 |
| Asset 6.5 | The Value of Connections | 162 |
| Epilogue | Connection Mastery | 180 |

Find Items On Similar Subjects

Jeffrey Gitomer's Little Teal Book of Trust
: How to Earn It, Grow It, and Keep It to Become a Trusted Advisor in Sales, Business and Life

Jeffrey Gitomer's Little Gold Book of YES! Attitude
: How to Find, Build and Keep a YES! Attitude for a Lifetime of Success

Little Green Book of Getting Your Way
: How to Speak, Write, Present, Persuade, Influence, and Sell Your Point of View to Others

Vital Friends
: The People You Can't Afford to Live Without