Ultimate Leadership
: Winning Execution Strategies for Your Situation
Russell E. Palmer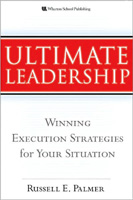 Format:
Paperback, 256pp.
ISBN:
9780132821636
Publisher:
Wharton School Publishing
Pub. Date:
January 27, 2008
Average Customer Review:

For Bulk Orders Call: 626-441-2024

Description and Reviews
From
The Publisher:
Beyond generic leadership: Becoming an outstanding leader in your unique environment
To succeed, leaders must understand and apply the core principles of leadership—but that's not enough. You need to shape your approach for any unique situation. Too many leaders don't know how to do that—and that's why they fail.
Ultimate Leadership
shows how to adapt the principles of leadership to different challenges, contexts, and organizations.
Russell E. Palmer—who has had three very different, highly successful careers as head of one of the world's largest accounting firms, Dean of the Wharton School, and an entrepreneur—helps you identify the leadership model most appropriate for your environment, and how to lead accordingly. You'll learn better ways to lead your equals, help an organization weather crises, transform its culture, lead entrepreneurial organizations, lead global organizations...even lead non-profit and academic institutions.
Then, drawing on interviews with an extraordinary spectrum of outstanding leaders, Palmer helps you master the attribute every leader must have: the ability to inspire their unique organizations, even in the face of the most daunting challenges.
Achieving empowerment, even in classic "top-down" organizations
Exercising strong authority without falling victim to ego or closed-mindedness
Transforming an organization of peers
Driving changes in a strategic direction when key power centers disagree
Turning danger into opportunity
Mastering the art of rapid, focused, hands-on execution for organizations in crisis
Leading cultural change that sticks
Reconnecting structures, processes, and strategies with the new realities you face
Learning from the Wharton experience
Succeeding in an environment with widely diverse, highly influential stakeholders

Reviews
"All the management advice in the world won't help you much if you can't adapt it to actual situations. That's where Russ Palmer stands out. These are smart, practical leadership principles that are tried and tested in real-world business circumstances."
—Edward Whitacre, Jr., Chairman Emeritus of AT&T, former Chairman and CEO of AT&T and Southwest Bell
"It is very fitting that Ultimate Leadership is authored by Russ Palmer, the ultimate leader. It was with his guidance and friendship that I successfully transitioned from four orderly decades as a Marine to the arcane world of corporate America."
—General P.X. Kelley, USMC (Ret.), 28th Commandant of the Marine Corps
"Russ Palmer's Ultimate Leadership is truly the last book you'll ever need on the subject. Russ shows once again why he is the dean when it comes to explaining why leadership matters. Ultimate Leadership is the ultimate statement on how leaders in business, government, and nonprofits alike can keep up with changes and conquer diverse organizational contexts."
—John J. DiIulio, Jr., Frederic Fox Leadership Professor, University of Pennsylvania, former director, White House Office of Faith-Based and Community Initiatives
"This book about leadership from a contextual viewpoint is nothing short of brilliant. Russ's easy-to-read book is filled with practical examples of leading from the context of a particular situation. The steps to extraordinary leadership are not hugely different, but the applications are endless. Thank you, Russ, for making sense out of a very disputable subject."
—Gerard R. Roche, Chairman of Heidrick & Struggles
"This book is refreshing proof that the essential personal traits of successful leaders are identifiable. Russ Palmer presents them in a manner providing great reading and much food for thought."
—Gordon Bethune, Chairman, Aloha Airgroup, former CEO, Continental Airlines
"Leadership is essential for all seasons, but its effective exercise depends much upon the season. In a masterful account, Russ Palmer draws on his rich store of personal experience to show how adaptive leadership makes the difference. For understanding what actions are required of all leaders--and how those actions must also be tailored to circumstance--Ultimate Leadership is the essential read."
—Michael Useem, Professor of Management and Director of the Center for Leadership at the Wharton School, and author of The Go Point: When It's Time to Decide


Reader's Index
Send us your favorite quotes or passages from this book
.
• "There are basic principles of leadership that all effective leades apply regardless of their personal style of leaderhip." Pg. 3
• "The best subject from an educational standpoint for a leader is the study of history. Reading biographies is also particularly helpful." Pg. 57

About the Author
Russell E. Palmer
is the owner and Chairman and Chief Executive Officer of The Palmer Group, a corporate investment firm located in Philadelphia, Pennsylvania. Before founding his own firm, he served as Dean of the Wharton School for seven years and prior to that he served for ten years as Managing Partner and CEO of Touche Ross & Co. (now Deloitte & Touche), an accounting and consulting firm. He became CEO of Touche Ross at age 37, the youngest person ever to attain that position in what is now the "Big Four" accounting firms.
After 27 years in the accounting and consulting profession, Mr. Palmer became Dean of the Wharton School. As the tenth Dean, and the first to come from the private sector, he shared his management experience with MBA students in a leadership course that he developed. He was instrumental in attracting more than 100 new faculty members to the School, building a new executive education program and complex and raising more than $125 million for the School. When he retired, the school was consistently ranked number one in undergraduate business education and in the top three MBA graduate programs.
In his current career with The Palmer Group, he has acquired more than thirty companies with the majority being in the educational field. All of these acquisitions have been successful investments, with the latest divestiture being a proprietary school group that was sold for $120 million.
Active in the outside business community, Mr. Palmer has served on 12 New York Stock Exchange boards, including Honeywell International, Inc., Verizon Communications, Inc., The May Department Stores Company, The Goodyear Tire & Rubber Company, and Bethlehem Steel Corporation. He is a Trustee Emeritus of the University of Pennsylvania, a Trustee of the National Constitution Center, and a Member of the Smithsonian National Board.
Mr. Palmer graduated with a Bachelor of Arts degree, cum laude, from Michigan State University, and has received several honorary degrees. He has written and lectured extensively. His articles and essays have appeared in Business Week, the New York Times, the Journal of Accountancy, and other publications.

Table of Contents
| | | |
| --- | --- | --- |
| | | |
| | Foreword | xi |
| | Preface | xiii |
| | About the Author | xvii |
| | List of Contributors | xix |
| | Acknowledgments | xxi |
| | | |
| | Unlocking the Secrets of Successful Leadership | 1 |
| | Leadership Principles: The Basis of Successful Leadership | 3 |
| | The Many Contexts of Leadership | 15 |
| | Mastering the Contexts of Leadership | 23 |
| | The Top-Down Organization: Learning That It's Not So Simple | 25 |
| | The Organization of Peers: Leading Your Equals | 41 |
| | The Organization in Crisis: Turning Danger into Opportunity | 61 |
| | When Organizations Change: Transforming the Culture | 79 |
| | The Entrepreneurial Organization: Sharing Your Vision with Others | 105 |
| | The Academic Organization: Learning from the Wharton Experience | 131 |
| | National Cultures and Context: Leading in a Global Environment | 153 |
| | The Wider View of Leadership | 177 |
| | The Heart of Leadership: Motivating Workers | 179 |
| | Putting It All Together | 197 |
| | | |
| | Contributor Biographies | 207 |
| | Index | 211 |

Find Items On Similar Subjects

It Starts With One
: Changing Individuals Changes Organizations