LEADERSHIP
: Essential Selections on Power, Authority, and Influence
Barbara Kellerman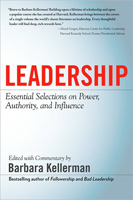 Format:
Hardcover, 352pp.
ISBN:
9780071633840
Publisher:
McGraw-Hill
Pub. Date:
July 23, 2010
Average Customer Review:

For Bulk Orders Call: 626-441-2024

Description and Reviews
From
The Publisher:
Bolster your leadership literacy—and improve your performance as a leader or manager.
Leadership
, says author, leadership expert, and Harvard Professor Barbara Kellerman, "is all about what leaders should learn—but it is decidedly not, deliberately not, about what leadership education has lately come to look like."
Instead,
Leadership
is a concise yet expansive collection of great leadership literature that has stood the test of time. As Kellerman makes clear in her extensive, authoritative commentaries, every single selection has had, and continues to have, an impact on how and what we think about what it means to lead. And every single one has had an impact on leadership as an area of intellectual inquiry—as well as on the course of human history.
Part I of Leadership consists of writings about leadership:
Lao Tzu—on how to lead lightly
Plato—on tyrants and philosopher-kings
Machiavelli—on the preservation of power
In Part II, you'll find examples of what Kellerman uniquely identifies as writing as leadership—works and words that thanks to their persuasiveness and power, changed the world:
Thomas Paine—Common Sense
Elizabeth Cady Stanton—"Declaration of Sentiments"
Rachel Carson—Silent Spring
Part III presents leaders in action—individuals who seized the moment to captivate, motivate, and lead with their singular personal power to persuade:
Abraham Lincoln—on war and redemption
Elizabeth I—on gender and power
Vaclav Havel—on the power of the powerless
The selections themselves, each a classic of the leadership literature, together with Kellerman's expert commentary, make
Leadership
required reading for those who want to learn about, reflect on, and even apply the greatest leadership literature lessons, ever.
For leaders, by leaders, about what it means to lead. Get the great leadership literature—at your fingertips.
In
Leadership
, you'll find the most seminal and salient leadership lessons from among a list of great men and women, including:
Sigmund Freud
W.E.B. Du Bois
Mary Parker Follett
Vladimir Lenin
Confucius
Sojourner Truth
Stanley Milgram
Saul Alinsky
Hannah Arendt
Thomas Hobbes
Mahatma Gandhi
Leo Tolstoy
Nelson Mandela
Peter Singer
Mary Wollstonecraft
Martin Luther King, Jr.
Betty Friedan
Larry Kramer
and more…

About the Author
Barbara Kellerman
is the James MacGregor Burns Lecturer in Public Leadership at Harvard University's John F. Kennedy School of Government. Her writing has appeared in The New York Times, The Washington Post, The Boston Globe, The Los Angeles Times, and Harvard Business Review, and she has appeared on CBS, NBC, NPR, and CNN. She is author and editor of many books on leadership, most recently Bad Leadership and Followership. Kellerman is ranked by Forbes.com as among the "Top 50 Business Thinkers" (2009), and by Leadership Excellence in the top 15 of 100 "best minds on leadership" (2008-2009).

Find Items On Similar Subjects

Followership
: How Followers Are Creating Change and Changing Leaders