Performance Intelligence at Work
: The 5 Essentials to Achieving The Mind of a Champion
Julie Ness Bell and Robin Pou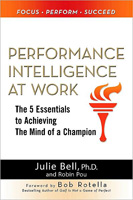 Format:
Paperback, 224pp.
ISBN:
9780071625142
Publisher:
McGraw-Hill
Pub. Date:
July 13, 2009
Average Customer Review:

For Bulk Orders Call: 626-441-2024

Description and Reviews
From
The Publisher:
Your mind is a powerful tool. You just need to learn how to master it. That's where
Performance Intelligence
comes in.
The ability to perform your best when it matters most is a skill anyone can learn. A well-known sports psychologist, Julie Ness Bell, Ph.D., has trained some of the world's greatest athletes, from professional golfers and tennis stars to football teams and basketball pros. She's learned that the athlete's ability to perform under extreme stress is predominantly mental—not physical—and the basic principles of peak performance are the same for everyone, whether you're a corporate leader, team player, or small business owner.
Principle #1: Your mind is powerful.
Principle #2: You control your mind.
Principle #3: You have a choice in every situation.
Think about it. Now think again. That's the secret behind
Performance Intelligence at Work
, a proven method of unblocking the obstacles in your brain— and unlocking "The Mind of a Champion."
Performance Intelligence works for athletes, and it will work for you, too. Throughout the book, Bell provides specific examples from her vast coaching experiences and relates them to the corporate playing field.
Each chapter ends with a "Business Leader Huddle" to help you put each principle into action. You will learn how to recognize your old ways of thinking, refocus your thoughts on a goal, and establish new routines to make it happen. Instead of negative "what-not-to-do" thinking (I will not procrastinate), you'll be able to retrain your brain using proactive "what-to-do" thinking (I will finish this task today).
Soon you'll be performing at higher levels than you ever thought possible—with a winning mindset you never knew you had.

Reviews
"Performance Intelligence at Work is the wake-up call every business leader needs. Results come from actions but actions come from your thinking. To perform better you must change your thinking."
—Mike Davidson, Vice Chairman and Chief Agency and Marketing Officer, State Farm Mutual Automobile Insurance Company
"Dr. Julie coaches you to activate your mind fully so you can conquer any challenge and rise to the top. If you are looking to achieve your greatest potential, read this book."
—Brian Baldinger, thirteen-year NFL veteran; sports analyst, Fox/NFL Network; and coauthor of The Map to Clear Messages
"Without confidence, focus, and a winning game plan, it is hard to really perform your best. Dr. Julie gives sound advice to take your game to the next level."
—Alton Jones, professional angler, 2008 Bassmaster Classic Champion
"Performance Intelligence at Work is a home run. . . . As an athlete and business owner, training my mental game is critical to success. Everyone needs a coach and this book is mine."
—Don Miguel, master fitness coach; founder of Fit-for-Me Foundation; four-time national track and field champion; and fifteen-time all-American, track and field
"With this book, Dr. Julie coaches you to change your thinking so you can change your actions to achieve the results you desire. A must read."
—Holly Roush, Presidential Black Diamond, MonaVie

About the Authors
Julie Ness Bell, Ph.D.
, is founder and president of The Mind of a Champion, a Texas-based coaching firm that works with athletes, individuals, and companies, including Time Warner, State Farm, and Ernst & Young. She earned her bachelor's degree in psychology from Oklahoma State and a master's and doctorate of sports psychology from the University of Virginia. Dr. Bell wrote Performance Intelligence at Work with
Robin Pou, J.D.
, a successful entrepreneur whose experience leading people and growing businesses has provided him with an up-close view of how individual and organizational thinking influence performance.

Table of Contents
| | | |
| --- | --- | --- |
| | | |
| 1 | It's All in Your MIND | |
| 2 | Sports Psychology: A Healthy Model | |
| 3 | What is Performance Intelligence? | |
| 4 | The Three R's You Need To Know | |
| 5 | A Winning Game Plan | |
| 6 | A Matter of Confidence | |
| 7 | Self-Discipline | |
| 8 | Defining Success and Failure | |
| 9 | Focus, Focus, Focus | |
| 10 | Competition Is Healthy | |
| 11 | Find Your Way | |

Find Items On Similar Subjects

The Three Laws of Performance
: Rewriting the Future of Your Organization and Your Life