The Pursuit of Perfect
Tal Ben-Shahar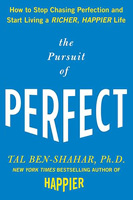 Format:
Hardcover, 272pp.
ISBN:
9780071608824
Publisher:
McGraw-Hill
Pub. Date:
April 3, 2009
Average Customer Review:

For Bulk Orders Call: 626-441-2024

Description and Reviews
From
The Publisher:
Do You Want Your Life To Be Perfect?
We're all laboring under our own and society's expectations to be perfect in every way-to look younger, to make more money, to be happy all the time. But according to Tal Ben-Shahar, the New York Times bestselling author of Happier, the pursuit of perfect may actually be the number-one internal obstacle to finding happiness.. . .
Or Do You Want To Be Happy?
Applying cutting-edge research in the field of positive psychology-the scientific principles taught in his wildly popular course at Harvard University-Ben-Shahar takes us off the impossible pursuit of perfection and directs us to the way to happiness, richness, and true fulfillment. He shows us the freedom derived from not trying to do it all right all the time and the real lessons that failure and painful emotions can teach us.
You Don't Have To Be Perfect To Be Perfectly Happy!
In
The Pursuit of Perfect
, Tal Ben-Shahar offers an optimal way of thinking about failure and success--and the very way we live. He provides exercises for self reflection, meditations, and ?Time-Ins? to help you rediscover what you really want out of life.
A brilliant new guide to living a happier life (even if it's not so perfect)
Tal Ben-Shahar knows about the burden of perfection. As professor of the most popular course in Harvard's history, he has seen the best and the brightest buckle under the pressures of perfectionism. In his provocative new book, he argues that people are unhappy because they're caught in "The Myth of Perfection," a dangerous trend fueling society's obsession with youth, beauty, money, success, and "having it all." Ben-Shahar believes you need to be more realistic in your goals, and more accepting of yourself, to live a richer, fuller, happier life.
The Pursuit of Perfect
shows you how.
Filled with the same "Time-Ins," meditations, and exercises that made his bestselling book Happier such an uplifting, interactive experience, this prescriptive guide uses practical strategies and positive psychology to help you get off the perfection treadmill, get in touch with your emotions, and happily get on with your life.

Reviews
[Tal Ben-Shahar has] a rare brand of good sense that is embedded in scientific knowledge about how to increase happiness."
—Martin E. P. Seligman , author of Authentic Happiness
"Ben-Shahar teaches that happiness isn't as elusive as people think."
—Publishers Weekly
"One of the most popular teachers in Harvard's recent history."
—Ellen J. Langer , author of Mindfulness and On Becoming an Artist


Reader's Index
Send us your favorite quotes or passages from this book
.
• "The perfectionist is never satisfied. She consistently sets goals and standards that are for all intents and purposes impossible to meet, thereby from the outset rejecting the possibility of success…. The Optimalist also sets extremely high standards, but her standards are attainable because they are grounded in reality. When she meets her goals, she appreciates her successes and takes time to experience gratitude for her accomplishments." Pg. xxii

About the Author
Tal Ben-Shahar, Ph.D.
, has received worldwide attention for his now-famous Harvard course in "Positive Psychology," the most popular class in the university's history. He consults and lectures on subjects including happiness, self-esteem, mindfulness, and leadership to executives in multi-national corporations, the general public, and at-risk populations. He obtained his Ph.D. in organizational behavior and B.A. in philosophy and psychology from Harvard University.

Table of Contents
| | | |
| --- | --- | --- |
| | | |
| | Introduction | xv |
| | | |
| | Part 1 The Theory | |
| 1 | Accepting Failure | 3 |
| 2 | Accepting Emotions | 37 |
| 3 | Accepting Success | 69 |
| 4 | Accepting Reality | 91 |
| | | |
| | Part 2 Applications | |
| 5 | Optimal Education | 113 |
| 6 | Optimal Work | 133 |
| 7 | Optimal Love | 151 |
| | | |
| | Part 3 Meditations | |
| 8 | First Meditation: Real Change | 169 |
| 9 | Second Meditation: Cognitive Therapy | 173 |
| 10 | Third Meditation: Imperfect Advice | 181 |
| 11 | Fourth Meditation: A Perfect New World | 187 |
| 12 | Fifth Meditation: The Role of Suffering | 193 |
| 13 | Sixth Meditation: The Platinum Rule | 199 |
| 14 | Seventh Meditation: Yes, but… | 203 |
| 15 | Eighth Meditation: The Pro-Aging Industry | 209 |
| 16 | Ninth Meditation: The Great Deception | 215 |
| 17 | Tenth Meditation: Knowing and Not Knowing | 221 |
| | | |
| | Conclusion | 227 |
| | | |
| | Notes | 229 |
| | References | 234 |
| | Index | 241 |

Find Items On Similar Subjects

Learned Optimism
: How to Change Your Mind & Your Life

Stumbling on Happiness