Stumbling on Happiness
Daniel Gilbert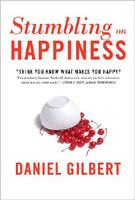 Format:
Hardcover, 304pp.
ISBN:
9781400042661
Publisher:
Knopf
Pub. Date:
May 2, 2006
For Bulk Orders Call: 626-441-2024

Description and Reviews
From
The Publisher:
Why are lovers quicker to forgive their partners for infidelity than for leaving dirty dishes in the sink? Why will sighted people pay more to avoid going blind than blind people will pay to regain their sight? Why do dining companions insist on ordering different meals instead of getting what they really want? Why do patients remember long medical procedures as being less painful than short ones? Why do home sellers demand prices they wouldn't dream of paying if they were home buyers? Why are shoppers happier when they can't get refunds? Why do pigeons seem to have such excellent aim; why can't we remember one song while listening to another; and why does the line at the grocery store always slow down the moment we join it?
Most of us spend our lives steering ourselves toward the best of all possible futures, only to find that tomorrow rarely turns out as we had expected. Why? As Harvard psychologist Daniel Gilbert explains, when people try to imagine what the future will hold, they make some basic and consistent mistakes. Just as memory plays tricks on us when we try to look backward in time, so does imagination play tricks when we try to look forward.
In this brilliant, witty, and accessible book, renowned Harvard psychologist Daniel Gilbert describes the foibles of imagination and illusions of foresight that cause each of us to misconceive our tomorrows and misestimate our satisfactions. Vividly bringing to life the latest scientific research in psychology, cognitive neuroscience, philosophy, and behavioral economics, Gilbert reveals what scientists have discovered about the uniquely human ability to imagine the future, and about our capacity to predict how much we will like it when we get there. With penetrating insight and sparkling prose, Gilbert explains why we seem to know so little about the hearts and minds of the people we are about to become.

Reviews
"Stumbling on Happiness is an absolutely fantastic book that will shatter your most deeply held convictions about how your own mind works. Ceaselessly entertaining, Gilbert is the perfect guide to some of the most interesting psychological research ever performed. Think you know what makes you happy? You won't know for sure until you have read this book."
—Steven D. Levitt, author of Freakonomics
"In Stumbling on Happiness, Daniel Gilbert shares his brilliant insights into our quirks of mind, and steers us toward happiness in the most delightful, engaging ways. If you stumble on this book, you're guaranteed many doses of joy."
—Daniel Goleman, author of Emotional Intelligence
"In a book that is as deep as it is delightful, Daniel Gilbert reveals the powerful and often surprising connections between our experience of happiness and how we think about the future. Drawing on cutting edge psychological research and his own sharp insights into everyday events, Gilbert manages to have considerable fun while expertly illuminating some of the most profound mysteries of the human mind. I confidently predict that your future will be happier if you read this pathbreaking volume."
—Daniel L. Schacter, Harvard University, author of Searching for Memory and The Seven Sins of Memory
"Everyone will enjoy reading this book, and some of us will wish we could have written it. You will rarely have a chance to learn so much about so important a topic while having so much fun."
—Daniel Kahneman, Princeton University, Winner of the 2002 Nobel Prize in Economics
"This is a brilliant book, a useful book, and a book that could quite possibly change the way you look at just about everything. And as a bonus, Gilbert writes like a cross between Malcolm Gladwell and David Sedaris."
—Seth Godin, author of All Marketers Are Liars

About the Author
Daniel Gilbert
is Harvard College Professor of Psychology at Harvard University. He has won numerous awards for his teaching and research, including the American Psychological Association's Distinguished Scientific Award for an Early Career Contribution to Psychology. His research has been covered by The New York Times Magazine, Forbes, Money, CNN, U.S. News & World Report, The New Yorker, The Wall Street Journal, Scientific American, Self, Men's Health, Redbook, Glamour, Psychology Today, and many others. His short stories have appeared in Amazing Stories and Asimov's Science Fiction Magazine, as well as other magazines and anthologies. He lives in Cambridge, Massachusetts.

Table of Contents
| | | |
| --- | --- | --- |
| | Acknowledgements | xi |
| | Foreword | xiii |
| | | |
| | Part I: PROSPECTION | 1 |
| 1 | Journey to Elsewhen | 3 |
| | Part II: SUBJECTIVITY | 27 |
| 2 | The View From in Here | 29 |
| 3 | Outside Looking In | 55 |
| | Part III: REALISM | 73 |
| 4 | In the Blind Spot of the Mind's Eye | 75 |
| 5 | The Hound of Silence | 96 |
| | Part IV: PRESENTISM | 109 |
| 6 | The Future Is Now | 111 |
| 7 | Time Bombs | 127 |
| | Part V: RATIONALIZATION | 149 |
| 8 | Paradise Glossed | 151 |
| 9 | Immune to Reality | 172 |
| | Part VI: CORRIGIBILITY | 193 |
| 10 | Once Bitten | 195 |
| 11 | Reporting Live from Tomorrow | 212 |
| | | |
| | Afterword | 235 |
| | Notes | 239 |
| | Index | 269 |

Find Items On Similar Subjects

Learned Optimism
: How to Change Your Mind & Your Life