Think Better
: An Innovator's Guide to Productive Thinking
Tim Hurson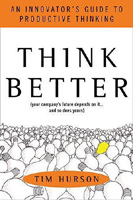 Format:
Paperback, 320pp.
ISBN:
9781260108408
Publisher:
McGraw-Hill Education
Pub. Date:
October 27, 2017
Average Customer Review:

For Bulk Orders Call: 626-441-2024

Description and Reviews
From
The Publisher:
Ever felt that surge of energy when the light goes on in your head and you 'get' the solution to a problem? That dazzling idea comes along only after many duds.
Imagine a process designed to help you 'get' these innovative ideas--on a regular basis.
Tim Hurson shows you how to generate creative ideas - and convert them into smart and workable solutions.
Hurson's Productive Thinking model is the result of a lifetime of research into innovation, game theory and creative problem solving. It's a series of six easy-to-learn steps that demystifies the creative process.
Step 1:
What's Going On?
: Explore and truly understand the challenge.
Step 2:
What's Success?
: Envision the ideal outcome and establish success criteria.
Step 3:
What's the Question?
: Pinpoint the real problem or opportunity.
Step 4:
Generate Answers
: List many possible solutions.
Step 5:
Forge the Solution
: Decide which solution is best. Then make it better.
Step 6:
Align Resources
: Create an action plan.
The first step is to explore the problem that needs to be addressed. Next, Hurson shows how you can "throw a grappling hook into the future" to envision a final outcome and make it your future. This provides rock-solid criteria for success--and hard metrics for measuring the results.
Hurson will lead you through a brainstorming session where you will generate a torrent of new ideas. Finally, Hurson presents a systematic approach to turning any good idea into a truly great idea, with a workable action plan. The plan, complete with timelines, assignments, and benchmarks, will combine the best of your intuitive, creative side with the rigor of your analytical and rational side.

Reviews
"Marvelously choreographed and insightful... A treasury of powerful ideas for anyone who wants to boost their own brand equity and contribute mightily to their company's success."
—Andy Boynton, Ph.D., Dean, Carroll School of Management, Boston College, and author of Virtuoso Teams
"If you want success in your career, in your business, or in your life, Think Better is for you. Buy it, read it, and don't look back."
—Roger J. Burns, Worldwide Partner Mercer Human Resource Consulting
"Brilliant, thought-provoking, easy-to-read, this book is one of the best creativity books I have read in 30 years. Buy it, read it, and change your life!!""
—Arthur B VanGundy, Ph.D., Professor of Communication, University of Oklahoma, author of Getting to Innovation
"Get copies for everyone you work with, talk about it together, and then get on with inventing your future. This book will show you how."
—Ian Percy, author of The Profitable Power of Purpose
"A practical guide to the power and importance of productive thinking that should be read by everyone. Use it to unlock the full creative power of your mind."
—Glenn Bishop, Director, Engineering, Yahoo! Europe
"Tim will get your gray matter in an uproar. I can't stop thinking about Think Better. But you should. Stop thinking about buying this book and go buy it…NOW.
—Stephen Shapiro, author 24/7 Innovation
"More than worthwhile - a must."
—Roger von Oech, author A Whack on the Side of the Head

About the Author
Tim Hurson
is a founding partner of thinkx intellectual capital (www.thinkxic.com), a firm that provides global corporations with training, facilitation, and consultation in productive thinking and innovation. He's both a faculty member and Trustee of the Creative Education Foundation, and a founding director of Facilitators Without Borders.

Find Items On Similar Subjects

Made to Stick
: Why Some Ideas Survive and Others Die