Winning from Within
: A Breakthrough Method for Leading, Living, and Lasting Change
Erica Ariel Fox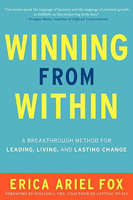 Format:
Hardcover, 384pp.
ISBN:
9780062213020
Publisher:
HarperBusiness
Pub. Date:
September 24, 2013
Average Customer Review:

For Bulk Orders Call: 626-441-2024

Description and Reviews
From
The Publisher:
Whether you run a Fortune 500 company or serve as CEO of your household, negotiating effectively is crucial to leading wisely and living well.
Leading and living are a series of constant negotiations. Consider what goes on during your typical week: Can you influence your client to accept your proposal? Will you persuade colleagues to give you the resources you need to finish your project? How will you ask your neighbor to switch carpool days so that you will finally have time to get to the gym?
According to conventional wisdom, a "win-win" outcome is the hallmark of success. However, until now, advice on getting there has overlooked one crucial element. It turns out that the most important negotiations you have, the ones that drive the impact of your leadership and the quality of your life, are the ones you have with yourself.
What does negotiating with yourself mean? It's what happens when you want to stay at the office, but also want to keep your promise to the family to get home in time for dinner. Or when one side of you votes to roll the dice and go for your dream job, while another worries about paying the mortgage. It's what you do when one part of you wants to give your relationship every chance to work, while another knows that this time it's really over.
When you're of more than one mind about what to do, negotiating with yourself is an essential skill. Should you say yes or no, or should you stall for time? Offer an olive branch or lay down the law? Speak your mind or hold your peace? When you know how to win the tug-of-wars inside of you, then you can "get to yes" in lasting and transformational ways.
With honesty, humor, and fresh ideas,
Winning from Within
gives you a clear road map for knowing your inner world and a method for sorting yourself out.
Whether you're struggling with a difficult customer or arguing with your spouse, by understanding what leadership and negotiation expert Erica Ariel Fox calls your "inner negotiators," you'll learn to turn breakdowns into breakthroughs. With the insight and tools to get out of your own way, you'll find new avenues to realizing your dreams.

Reviews
"Erica Ariel Fox knows how to transform her audience and really make them think, question their beliefs, and change for the better. She is a cutting edge thought leader and change agent."
—Puja Sehgal Jaspal, Principal, Google Compensation Team, GOOGLE
"Winning from Within is an epiphany and inner guidebook in one. It reveals how our goals and dreams can be reached through knowing and acting from our best selves, but more importantly it teaches us how to actually do this, in work and life. "
—C. Geoffrey McDonough, MD, President & CEO SOBI
"Winning from Within offers a powerful and practical method for character development, a missing link in leadership development that is increasingly essential for new and seasoned executives alike. Fox's unerring, beautiful prose makes the journey toward a better self one that you won't want to miss.
—Amy C. Edmondson, Novartis Professor of Leadership and Management, HARVARD BUSINESS SCHOOL Author, Teaming: How organizations learn, innovate and compete in the knowledge economy
"Every so often a star is born, illuminating what we thought was commonplace and fundamentally rearranges the way we think. Erica Ariel Fox is such a star. She offers dazzling, deeply transformational insights, not merely into what we do, but into who we are. Read her. Your life could change."
—Kenneth Cloke, author of Mediating DangerouslyFounder of Mediators Beyond Borders
"After 25 years in the business, Winning From Within was simply the most impactful training I have ever experienced."
—Brian Ratte, North America Sales Leader, Industry Solutions, IBM
"Erica Ariel Fox and Winning from Within provide critical insights and skills for attaining the holy grail of any professional services firm - How to become a trusted business advisor!"
—Edward Goodman, Partner, Financial Services, Ernst & Young LLP
"Spend time with Fox exploring the inner dynamics of negotiation and you'll discover a new way of seeing oneself as a leader and human being. Deep conversations, experiential learning, and self-directed practices all help 'interesting ideas' drop from the head into the heart where they transform into personal commitments."
—Larry Dressler, Author, Standing in the Fire
"Many have discussed the characteristics of successful leaders; far fewer have illuminated how to be [emphasis] a more effective leader. Erica Ariel Fox provides invaluable advice here that is both insightful and pragmatic - clarifying the powerful ways in which the inner lives of leaders shape their external effectiveness."
—Mike Anderson, Chief Innovation Officer andHead of Leadership Services, Spencer Stuart
"Winning from Within should be read by everyone who cares about the organizational health and effectiveness of government agencies and NGO's."
—Biniam Gebre, General Deputy Assistant Secretary, US Department of Housing and Urban Development
"Winning from Within revolutionizes our state of leadership education for students and global leaders both in private and public sectors. It is exactly the guidebook we need as we navigate unchartered waters into the future."
—Dr. Mariko Gakiya, Faculty Director, Global Leadership Program of The University of Tokyo
"Erica Ariel Fox has a wonderfully engaging style-clear, funny, touching. In this appealingly personal, professional, and practical book, Fox brings the world of negotiation to a whole new level, by including the missing dimension: the 'inner game'
—Robert Kegan and Lisa Lahey, authors of Immunity to ChangeFaculty, Harvard University Graduate School of Education
"Erica has the magical ability to meet people exactly where they are at any given moment. You simply have to experience her and the unforgettable energy she brings to the room."
—Jodi Hallstrom, US Department of Agriculture
"I thought I knew myself, but not at the depths I found here. Erica introduced me to myself at a deeper level than I even knew was possible."
—Linda Goodman, Idaho Human Rights Commission
"The central theme of Erica's wonderful book is an idea whose time has come: to produce effective outcomes, we must lead from within. I have seen her in action, and she won me over."
—A.J. Jacobs, New York Times bestselling author of The Know-It-All
"I've worked with Erica and her team for years with both senior executives and line leaders. If you want to create a high performance culture, you don't want to miss Winning from Within."
—Marko Satarain, Sr. Director, Head of Talent, Levi Strauss & Co.

About the Author
Erica Ariel Fox
teaches negotiation at Harvard Law School. She is a cofounder of the global leadership and change firm Mobius Executive Leadership and a senior advisor to McKinsey Leadership Development (MLD). A highly sought-after expert and speaker, she helps teams in trouble, inspires audiences, and supports businesses seeking transformational change. She also provides leadership training to public-sector organizations and through executive education courses. She earned her undergraduate degree from Princeton University and her law degree from Harvard Law School. She lives with her husband and stepson near Boston and outside Amsterdam.

Table of Contents
| | | |
| --- | --- | --- |
| | | |
| | Foreword by William Ury | xi |
| | Introduction | xv |
| | | |
| | Part One: Create Lasting Change | |
| 1 | Uncover Your Performance Gap | 3 |
| 2 | Discover Your Inner Negotiators | 19 |
| 3 | Work with Your Big Four | 44 |
| 4 | Anchor in Your Center | 61 |
| | | |
| | Part Two: Balance Your Profile | |
| 5 | Possibilities: See Your Dreamer's Vision | 95 |
| 6 | Perspectives: Understand Your Thinker's Insight | 135 |
| 7 | People: Feel Your Lover's Heart | 165 |
| 8 | Performance: Carry Your Warrior's Sword and Shield | 201 |
| | | |
| | Part Three: Connect to Your Core | |
| 9 | Perception: Awaken Your Lookout | 241 |
| 10 | Presence: Let Your Captain Steer the Ship | 268 |
| 11 | Path: Grow with Your Voyager | 303 |
| | Epilogue | 335 |
| | | |
| | Acknowledgments | 343 |

Find Items On Similar Subjects

The Knowing-Doing Gap
: How Smart Companies Turn Knowledge into Action