Trust Works!
Four Keys to Building Lasting Relationships
Ken Blanchard with Cynthia Olmstead and Martha Lawrence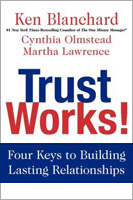 Format:
Hardcover, 160pp.
ISBN:
9780062205988
Publisher:
William Morrow
Pub. Date:
April 30, 2013
Average Customer Review:

For Bulk Orders Call: 626-441-2024

Description and Reviews
From
The Publisher:
New York Times bestselling author and leadership expert Ken Blanchard's popular
TrustWorks!
training program is now available in book form!
Trust Works!
Four Keys to Building Lasting Relationships is an insightful guide designed to help people navigate one of the most complex issues that affects all areas of our lives: trust.
In
Trust Works!
, Ken Blanchard, Cynthia Olmstead, and Martha Lawrence demonstrate how to get along better with those around us.
In today's polarized society, building trust—and sustaining it—has never been more important or seemingly elusive.
Trust Works!
provides a common language and essential skills that can replace dissension with peace and cooperation and help us all work together productively and in harmony.
Learn how the apply the "ABCD trust" model to address the factors that lead to discord, including low morale, miscommunication, poor response to problems and issues, and dysfunctional leadership.

Reviews
"Outstanding! In a world where people can't always be counted on, this book shows you how to recognize the trust busters-as well as boost your own trustworthy behavior."
—Dr. Phil McGraw, #1 New York Times bestselling author of Life Code and host of the "Dr. Phil" show
"There's nothing more important than building trust-without it, you'll never achieve your goals. This profound little book can help you make big things happen."
—Stedman Graham, chairman and CEO of S. Graham & Associates and author of Identity: Passport to Freedom
"To achieve your dreams, you first have to learn to trust yourself and then inspire others to trust you. In clear, simple terms, this book shows you how. Read it!"
—Anthony Robbins, entrepreneur, peak performance strategist, and author of Awaken the Giant Within and Unlimited Power
"I am a raving fan of Trust Works!. The ABCD model is simple, easy to remember, and actionable."
—Garry Ridge, CEO of WD-40 Company and coauthor of Helping People Win at Work
"Not only is Trust Works! fun to read, but it also provides invaluable tools for building greater trust-or repairing trust that's been broken. Required reading for individuals and organizations alike."
—Ken Druck, PhD, author of The Real Rules of Life and The Secrets Men Keep-and the original executive coach
"Trust Works! addresses what is often a fuzzy concept-trust-in a clear and logical manner. Timely and engaging, this book is sorely needed."
—Richard Whiteley, author of The Corporate Shaman and The Customer Driven Company
"I enjoyed every thought expressed in Trust Works! Ken, Cindy, and Martha have hit a home run in the game of life with this magnificent offering."
—Colleen Barrett, coauthor of Lead with LUV and president emeritus of Southwest Airlines
"Building high-trust relationships is the foundation of effective leadership. With typical Blanchard brilliance, Trust Works! demystifies the complex concept of trust and identifies the core behaviors necessary to build and restore it."
—Jim Irvine, manager of talent management and organizational learning at Nissan North America and coauthor of Your Resume Sucks!
"In life and particularly in management, trust is critical. Simple, clear, and focused, Trust Works! is full of practical ideas that can immediately be applied to boost morale and productivity. A must-read for every manager."
—Lisa Doyle, vice president of learning and development, Lowe's Companies, Inc.

About the Author
Ken Blanchard
is an international bestselling author and motivational speaker whose books, including The One Minute Manager®, The One Minute Entrepreneur™, and Leading at a Higher Level, have sold more than eighteen million copies in thirty languages. He lives in San Diego, California.

Find Items On Similar Subjects

The Trust Edge
: How Top Leaders Gain Faster Results, Deeper Relationships, and a Stronger Bottom Line