The Trust Edge
: How Top Leaders Gain Faster Results, Deeper Relationships, and a Stronger Bottom Line
David Horsager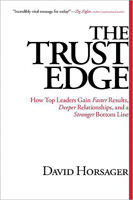 Format:
Hardcover, 368pp.
ISBN:
9781476711379
Publisher:
Free Press
Pub. Date:
October 9, 2012
Average Customer Review:

For Bulk Orders Call: 626-441-2024

Description and Reviews
From
The Publisher:
In
The Trust Edge
, David Horsager reveals the foundation of genuine success—trust. Based on research but made practical for today's leader, The Trust Edge shows that trust is quantifiable and brings dramatic results to businesses and leaders. In this book, Horsager teaches readers how to build the 8 Pillars of Trust:
1. Clarity: People trust the clear and mistrust the ambiguous.
2. Compassion: People put faith in those who care beyond themselves.
3. Character: People notice those who do what is right over what is easy.
4. Competency: People have confidence in those who stay fresh, relevant, and capable.
5. Commitment: People believe in those who stand through adversity.
6. Connection: People want to follow, buy from, and be around friends.
7. Contribution: People immediately respond to results.
8. Consistency: People love to see the little things done consistently.
When leaders learn how to implement these pillars, they enjoy better relationships, reputations, retention, revenue, and results. Fascinating and timely, The Trust Edge unveils how trust has the ability to accelerate or destroy any business, organization, or relationship. The lower the trust, the more time everything takes, the more everything costs, and the lower the loyalty of everyone involved. Conversely, an environment of trust leads to greater innovation, morale, and productivity. The trusted leader is followed. From the trusted salesperson, people will buy. For the trusted brand, people will pay more, come back, and tell others. Trust, not money, is the currency of business and life!

Reviews
"Few things are more important in life than earning the trust of others. The Trust Edge gives practical, proven ways to build trustworthiness and solid relationships. Incredibly vital message for today!"
—Zig Ziglar, author, motivational teacher
"Trust is the most important fundamental between leaders and among people. It is the cornerstone for building lasting relationships and growing successful business enterprises. This book shows you exactly how to build the 8 Pillars of Trust and how to apply them for maximum effectiveness."
—Dr. Nido Qubein, Chairman, Great Harvest Bread Co. and President, High Point University
"Gripping and insightful! Anyone wanting to take his or her leadership to the next level must read this book! It will become THE AUTHORITIVE GUIDE on building Trust!"
—Alex Lopes, CEO, Progora

About the Author
David Horsager
, M.A., C.S.P., is a business strategist, entrepreneur, professor, and author who researches and speaks on the bottom-line impact of trust. His clients range from Wells Fargo, ING, and The Better Business Bureau to the U.S. Coast Guard Academy, Mercy Medical Center, and the U.S. Department of Homeland Security. David and his wife, Lisa, have four children and live in Minnesota. Learn more at DavidHorsager.com.

Find Items On Similar Subjects

Radical Trust
: How Today's Great Leaders Convert People to Partners