The End of Leadership
Barbara Kellerman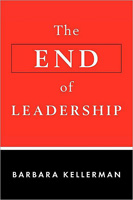 Format:
Hardcover, 356pp.
ISBN:
9780062069160
Publisher:
HarperBusiness
Pub. Date:
April 3, 2012
Average Customer Review:


For Bulk Orders Call: 626-441-2024

Description and Reviews
From
The Publisher:
One of our foremost leadership experts dismantles obsolete assumptions and stimulates a new conversation about leadership in the twenty-first century.
Becoming a leader has become a mantra. The explosive growth of the "leadership industry" is based on the belief that leading is a path to power and money, a medium for achievement, and a mechanism for creating change. But there are other, parallel truths: that leaders of every stripe are in disrepute; that the tireless and often superficial teaching of leadership has brought us no closer to nirvana; and that followers nearly everywhere have become, on the one hand, disappointed and disillusioned, and, on the other, entitled and emboldened.
The End of Leadership
tells two tales. The first is about change—about how and why leadership and followership have changed over time, especially in the last forty years. As a result of cultural evolution and technological revolution, the balance of power between leaders and followers has shifted—with leaders becoming weaker and followers stronger.
The second narrative is about the leadership industry itself. In this provocative and critical volume, Barbara Kellerman raises questions about leadership as both a scholarly pursuit and a set of practical skills: Does the industry do what it claims to do—grow leaders? Does the research justify the undertaking? Do we adequately measure the results of our efforts? Are leaders as all-important as we think they are? What about followers? Isn't teaching good followership as important now as teaching good leadership? Finally, Kellerman asks: Given the precipitous decline of leaders in the estimation of their followers, are there alternatives to the existing models—ways of teaching leadership that take into account the vicissitudes of the twenty-first century?
The End of Leadership
takes on all these questions and then some—making it necessary reading for business, political, and community leaders alike.

Reviews
"After pioneering work on followership and bad leadership, now Kellerman provocatively dissects what she calls the leadership industry. She offers suggestions on how to think far bigger and more expansively if we are to cope with leading in a global information age."
—Joseph S. Nye, Jr., University Distinguished Service Professor at Harvard and author of The Future of Power
"In this wide-ranging critique, Kellerman enumerates the numerous contradictions, inconsistencies, and irrelevance of what passes for leadership thought and training today. Before you purchase or attend any of what the multi-billion dollar leadership industry is selling, read this book!"
—Jeffrey Pfeffer, Thomas D. Dee II Professor, Graduate School of Business, Stanford University, and author of Power: Why Some People Have It-and Others Don't
"Barbara Kellerman does not play nicely with the other boys and girls-and we are all the better for it. Anyone interested in a penetrating critique of the leadership industry should read this provocative new book from our foremost leadership contrarian."
—Robert Kegan, Meehan Professor of Adult Learning and Professional Development, Harvard University Graduate School of Education
"In this compelling book, Kellerman brings critical new insights to longstanding questions about the importance of leaders….essential reading for anyone who cares about the future of leadership both in theory and practice."
—Deborah Rhode, Ernest W. McFarland Professor of Law and Director of the Center on the Legal Profession, Stanford Law School
"Kellerman's honest and astute critique makes it clear that the gurus in her own field have work to do if they want to remain relevant."
—Kirkus Reviews
"A timely, considered and comprehensive examination of how leadership has changed and how and why we lost faith in leaders; how the leadership industry went wrong - and the steps needed to put it right."
—Rob Goffee, Professor of Organisational Behaviour, London Business School
"'Mind the Gap' could be the subtitle of Kellerman's disturbingly honest and indispensable book. The 'gap' Kellerman urges us to mind is the hoary disconnect between what the leadership industry produces about best practices and what leaders who read our books actually practice."
—Warren Bennis, University Professor, University of Southern California and author of Still Surprised: A Memoir of a Life in Leadership

About the Author
Barbara Kellerman
is the James MacGregor Burns Lecturer in Public Leadership at Harvard University's John F. Kennedy School of Government. She was the founding executive director of the Kennedy School's Center for Public Leadership and served as its research director. She was ranked by Forbes.com among the Top 50 Business Thinkers in 2009 and by Leadership Excellence in the top 15 of the 100 "best minds on leadership" in 2008 and 2009. In 2010 she was given the Wilbur M. McFeeley Award for her pioneering work on leadership and followership. She is author and editor of many books, including, most recently, Bad Leadership, Followership, and Leadership: Essential Selections on Power, Authority, and Influence.

Find Items On Similar Subjects

Followership
: How Followers Are Creating Change and Changing Leaders