Thriving on Chaos
: Handbook for a Management Revolution
Thomas J. Peters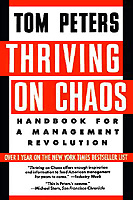 Format:
Paperback, 736pp.
ISBN:
9780060971847
Publisher:
Harper Paperbacks
Pub. Date:
November 30, 1988
Average Customer Review:

For Bulk Orders Call: 626-441-2024

Description and Reviews
From
The Publisher:
Published the same day as the October 19, 1987, stockmarket crash, Thriving on Chaos is focused on the turmoil requiring nothing short of a management revolution. In
Thriving on Chaos
, Tom declares that everything known "for sure" about management 15 years earlier is being challenged, and he forecasts (correctly) that the next 15 years would show even more change. The relatively predictable environment of the past was vanishing, requiring organizations and managers to embrace flexibility and a total love of change. Chaos and rapid change were becoming inevitable, and Tom claims that the winners of the future would deal proactively with chaos, seeing it as a source of market advantage, not a problem to be ignored.

Reviews
Addressing American industry's continuing decline in foreign and domestic markets, Peters (In Pursuit of Excellence) here offers a detailed plan for unstructured business activity in which some readers will see not only chaos but anarchy. Nevertheless, the author's perception of high quality as a determining consumer motivation and his radical recipe for achieving it are persuasive. Noting that smaller service-oriented businesses like Federal Express prosper while mammoth GE and GM falter, Peters would largely eliminate top-heavy management superstructures in favor of creative worker involvement and customer participation, with supervisors on hand to encourage. This textbook cites dozens of specific business situations and person-to-person responses in support of its step-by-step instructions for turning a failing enterprise aroundif those involved can act fast. 150,000 first printing; Fortune Book Club main selection.
—Publishers Weekly, Copyright 1987 Reed Business Information, Inc. --This text refers to an out of print or unavailable edition of this title.
In contrast to the mass of oversimplified business survival manuals, this one justifies itself. After demonstrating in his previous books ( In Search of Excellence , with Robert Waterman, and A Passion for Excellence ) what he calls the "nice-to-do" in order for an organization to achieve success, Peters now proposes the "must-do" to survive in explosively changing times. His 45 "prescriptions" for survival boil down to enlightened leadership through innovation and flexibility in management style and organizational structure. Essential. A.J. Anderson, G . S.L . I . S . , Simmons Coll., Boston
—Library Journal, Copyright 1987 Reed Business Information, Inc. --This text refers to an out of print or unavailable edition of this title.
"Enough inspiration and information to feed American managers for years."
—Industry Week
"A provocative and worthwhile book, loaded with sound advice on how to manage our institutions in a world in which the old ways do not seem to work."
—Across the Board


Reader's Index
Send us your favorite quotes or passages from this book
.
• "
Facing Up to the Need for Revolution
Can America make it? A huge trade imbalance, a sliding currency, falling real wages and a dismal productivity record. A decade ago, these were the hallmarks of a struggling British economy. Today they characterize an American economy which is struggling...against fierce competition from the Far East.
Financial Times (of London)
May 9. 1987
Excellence Isn't
There are no excellent companies. The old saw "If it ain't broke, don't fix it" needs revision. I propose: "If it ain't broke, you just haven't looked hard enough." Fix it anyway.
No company is safe. IBM is declared dead in 1979, the best of the best in 1982, and dead again in 1986. People Express is the model "new look" firm, then flops twenty-four months later.
In 1987, and for the foreseeable future, there is no such thing as a "solid," or even substantial, lead over one's competitors. Too much is changing for anyone to be complacent. Moreover, the "champ to chump" cycles are growing ever shorter — a "commanding" advantage, such as Digital Equipment's current edge in networks that allow vast numbers of computers to interact with one another, is probably good for about eighteen months, at best.
There are two ways to respond to the end of the era of sustainable excellence. One is frenzy: buy and sell businesses in the brave hope of staying out in front of the growth industry curve. This is the General Electric idea: in the last six years, it has acquired over 325 businesses at a cost of over $12billion, and dumped more than 225, getting $8 billionin return.
The second strategy is paradoxical — meeting uncertainty by emphasizing a set of new basics: world-class quality and service, enhancedresponsiveness through greatly increased flexibility, and continuous, short-cycle innovation and improvement aimed at creating new markets for both new and apparently mature products and services.
The latter is Ford's approach to transformation. Quality really hasbecome Job One at Ford. The once all-powerful finance function hasassumed a less dominant role, and manufacturing, the prime source ofquality, is no longer low in the organizational pecking order. And product development techniques have been set on their ear with the unconventional, but wildly successful, Team Taurus approach; it combined supplier, worker, dealer, and customer input from the start.
If the word "excellence" is to be applicable in the future, it requires wholesale redefinition. Perhaps: "Excellent firms don't believe in excellence — only in constant improvement and constant change." That is, excellent firms of tomorrow will cherish impermanence — and thrive on chaos." Pg. 3-4

About the Author
Tom Peters
is a leading business mind and founder of the Tom Peters Company. He continues to be in constant demand for lectures and seminars. In 2017 he received a Lifetime Achievement Award from Thinkers50. Peters is the bestselling author of sixteen books, including In Search of Excellence (with Robert H. Waterman, Jr.), which is often cited as among the best business books ever written. He lives in Massachusetts.

Find Items On Similar Subjects

The Little Big Things
: 179 Ways to Be Excellent at Work

In Search of Excellence
: Lessons from America's Best-Run Companies

Re-imagine!
Business Excellence in a Disruptive Age