Re-imagine!
Business Excellence in a Disruptive Age
Thomas J. Peters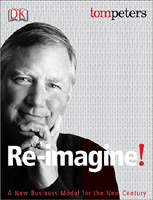 Format:
Hardcover, 256pp.
ISBN:
9780789496478
Publisher:
DK Publishing
Pub. Date:
October 2003
Average Customer Review:

For Bulk Orders Call: 626-441-2024

Description and Reviews
From
The Publisher:
More than just a how-to book for the 21st Century, Re-imagine! is a call to arms -- a passionate wake-up call for the business world, educators, and society as a whole. Focusing on how the business climate has changed, this inspirational book outlines how the new world of business works, explores radical ways of overcoming outdated, traditional company values, and embraces an aggressive strategy that empowers talent and brand-driven organizations where everyone has a voice.

About the Author
Author, provocateur, and business visionary
Tom Peters
is recognized around the globe as one of the most influential and revolutionary management gurus of the last century. The author of more than 10 best-selling books on innovative business practices, including the groundbreaking In Search of Excellence, Peters gives more than 100 major seminars each year and serves as the chairman of Tom Peters Company.

Table of Contents
| | | |
| --- | --- | --- |
| | Foreword: I'm Mad as Hell | 6 |
| | Introduction: New War New Business | 12 |
| Part I. | New Business New Context | 18 |
| Chapter 1. | Re-imagining the World: All Bets Are Off | 20 |
| Chapter 2. | Control Alt Delete: The Destruction Imperative | 30 |
| Part II. | New Business New Technology | 46 |
| Chapter 3. | In the Crosshairs: White-Collar Cataclysm | 48 |
| Chapter 4. | InfoTech Changes Everything: "On the Bus" or ... "Off the Bus"? | 58 |
| Part III. | New Business New Value | 70 |
| Chapter 5. | From "Cost Center" to Stardom: The PSF/Professional Service Firm Transformation | 72 |
| Chapter 6. | PSFs Mean Business: The Solutions Imperative | 84 |
| Chapter 7. | Welcome to XF/Cross-Functional World: The Solutions50 | 96 |
| Part IV. | New Business New Brand | 110 |
| Chapter 8. | Beyond Solutions: Providing Memorable "Experiences" | 112 |
| Chapter 9. | ExperiencesPlus: Embracing the "Dream Business" | 124 |
| Chapter 10. | Design: The "Soul" of New Enterprise | 132 |
| Chapter 11. | Design's Long Coattails: Beautiful Systems | 146 |
| Chapter 12. | The Ultimate Value Proposition: The Heart of Branding | 154 |
| Part V. | New Business New Markets | 164 |
| Chapter 13. | Trends Worth Trillion$$$ I: Women Roar | 166 |
| Chapter 14. | Trends Worth Trillion$$$ II: Boomer Bonanza | 184 |
| Part VI. | New Business New Work | 192 |
| Chapter 15. | Making Work Matter: The WOW Project! | 194 |
| Chapter 16. | No Limits: WOW Projects for the "Powerless" | 202 |
| Chapter 17. | Boss Work: Heroes, Demos, Stories | 210 |
| Chapter 18. | Bringing WOW Work to Fruition: The Sales25 | 222 |
| Part VII. | New Business New People | 232 |
| Chapter 19. | Re-imagining the Individual: Life in a Brand You World | 234 |
| Chapter 20. | Boss Job One: The Talent25 | 248 |
| Chapter 21. | Meet the New Boss: Women Rule | 268 |
| Chapter 22. | Getting It Right at the Start: Education for a Creative & Self-Reliant Age | 276 |
| Part VIII. | New Business New Mandate | 292 |
| Chapter 23. | Think Weird: The High Value-Added Bedrock | 294 |
| Chapter 24. | In Search of Excellence: A Three-Generation Report Card | 304 |
| Chapter 25. | Pursuing Excellence in a Disruptive Age: The Leadership50 | 318 |
| | Index | 344 |
| | Acknowledgments | 349 |
| | Author's Biography | 352 |

Find Items On Similar Subjects

The Little Big Things
: 179 Ways to Be Excellent at Work

In Search of Excellence
: Lessons from America's Best-Run Companies

The Project 50 (Reinventing Work)
: Fifty Ways to Transform Every "Task" into a Project That Matters

Thriving on Chaos
: Handbook for a Management Revolution