Upgrade!
Proven Strategies for Dramatically Increasing Personal and Professional Success
Mark Sanborn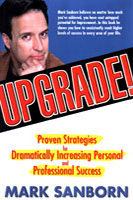 Format:
Paperback, 207pp.
ISBN:
9780971092600
Publisher:
Sanborn & Associates Publishing
Pub. Date:
August 2001
Average Customer Review:

For Bulk Orders Call: 626-441-2024

Description and Reviews
From
The Publisher:
Whether you're a peak performer or an aspiring student of success with big goals but limited results,
UPGRADE!
will show you how to consistently reach new levels of success. These proven strategies are combined into an easy-to-remember system that can be applied to any area of your life that you desire to dramatically improve. These techniques have been used by some of today's most successful individuals and organizations and based on over 15 years of research and study by the author in the area of human and organizational achievement.
UPGRADE!
is packed with life enriching ideas, strategies and techniques. Here's just some of what you'll learn:
Why the possibility for improvement is infinite
The new rules of how to learn
How to add value to any product, service or process
How to replace money with imagination and out-think your competition
How to catapult your career without selling out
Using positive discontent to better your best
Going beyond "interacting" to build lasting relationships
Secrets achievers use to exploit change
The power of bold implementation and how to harness it
8 tips for enhancing creativity
Why you need to be a "go-giver" and not just a "go-getter"
Cutting edge communication strategies for increased results
The principles of self-mastery (you don't have to be ruled by external forces)
How to build a perpetually improving organization

Reviews
This fast-moving book challenges you to go beyond anything you have ever accomplished—and then it shows you how, in a practical, step-by-step process that you can implement immediately.
—Brian Tracy, author of Maximum Achievement and The 100 Absolutely Unbreakable Laws of Business Success
A book that applies to anybody on the planet! Thought-provoking. Clever Philosophy. Examples galore. Need another plus? It's delightfully entertaining.
—Dianna Booher, author of E-writing: Communicating with Confidence! and Well Connected
Upgrade!
is fabulous "how to" book that works as a road map for continuous improvement for individuals and businesses. It will help you turn good to great, and great to incredible!"
—Dr. Tony Alessandra, author of Charisma
This is not just a book to read but a book to do. It's packed with potential how to strategies to help anyone looking to improve the quality of their life. Super-fantastic job!
—Keith Harrell, author of Attitude is Everything: Ten Life-Changing Steps to Turning Attitude Into Action


Reader's Index
Send us your favorite quotes or passages from this book
.
• "Our habits shape us. While it is true that good people tend to do good things, it is important to remember that doing good things can make us good. We can triumph over petty feelings by choosing better actions—actions to help, serve, assist, donate and contribute—and those actions make us better people in the process." Pg. 71

About the Author
Mark Sanborn
, president of Sanborn and Associates in Denver, Colorado, is a professional speaker to audiences ranging from Fortune 500 companies to churches including Exxon, Airtouch Cellular, BMW Financial, Mortons of Chicago, New York Life, Price Costco, ServiceMaster, and Hewlett Packard.
Presentations
magazine featured Mark in 1995 as one of five "Masters of the Microphone." Mark holds the Certified Speaking Professional designation and is one of the youngest speakers ever inducted into the Speaker Hall of Fame. He is also a member of the exclusive Speakers Roundtable, a group of 20 of the top speakers in the world.
Mark also is the author or coauthor of nine books, including
Teambuilt: Making Teamwork Work
,
Sanborn On Success
,
Best Practices In Customer Service
, and
Meditations for the Road Warrior
. He has created and appeared in 20 videos and numerous audio training programs.

Table of Contents
| | | |
| --- | --- | --- |
| | Acknowledgements | ix |
| | Introduction | xi |
| 1 | Why UPGRADE? | 1 |
| 2 | The UPGRADE! Process | 18 |
| 3 | Understand: The New Rules of Learning | 34 |
| 4 | Plus (+): Add Value to Everything | 57 |
| 5 | Give: From Go-Getter to Go-Giver | 69 |
| 6 | Relate | 79 |
| 7 | Relate (part 2): Communicate | 91 |
| 8 | Adapt: Conquering Change | 102 |
| 9 | Discipline: The Keys to Self Mastery | 116 |
| 10 | Execute | 135 |
| 11 | The Continually Upgrading Organization | 151 |
| 12 | How To Upgrade Every Day | 171 |
| 13 | Conclusions | 192 |
| | About the Author | 205 |

Find Items On Similar Subjects

All Items by Mark Sanborn

The Fred Factor
: Every Person's Guide to Making the Ordinary Extraordinary!

Meditations for the Road Warrior

The Encore Effect
: How to Achieve Remarkable Performance in Anything You Do

The 12 Bad Habits That Hold Good People Back
: Overcoming the Behavior Patterns That Keep You from Getting Ahead