Project Leadership
James P. Lewis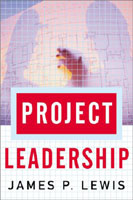 Format:
Hardcover, 224pp.
ISBN:
9780071388672
Publisher:
McGraw-Hill Trade
Pub. Date:
October 2002
Average Customer Review:

For Bulk Orders Call: 626-441-2024

Description and Reviews
From
The Publisher:
Solutions for growing beyond mere management into a truly accomplished project leader
In today's high-performance, competitive environment, the importance of project success has never been more critical or the failure rate more pronounced. Project Leadership provides a step-by-step program for transforming by-the-book project managers into true leaders who are capable of helping their team members plan, execute, and sustain consistent project success­­even in an environment of relentless pressure, continuous innovation, and unforeseen change.
Author and project management icon James P. Lewis has created a hands-on blueprint for building a focused project team, forging it into a strong unit, and going beyond the principles of management to effectively lead it to success. Drawing on Lewis's exhaustive knowledge of project management and current best practices in leadership, Project Leadership discusses:
How to use state-of-the-art technologies to ensure project management success Proven leadership principles, and ways to both understand and adopt them Case studies of best-practices project leadership in action
Techniques for Going Beyond "Managing" to Become a True Project Leader
Even though they can't be reduced to a tidy formula or equation, the principles of leadership are every bit as legitimate--and learnable--as those of finance or engineering. Project Leadership provides you with a blueprint for becoming a successful project leader, capable of motivating team members to achieve project objectives not because they have to but because they want to.
This uniquely hands-on look at project leadership goes beyond theory to examine the real-world relationship between task, leader, and follower. It outlines steps managers can take to gain the trust of their team members--the first step toward leadership--then goes on to describe:
Commonly encountered personality traits of both leaders and followers
Case studies of leadership in action, in both business and nonbusiness settings
Leadership principles that can successfully be applied to numerous situations
Research has shown that successful project leaders exhibit remarkably consistent actions and behaviors, and that virtually anyone can adopt those practices to dramatically improve their leadership effectiveness. In Project Leadership, discover what effective project leadership is really all about, and principles that--if followed--can greatly increase your project management success.
"Leadership appears to be the art of getting others to want to do something you are convinced should be done."—Vance Packard
It is followers, not organizations, that convey leadership. And before people will allow you to lead them, you must understand what they want from you and what they expect of you.
Project Leadership focuses on the unique skills necessary for leading people in a project environment. Nontechnical and accessible, it provides an easy-to-follow program for transforming yourself from a by-the-book manager into a leader capable of encouraging team members to plan, accomplish, and sustain excellence. Drawing on author Jim Lewis's considerable experience with project management and leadership best practices, this step-by-step coursebook for developing leadership proficiency discusses:
Proven leadership principles, with methods for both understanding and adopting them
Strategies for changing from the command-and-control role to that of facilitator
Proven steps for building the personal credibility required for effective leadership
As a project manager, you are generally given overwhelming responsibility with little actual authority. So, without such authority, how do you get others to "do something you are convinced should be done?" Project Leadership unveils a chapter-by-chapter program for developing the skills of a leader. You discover techniques for matching individuals' talents to specific tasks ... skills for delegating authority without fear of losing control ... physical approaches for quickly building rapport with other persons ... tips for acquiring credibility in an unfamiliar setting ... and much more.
The principles of effective project leadership can be learned, practiced, and improved upon. In Project Leadership, author and project management expert Jim Lewis combines decades of leadership research with his own unmatched project management experience to arrive at a straightforward, logical, and convincing system for becoming a leader--one who can consistently direct people to bring projects of every type to their successful conclusions.

About the Author
James P. Lewis, Ph.D.
, is the founder of The Lewis Institute, Inc., a training and consulting company specializing in project management, and an adjunct professor at the University of Management and Technology. Over the past two decades, Dr. Lewis has trained over 25,000 supervisors and managers in the United States, Europe, Asia, and throughout the world. He has written a number of influential books on project management, including Project Planning, Scheduling, and Control, The Project Managers Desk Reference, Working Together, and others. His books have been translated into Chinese, Portuguese, and Lithuanian.

Table of Contents
| | | |
| --- | --- | --- |
| | Preface | xi |
| | Acknowledgements | xv |
| 1 | What is Leadership? And Do We Really Need It? | 1 |
| 2 | Leadership in Action —Some Examples | 15 |
| 3 | Personality and Leadership | 27 |
| 4 | Temperament and Motivation | 43 |
| 5 | You Think Funny! | 57 |
| 6 | Leadership Styles | 77 |
| 7 | What Leaders Actually Do: Modeling Excellence | 93 |
| 8 | The Self-Fulfilling Prophecy and Leadership | 105 |
| 9 | Communication and Leadership | 117 |
| 10 | Interpersonal Influence | 133 |
| 11 | Mulally's Principles for Managing | 147 |
| 12 | Emotional Intelligence | 157 |
| 13 | Credibility and Trust | 171 |
| 14 | Putting It All Together | 179 |
| | Resources for Managers | 185 |
| | References and Reading List | 187 |
| | Index | 195 |

Find Items On Similar Subjects

Leading Teams
: Setting the Stage for Great Performances