Leading Teams
: Setting the Stage for Great Performances
J. Richard Hackman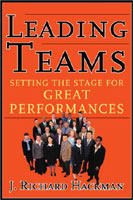 Format:
Hardcover, 368pp.
ISBN:
9781578513338
Publisher:
Harvard Business School Press
Pub. Date:
July 2002
Average Customer Review:

For Bulk Orders Call: 626-441-2024

Description and Reviews
From
The Publisher:
Teams have more talent and experience, more diverse resources, and greater operating flexibility than individual performers. So why do so many teams either struggle unpleasantly toward an unsatisfactory conclusion-or, worse, crash and burn shortly after launch?
J. Richard Hackman, one of the world's leading experts on group and organizational behavior, argues that the answer to this puzzle is rooted in flawed thinking about team leadership. It is not a leader's management style that determines how well a team performs, but how well a leader designs and supports a team so that members can manage themselves.
According to Hackman, cookie-cutter formulas and prescribed leadership styles often backfire because they place far too much emphasis on the leader as the primary cause of team behavior. In Leading Teams, he identifies the key conditions that any leader can put in place to increase the likelihood of team success-regardless of his or her personality or preferred style of operating.
Through extensive research and compelling examples ranging from orchestras to economic analysts to airline cockpit crews, Hackman identifies five conditions that set the stage for great performances: a real team, a compelling direction, an enabling team structure, a supportive organizational context, and the availability of competent coaching.
Leading Teams outlines what leaders can do to structure, support, and guide teams in a way that:
enhances the social processes essential to collective work
builds shared commitment, skills, and task-appropriate coordination strategies
helps members troubleshoot problems and spot emerging opportunities and
captures experiences and translates them into shared knowledge
Out of these conditions, Hackman argues, the very best teams emerge-teams that exceed client expectations, grow in capability over time, and contribute to the learning and personal fulfillment of individual members.
Authoritative, practical, and astutely realistic,
Leading Teams
offers a new and provocative way of thinking about and leading work teams in any organizational setting.

Reviews
"Written with exceptional clarity and wit, and teeming with original, down-to-earth advice, Leading Teams is indispensable reading for anyone who works in teams, studies them, or wonders what makes them sink or soar."
—Harvey Hornstein, Professor, Teachers College, Columbia University
"This is the book I have been waiting for on team effectiveness. Based on findings and containing insights from the leading researcher on teams, Leading Teams has everything. It is engaging, highly readable, and full of practical, useful advice."
—Edward Lawler, Distinguished Professor and Director, Center for Effective Organizations, University of Southern California, Marshall School of Business
"Full of rich stories and organized into compelling cases, Leading Teams clearly communicates an elegant analysis of effective team leadership. A gem for practitioners and researchers alike."
—Chris Argyris, James B. Conant Professor Emeritus, Harvard University and Director, Monitor Group


Reader's Index
• "Effective team self-management is impossible unless someone in authority sets the direction for the teams' work." Pg. 62
• "To foster self-managing, goal-directed work, those who create work teams should be insistent and unapologetic about exercising their authority to specify end states, but equally insistent about
not
specifying the details of the means by which the team is to pursue those ends." Pg. 73
• "Setting direction for work teams is about the exercise of authority and the release of energy. It involves continuously balancing between tapping into forces rooted deep in the human psyche and finding mechanisms for channeling and controlling that energy." Pg. 90

About the Author
J. Richard Hackman
is the Cahners-Rabb Professor of Social and Organizational Psychology at Harvard University. He resides in Bethany, Connecticut, and Cambridge, Massachusetts.

Table of Contents
| | | |
| --- | --- | --- |
| | Preface | vii |
| | Part I: Teams | |
| Chapter 1 | The Challenge | 3 |
| | Part II: Enabling Conditions | |
| Chapter 2 | A Real Team | 37 |
| Chapter 3 | Compelling Direction | 61 |
| Chapter 4 | Enabling Structure | 93 |
| Chapter 5 | Supportive Context | 133 |
| Chapter 6 | Expert Coaching | 165 |
| | Part III: Opportunities | |
| Chapter 7 | Imperatives for Leaders | 199 |
| Chapter 8 | Thinking Differently About Teams | 233 |