Ranger School: No Excuse Leadership
Brace E. Barber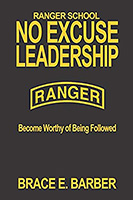 Format:
Paperback, 335pp.
ISBN:
9780967829265
Publisher:
Brace E. Barber
Pub. Date:
March 29, 2020
Average Customer Review:

For Bulk Orders Call: 626-441-2024

Description and Reviews
From
The Publisher:
Become Someone Worthy of Being Followed.
The challenge, the pain and the leadership value of U. S. Army Ranger School have been squeezed into the pages of this book. Experience the first book to illuminate the best leadership school in the U.S. Army; Ranger School. Ranger School puts you at ground level and drives home leadership principles through impactful first-person stories. Learn what Ranger School is like. Feel the claustrophobia of the first night, the frustration of exhaustion and the pain of hunger. This is the perfect in-depth source for tab seekers and for anyone wishing to know how to become someone worthy of being followed. Graduates will be reunited with their own extraordinary experiences and determination. Leaders don't make excuses!
No Excuse Leadership is a leadership philosophy that grew out of a study and analysis of students at West Point and the U. S. Army Ranger School. Rangers are our nation's premier infantry strike force. They are trained to face the world's most dangerous forces and win. Their exploits and mindset have been highlighted in the movies Saving Private Ryan and Blackhawk Down. They are designed to operate with inferior numbers, while using the element of surprise and fanatically coordinated violence to destroy the enemy. Besides being outnumbered, they are typically behind enemy lines in treacherous terrain. And let's not forget the small element of bullets and rockets that they have to avoid. The soldiers of the Army Rangers have to be able to operate effectively under such difficult circumstances. They have to have special training.The rite of passage for the Army Ranger is the U. S. Army Ranger School. It is a nine-week training course that is brutally intense both physically and mentally. Over the nine weeks, the students average 2.5 hours of sleep a night, only eat one to one and a half meals a day, and expend an enormous amount of energy while performing dismounted military missions in the forests, swamps and deserts of various uninhabitable parts of America. This is key; while under these conditions, the ranger student still has to perform!
The leadership philosophy that emerged from the study of soldiers during training and then in their lives after the experience is called No Excuse Leadership. The core concept of No Excuse Leadership – the central truth – is that the best leaders have developed the habit of making the right decisions under difficult circumstances. A Secret. No Excuse Leadership actually comes from the leadership foundation laid at the United States Military Academy at West Point. The first thing that West Point does, literally within seconds of a New Cadet's arrival, is take away every opportunity for them to rationalize, reason or explain away their failures and shortcomings. They limited us to four responses when addressed by an officer or upperclassman. Those responses are Yes Sir, No Sir, No Excuse Sir, and Sir I do not understand. Why would they do that? Consider that West Point has become the embodiment of leadership through over two hundred years of existence. West Point's mission is to create leaders capable of operating successfully in combat. The consequence of unprepared leaders in combat is the loss of life; our sons and daughters. There are no reasonable rationalizations for being less than prepared. There are no excuses. No Excuse Leadership is a change in mindset that motivates people to thoroughly prepare and take responsibility for success.

Reviews
"A great read. Brace Barber was a superb leader, Ranger, and great American. I was proud to serve with him. This book is a must on every Ranger or those who wish to be's . . . coffee table."
—Colonel David Hunt Fox News Military Analyst
"A great book, designed to demonstrate how one can achieve the mental toughness to succeed . . . no matter what the adversity."
—J. D. Lock coauthor of To Fight with Intrepidity: The Complete History of the U.S. Army Rangers, 1622 to Present and author of The Coveted Black and Gold
"I thoroughly enjoyed it. Matter of fact: had a tough time putting it down."
—Hazen L. Baron COL, Infantry, Commander, Ranger Training Brigade
"A terrific, hard-hitting book on leadership!"
—Christopher D. Kolenda editor and coauthor of Leadership: The Warrior's Art
"An excellent book for young people wishing to expand their horizons and tap their potential. As a former soldier, I highly recommend this book for those wishing to push farther and harder than their peers."
—Michael Yon author of Danger Close
"The challenging demands of U.S. Army Ranger School training as well as the resulting career and lifetime benefits that accrue to those who have the heart and courage to persevere are vividly recounted in this enlightening and very motivating book."
—USMC Major General (Ret.) Ted Hopgood Commandant, Corps of Cadets, Texas A&M University
"I would place it on the recommended reading list for those going to Ranger School and those looking for a study in leadership. It is about life--setting high goals and then pushing yourself to the limit and beyond to achieve those goals."
—Colonel Thomas H. Aldrich Professor of Military Science, Norwich University
"If your desire is to understand the dynamics of how one goes about leading and succeeding in difficult circumstances, this could be the book for you."
—CPT Russell Perkins Military Instructor, North Georgia Military College

About the Author
Brace E. Barber
(Colorado Springs, CO) is a graduate of West Point and the U.S. Army's Airborne and Ranger Schools. He has served in the military around the world, including near the Korean demilitarized zone. Using the organization and leadership skills he learned in the military, he cofounded, and currently serves as president of, two companies, Tax Recovery Group, Inc., a national consulting firm, and The Tax Firm, Inc.

Table of Contents
| | | |
| --- | --- | --- |
| | Dedication | |
| | Forward by BG (Ret) David Grange | |
| | Acknowledgements | |
| | About the Author | |
| | Introduction | |
| 1 | Brace Barber—Rangers are Persistent | |
| 2 | Eric Faulkner—Rangers are Focused | |
| 3 | Lance Bagley—Rangers are Honest | |
| 4 | Eric Werner—Rangers are Selfless | |
| 5 | John Hutt—Rangers are Confident | |
| 6 | David Stockwell—Rangers are Instinctual | |
| 7 | Steve Adams—Rangers are Determined | |
| 8 | Mark Chandler—Rangers are Driven | |
| 9 | Scott Sharp—Rangers are Dutiful | |
| 10 | Robert 'Tex' Turner—Rangers are Humble | |
| | Conclusion | |
| | Terms, Acronyms and Definitions | |

Find Items On Similar Subjects

The Leadership Lessons of the U.S. Navy SEALS

The U.S. Army Leadership Field Manual

The Leadership Secrets of Colin Powell