The Leadership Lessons of the Navy SEALS
: Battle-Tested Strategies for Creating Successful Organizations and Inspiring Extraordinary Results
Jeff Cannon and Lieutenant Commander Jon Cannon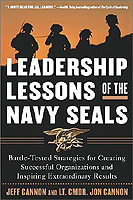 Format:
Paperback, 240pp.
ISBN:
9780071450133
Publisher:
McGraw-Hill Trade
Pub. Date:
December 1, 2004
Average Customer Review:

For Bulk Orders Call: 626-441-2024

Description and Reviews
From
The Publisher:
Leadership Lessons of the Navy SEALs
provides you with hands-on, field-tested advice from authors with decades of experience in both business and combat. This straight-talking handbook shows you how the leadership and teambuilding techniques of the elite, no-nonsense Navy SEALs can help you forge a powerful and goal-driven workforce, one that is prepared to take on--and triumph over--every challenge. Here you'll discover how to create and manage small, skilled, and loyal teams that:
Conduct focused operations with a minimum of costly distractions
Quickly analyze situations to arrive at logical, effective decisions
Work with, instead of against, other team members, sharing victory and learning from defeat
Leadership Lessons of the Navy SEALs
is filled with examples of how the SEALs have learned to operate effectively as a team. It discusses the necessity of giving each employee a specific and vital role; explains how you can acquire and keep essential team members without automatically resorting to pay increases; explores various methods you can use to expand or contract your workforce without taking on lethal business risk; and more.
While today's "Lean is better" mantra is great for businesses looking to control their costs, it can be excruciating for employees looking to stabilize and build their careers. Let
Leadership Lessons of the Navy SEALs
show you how to overcome this environment and instill confidence in each of your employees by creating, training, and leading teams designed to successfully carry out each phase of your company's long-term mission.
Leadership Secrets from the Navy's Elite Special Forces
For nearly half a century, the legendary SEAL (Sea-Air-Land) organization has been creating strong, effective leaders who excel at developing remarkable teams and delivering extraordinary results. This elite group's unique approach to leadership, which has been successfully field-tested on grueling missions around the world, is just as useful in today's no-quarter business arena as it is on the battlefield.
Built around inspiring real-life stories from both the military and business worlds, this no-nonsense book outlines a step-by-step approach for boosting morale and increasing productivity. Leaders from every business environment will discover techniques to:
Communicate objectives simply and forcefully
Build flexible, dynamic organizational structures
Acquire and keep important team members
Gain the trust and loyalty of team members
Prevent bureaucracy within chains of command
Effectively train their eventual replacements
Plan and prepare for crises
Make training relevant

Reviews
"The SEALS are without doubt one of the highest-performing organizations on the planet. The secret ingredient is that every SEAL is a leader/teacher, engaged in continuous, interactive teaching and learning. This book . . . is a must read for all leaders."
—Noel M. Tichy, Professor, University of Michigan Business School and author of The Cycle of Leadership

About the Authors
Jeff Cannon
is the senior vice president of Draft Worldwides Interactive Department in New York. He is a popular speaker and veteran of the advertising industry.
Lieutenant Commander Jon Cannon
is a Navy SEAL with experience in Latin America, the Far East, Eastern Europe, the Persian Gulf, and Africa. Cannon has also worked to develop new product launch strategies in Europe and determine marketing strategies for companies in the Middle East.

Find Items On Similar Subjects

The U.S. Army Leadership Field Manual

No Excuse Leadership
: Lessons from the U.S. Army's Elite Rangers

It's Your Ship
: Management Techniques from the Best Damn Ship in the Navy