The Art of Thinking
:The Classic Guide to Increasing Brain Power
Allen F. Harrison and Robert M. Bramson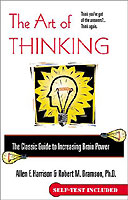 Format:
Paperback, 240pp.
ISBN:
9780425183229
Publisher:
Berkley Pub Group
Pub. Date:
February 2002
Average Customer Review:

For Bulk Orders Call: 626-441-2024

Description and Reviews
From
The Publisher:
What style of thinker are you?
The Synthesist: Sees likeness in apparent opposites, interested in change
The Idealist: Welcomes broad range of views, seeks ideal solutions
The Pragmatist: Seeks shortest route to payoff: "Whatever works,"
The Analyst: Seeks "one best way," interested in scientific solutions
The Realist: Relies on facts and expert opinions, interested in concrete results
There are five basic styles of thinking, each greatly influenced by the thinker's fundamental beliefs. It is these beliefs that limit people to thinking about things in only one way. With everyday examples, this practical and hands-on guide will show you how to unbind the mind from narrow thinking. Learning to approach situations in different ways is an invaluable life lesson. Learning to recognize others' thinking styles can transform communication. And learning to distinguish and choose the right style of thinking for any situation is an art that can help you achieve goals, influence others, and avoid making errors—while enhancing every area of your life.
The Art of Thinking
will expand your repertoire of strategies for asking questions, making decisions, getting along with people and solving problems. By learning why you think the way you do—and gaining surprising new insight into the thinking styles of others—you'll be able to get past obstacles, turn conflict into cooperation, and enjoy more success in everyday life.
Includes a test to determine your own style of thinking.
Previously published as
Styles of Thinking
.

About the Author
Robert N. Bramson
has also penned
Coping with Difficult People
;
What Your Boss Doesn't Tell You Until It's Too Late: How to Correct Behavior that is Holding You Back
; and, with Susan J. Bramson,
First Hired, Last Fired: How to Make Yourself Indispensable in an Age of Downsizing, Mergers, and Restructuring
.

Table of Contents
| | | |
| --- | --- | --- |
| | Foreword | vii |
| I | Thinking About Thinking—An Introduction | 1 |
| II | Styles of Thinking—The InQ | 5 |
| III | The Strange Ways of Synthesists | 19 |
| IV | The Wholesome Ways of Idealists | 33 |
| V | The Piecemeal Ways of Pragmatists | 47 |
| VI | The Orderly Ways of Analysts | 59 |
| VII | The No-nonsense Ways of Realists | 73 |
| VIII | Compatibilities, Affinities, and Conflicts—How the Styles Work Together | 85 |
| IX | Influencing Others | 101 |
| X | The Productive Use of Your Strengths | 137 |
| XI | Extending and Augmenting Your Thinking Strategies | 155 |
| XII | Theory for Those Who Want Theory | 175 |
| | The InQ | 189 |
| | Reading List | 199 |
| | Index | 201 |

Find Items On Similar Subjects

Hare Brain, Tortoise Mind : Why Intelligence Increases When You Think Less

Coping With Difficult People