Hare Brain, Tortoise Mind
: Why Intelligence Increases When You Think Less
Guy Claxton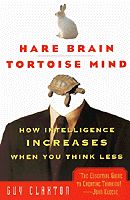 Format:
Paperback, 272pp.
ISBN:
9780060955410
Publisher:
HarperPerennial Library
Pub. Date:
January 1999
Average Customer Review:

For Bulk Orders Call: 626-441-2024

Description and Reviews
From
The Publisher:
In these accelerated times, our decisive and businesslike ways of thinking are unprepared for ambiguity, paradox, and sleeping on it." We assume that the quick-thinking "hare brain" will beat out the slower Intuition of the "tortoise mind." However, now research in cognitive science is changing this understanding of the human mind. It suggests that patience and confusion--rather than rigor and certainty--are the essential precursors of wisdom.
With a compelling argument that the mind works best when we trust our unconscious, or "undermind," psychologist Guy Claxton makes an appeal that we be less analytical and let our creativity have free rein. He also encourages reevaluation of society's obsession with results-oriented thinking and problem-solving under pressure. Packed with Interesting anecdotes, a dozen puzzles to test your reasoning, and the latest related research, Hare Brain, Tortoise Mind is an Illuminating, uplifting, stimulating read that focuses on a new kind of well-being and cognition.

Reviews
An argument for the seductive proposal that our unconscious intelligence is more productive than we think. Claxton, a visiting professor of psychology and education at Bristol University in England, builds his thesis on the dichotomy between the privileged mode of intelligence-conscious, result-oriented problem-solving-and the less respectable unconscious intelligence. This unconscious, or "undermind,'' approaches problems playfully, examines the questions themselves, and keeps us in touch with our poetic nature. Claxton is admittedly using the tools of the enemy to prove his point - since we give weight to scientific thought, he will use scientific thought to show the merit of intuitive thought. His multidisciplinary approach is beautifully executed, with a constant dialogue on the virtues of intuition and a peaceful mind drawing on the works of poets, novelists, and Buddhist teachings. However, the slim thesis stretches thinly into 13 chapters as Claxton approaches his proposition from all sides - intuition, consciousness, biopsychology, reflections on society's standards of intelligence. There's plenty of meaty new research - parallels with instinct in animal behavior are especially intriguing - but the overall effect becomes repetitious, and chapters begin to seem padded and disjointed as the book progresses. And despite his pointed attention to fashionable currents in psychology (evolution, the rudiments of brain research), Claxton's book feels dated and fussy. His metaphors are whimsical, and his repudiation of the speed of the modern age echoes neo-Luddite fears of a computerized world. There is only minor mention of gendered modes of thought, that his "undermind'' corresponds with the nonlinear, intuitive process increasingly associated with women's thinking. The pleasures of the "tortoise mind'' tend to be poetic, very easy to romanticize. Claxton makes a last-minute case for how this mode of thought can be incorporated into the modern workplace, but his heart obviously lies in its abstract beauty.
—From Kirkus
"The essential guide to creative thinking!"
—John Cleese
"Guy Claxton backs up anecdotal studies of creativity with up-to-date Information about the latest research into brain function. The result is a fascinating book that told me many things I ought to know but didn't."
—Anthony Storr, author of Solitude: A Return to Self

Table of Contents
| | | |
| --- | --- | --- |
| | Acknowledgements | |
| | List of Figures | |
| 1 | The Speed of Thought | 1 |
| 2 | Basic Intelligence: Learning by Osmosis | 15 |
| 3 | Premature Articulation: How Thinking Gets in the Way of Learning | 28 |
| 4 | Knowing More than We Think: Intuition and Creativity | 48 |
| 5 | Having an Idea: the Gentle Art of Mental Gestation | 68 |
| 6 | Thinking Too Much? Reason and Intuition as Antagonists and Allies | 85 |
| 7 | Perception without Consciousness | 100 |
| 8 | Self-Consciousness | 116 |
| 9 | The Brains behind the Operation | 133 |
| 10 | The Point of Consciousness | 148 |
| 11 | Paying Attention | 164 |
| 12 | The Rudiments of Wisdom | 188 |
| 13 | The Undermind Society: Putting the Tortoise to Work | 201 |
| | Notes | 227 |
| | Index | 249 |

Find Items On Similar Subjects

The Art of Thinking