Rich Dad's Guide to Investing
: What the Rich Invest in That the Poor and Middle Class Do Not!
Robert T. Kiyosaki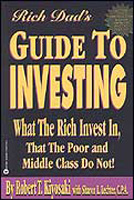 Format:
Paperback, 471pp.
ISBN:
9781612680200
Publisher:
Plata Publishing
Pub. Date:
April 3, 2012
Average Customer Review:

For Bulk Orders Call: 626-441-2024

Description and Reviews
From
The Publisher:
The rich get richer. The poor get poorer.
Robert Kiyosaki reveals the secrets of how the wealthiest Americans become even wealthier, and how ALL Americans can learn how to benefit from some simple investing secrets—merely by knowing where and how to invest their money.
We've all heard that complaint many times before. But finally, that long standing monetary tradition has been shattered, as Kiyosaki explains how even the smallest investor can start benefitting from the investing patterns of the richest folks.
Robert Kiyosaki knows all this first hand. There was a time in the 1980s when he and his wife, Kim, were so cash poor that they were forced to sleep in their car. Today, however, the Kiyosakis are multi-millionaires, and are considered highly sophisticated investors.
Based upon the four tenets of RICH DAD, POOR DAD (are you an employee, self-employed, business owner, or an investor?) the INVESTING GUIDE explains the nuts-and-bolts approach to understanding the real earning power of money, and how you can start cashing today. Along the way, Kiyosaki explains how he's invested his monies as his own wealth has grown over the years.

About the Authors
Born and raised in Hawaii,
Robert T. Kiyosaki
co-founded an international education company that operated in seven countries, teaching business to tens of thousands of graduates. Now retired, Robert does what he enjoys most...investing. Concerned about the growing gap between the haves and have nots, Robert created the board game CASHFLOW, which teaches the game of money, here before only known by the rich.
Sharon L. Lechter
is a wife and mother of three, CPA, consultant to the toy and publishing industries and business owner. As co-oauthor of RICH DAD, POOR DAD and THE CASHFLOW QUADRANT, she now focuses her efforts in helping to create educational tools for anyone interested in bettering their own financial education.

Find Items On Similar Subjects

Rich Dad, Poor Dad
: What the Rich Teach Their Kids about Money—That the Poor and Middle Class Do Not!

The Richest Man In Babylon

Rich Dad's Rich Kid, Smart Kid
: Giving Your Children a Financial Headstart