The Richest Man in Babylon
George S. Clason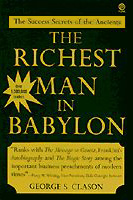 Format:
Paperback, 158pp.
ISBN:
9780452267251
Publisher:
New American Library
Pub. Date:
May 1991
Average Customer Review:

For Bulk Orders Call: 626-441-2024
Description and Reviews
From
The Publisher:
This book holds the secrets to acquiring money, keeping money, and making money earn more money.
Millions of readers have become familiar with George S. Clason's famous "Babylonian parables" through the distribution of these success secrets of the ancients by banks, insurance companies, investment houses and employers. Acclaimed as the greatest of all inspirational works on the subject of thrift and financial planning, these fascinating and informative stories have become a modern classic in their field.

In language as simple as that of the Bible, this book presents a sure path to prosperity and happiness. It offers an understanding of—and a solution to—your personal financial problems which will guide you successfully through a lifetime. The Richest Man in Babylon is a book you will want to read yourself, recommend to friends, and give to young people just starting out in life.





Reader's Index

Send us your favorite quotes or passages from this book.

• "Where the determination is, the way can be found" Pg. 105 Submitted by: Kimberly Campbell from Suitland, MD




Table of Contents


| | | |
| --- | --- | --- |
| | | |
| | Foreword | 7 |
| | | |
| | The Man Who Desired Gold | 13 |
| | The Richest Man In Babylon | 21 |
| | Seven Cures for a Lean Purse | 34 |
| | Meet the Goddess of Good Luck | 55 |
| | The Five Laws of Gold | 71 |
| | The Gold Lender of Babylon | 86 |
| | The Walls of Babylon | 101 |
| | The Camel Trader of Babylon | 106 |
| | The Clay Tablets from Babylon | 118 |
| | The Luckiest Man in Babylon | 132 |
| | | |
| | An Historical Sketch of Babylon | 152 |

Customer Reviews
Write your own online review
.

The Richest Man In Babylon
July 10, 2006
Reviewer: Mathias Olsson from Sweden
The Richest Man In Babylon should be a obligated read in school. It teaches the fundamentals behind getting wealthy.
Many people hides behind the words "I don´t earn enough", "I can´t do that" etc etc. Thoose words can´t be held after reading this book. You don´t have any excuse anymore. Keep a part of what you earn and invest it wisely. Simple and clear. But easy isn´t the right word. It will take a while before you learn the wise part. But every game needs a learning section does it not?
The best book ever in wealth creation for the ordinary man.

You Can Become Rich On What You Now Earn
June 14, 2005
Reviewer: Harvey L. Gardner from White House, TN USA
The best advice is often free. The solutions to life's toughest problems are often the most simple. They're not easy, but they are simple. Perhaps that is why the best advice too often is ignored. It's just too simple to be believable.
The advice offered by "The Richest Man In Babylon" is so simple that it most often is ignored. Yet it reveals the only reliable secret to obtaining wealth. It is a simple (and safe) secret for obtaining riches. It is hard to execute, but it is unfailing. The title of the book is taken for one of a collection of parables in the volume. All are pregnant with practical wisdom. All will work. Read "The Richest Man In Babylon" to place yourself on the one true road to riches.
As an investment advisor for nearly 30 years, I've never known any other method of obtaining wealth that is availble to anybody who earns a paycheck. But it is universally ignored. If you read this book, and heed it's advice, you will become rich, and you can do it starting right now, in your present job. Buy the book. Read it. Insist that your children, and their children, read it. It will be like teaching them to dig in a vein of pure gold.

Find Items On Similar Subjects

The Automatic Millionaire
: A Powerful One-Step Plan to Live and Finish Rich

Rich Dad, Poor Dad
: What the Rich Teach Their Kids about Money—That the Poor and Middle Class Do Not!

Rich Dad's Guide to Investing
: What the Rich Invest In that the Poor and Middle Class Do Not!

Rich Dad's Rich Kid, Smart Kid
: Giving Your Children a Financial Headstart