The Other 90%
: How to Unlock Your Vast Untapped Potential for Leadership and Life
Robert K. Cooper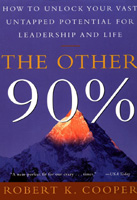 Format:
Paperback, 336pp.
ISBN:
9780609808801
Publisher:
Three Rivers Press
Pub. Date:
October 2002<
Average Customer Review:

For Bulk Orders Call: 626-441-2024

Description and Reviews
From
The Publisher:
For centuries, it has been assumed that there are vast limits to human capacity. Now, although a host of scientific discoveries prove this wrong, a mindset of limits persists, blocking us from our greatest possibilities and leaving us feeling bombarded by stress, change, and uncertainty. No matter how hard we work, no matter how much we give, we're still not getting what we hoped for. There is another way.
Dr. Robert Cooper, a neuroscience pioneer and leadership advisor, urges us to take a radically different view of human capacity. We are mostly unused potential, he says, employing less than 10 percent of our brilliance or hidden talents. In easy-to-follow steps, he explains how to develop and apply the art and science of your hidden capacity.
The art is the motivation and inspiration coming from the wonderful stories that are the heart of The Other 90%. Dr. Cooper draws on his wide-ranging insights and experiences to show how it's possible to make a difference in yourself and others.
However, inspiration without a way to turn vision into reality is an empty vessel. Combining art with science, Dr. Cooper provides extraordinary help in the form of specific, little-known practical ways to use the latest research in neuroscience, performance psychology, and work physiology for excelling in a pressure-filled world. He shows you how to:
Increase energy at work—and have more energy for personal and family life.
Activate the brain's "alertness switches" to defeat pressure and stress.
Use not only the brain in your head but the ones in your heart and gut.
Motivate exceptional ingenuity and performance in yourself and others.
The most exciting breakthroughs will not come from advances in technology but from a deeper realization of what it means to be most human and alive. Many of the choices that can dramatically change our lives are simple and practical—yet few people know what these choices are or how to apply them in work and life. The Other 90% is your guide to new territory and new challenges.

Reviews
"A beautifully inspirational and truly insightful leadership book for the digital age!"
—Stephen R. Covey, Ph.D., author of The 7 Habits of Highly Effective People
"A timeless and unforgettable message! Nothing else in the leadership field compares to the emotional intensity and practical value of this book. Share it with everyone you know."
—Ken Blanchard, coauthor of The One Minute Manager
"Every once in a while a book comes along that forever changes our view of what's possible in our daily lives and in the world of work. The Other 90% is that kind of book. Robert Cooper brilliantly upends conventional thinking about human capacity."
—Nancy L. Badore, Ph.D., founding director, Executive Development Center, Ford Motor Company
"Robert Cooper's message can change the future of leadership. . . . When his work was compared to twenty widely recognized leadership experts, Cooper received the highest ratings, including inherent value, usefulness, applicability, and overall results."
—John C. Horton, founder and president, The Leadership Center, Atlanta
"This is a vital wake-up call to find the untapped potential in yourself and others."
—Martha Rogers, Ph.D., coauthor of The One to One Future
"Goes right to the heart of what matters most in leadership and life, with compelling insights from neuroscience, inspiring stories, and practical new tools. This is priority reading for us all!"
—Bob Nelson, Ph.D., author of 1001 Ways to Reward Employees

About the Author
Robert K. Cooper, Ph.D.
, is a faculty member of the "Lessons in Leadership Distinguished Speaker Series." Called a "national treasure" by Professor Michael Ray of the Stanford Business School, Dr. Cooper is recognized for his pioneering work on excelling under pressure and the neuroscience of trust, initiative, and commitment. He has designed and presented leadership development programs for many organizations, including Arthur Andersen, 3M, Ford, Sun Microsystems, Novartis, and Allstate.

Table of Contents
Introduction: My Grandfather's Challenge
xi
First Keystone:
TRUST
1
Second Keystone:
ENERGY
63
Third Keystone:
FARSIGHTEDNESS
133
Fourth Keystone:
NERVE
195
Acknowledgements
275
Notes
279
Index
307

Find Items On Similar Subjects

Get Out of Your Own Way
: The 5 Keys to Surpassing Everyone's Expectations

Executive EQ
: Emotional Intelligence in Leadership and Organization

Emotional Intelligence