Why CEOs Fail
: The 11 Deadly Sins and How NOT to Commit Them
David L. Dotlich and Peter C. Cairo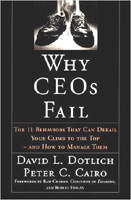 Format:
Hardcover, 200pp.
ISBN:
9780787967635
Publisher:
Jossey-Bass
Pub. Date:
April 2003
Average Customer Review:


For Bulk Orders Call: 626-441-2024

Description and Reviews
From
The Publisher:
If any of the following behaviors sound like you or someone you work with, beware! In Why CEOs Fail, David L. Dotlich and Peter C. Cairo describe the most common characteristics of derailed top executives and how you can avoid them:
Arrogance— you think that you're right, and everyone else is wrong.
Melodrama— you need to be the center of attention.
Volatility— you're subject to mood swings.
Excessive Caution— you're afraid to make decisions.
Habitual Distrust— you focus on the negatives.
Aloofness — you're disengaged and disconnected.
Mischievousness— you believe that rules are made to be broken.
Eccentricity— you try to be different just for the sake of it.
Passive Resistance— what you say is not what you really believe.
Perfectionism— you get the little things right and the big things wrong.
Eagerness to Please— you try to win the popularity contest.
It is risky to be CEO of a corporation today. The average tenure of CEOs in major companies is growing increasingly short. The news media is filled with stories of "fallen idols." CEOs have gone from the lists of "most admired" to those of "least trusted." What happens when such clearly talented leaders also make poor decisions, alienate key people, miss opportunities, and ignore obvious trends and developments? What lessons can everyday leaders who aspire to be effective and move up an organization learn from the failures of those at the top?
Written by David L. Dotlich and Peter C. Cairo, two of the country's top executive coaches, educators, and authors,
Why CEOs Fail
shows that even the best leaders can sabotage their own success by succumbing to certain flawed behaviors that are often closely tied to the factors that make for success. More important, the authors reveal how leaders at every level can become aware of their own negative behaviors and take steps to control them.
Drawing on research and real stories based on their experience in educating and coaching thousands of leaders around the world, Dotlich and Cairo describe eleven derailers that can impact judgment and lead to business and career problems, even failure. The authors show how leaders who aspire to be successful can learn to identify the "shadow side" of their personality and take steps to control their impulses and increase their effectiveness and impact. Using a variety of tools and techniques based on their experience in coaching CEOs and senior executives, the authors provide specific steps to help individuals identify their own derailers and simple, practical methods that leaders can use to manage themselves effectively.

About the Authors
David L. Dotlich, PhD
(Portland, OR), a former executive vice president of Honeywell and Groupe Bull, is an executive coach and partner in CDR International specializing in leadership development. He has advised and coached senior executives at companies such as Johnson & Johnson, Bank of America, Merck, McDonald's, Sprint, and Novartis.
Peter C. Cairo, PhD
(New York, NY) is a partner in CDR International specializing in leadership development, executive coaching, and organizational effectiveness. His clients include Lilly, Avon, and Colgate Palmolive.

Find Items On Similar Subjects

Why Smart Executives Fail
: And What You Can Learn from Their Mistakes

Head, Heart and Guts
: How the World's Best Companies Develop Complete Leaders

Leading in Times of Crisis
: Navigating Through Complexity, Diversity and Uncertainty to Save Your Business