Why Smart Executives Fail
: And What You Can Learn from Their Mistakes
Sydney Finkelstein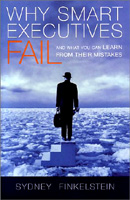 Format:
Paperback, 336pp.
ISBN:
9781591840459
Publisher:
Portfolio Trade
Pub. Date:
May 25, 2004
Average Customer Review:

For Bulk Orders Call: 626-441-2024

Description and Reviews
From
The Publisher:
A definitive study of executive failures-why they happen and how to prevent them.
There's a scenario that keeps repeating itself in today's business climate. A company is voted one of the most admired in the world. Then three or four years later, it's in dire financial trouble. A CEO is celebrated on the covers of BusinessWeek, Forbes, and Fortune. Soon after, the company is in the midst of a disastrous merger or some other fiasco.
What goes wrong in these cases? Usually it seems that the top management made some incredibly stupid mistake. But the people responsible are almost always remarkably intelligent and usually have terrific track records. Even more puzzling than the fact that brilliant managers can make bad mistakes is the way they so often magnify the damage. Once a company has made a bad misstep, it often seems as though it can't do anything right. How does this happen? Instead of rectifying their mistakes, why do business leaders regularly make them worse?
To answer these questions, Sydney Finkelstein has carried out the largest research program ever devoted to business breakdowns. In Why Smart Executives Fail, he uncovers-with startling clarity and unassailable documentation-the causes regularly responsible for major business breakdowns. Why Smart Executives Fail relates the stories of great business disasters and demonstrates that there are specific, identifiable ways in which many businesses regularly make themselves vulnerable to failure. The result is a truly indispensable, practical, must-read book that explains the mechanics of executive breakdowns, how to avoid them, and what to do about them if they happen.

About the Author
Sydney Finkelstein
is a professor of strategy and leadership at Dartmouth's Tuck School of Business. His writing has appeared in the
Harvard Business Review
and other business journals.

Table of Contents
Contents
1
Why Smart Executives Fail
What Can Studying Failure Tell You?
PART I. GREAT CORPORATE MISTAKES
2
New Business Breakdowns
Stories of New Ventures that Don't Work...and Why
3
Innovation and Change
Choosing Not To Cope
4
Mergers & Acquisitions
The Search for Synergy, the Quest for Integration
5
Strategy Gone Bad: Doing the Wrong Thing
Why Strategists Misread Competitors and Select "Irrational" Strategies
PART II. THE CAUSES OF FAILURE
6
Brilliantly Fulfilling the Wrong Vision
How Executive Mindset Failures Push Business to the Brink...and Beyond
7
Delusions of a Dream Company
How Executives Avoid Facing Reality
8
Tracking Down the Lost Signals
Why Businesses Don't Act on Vital Information
9
Seven Habits of Spectacularly Unsuccessful People
The Personal Qualities of Leaders Who Preside Over Major Business Failures
Part III. LEARNING FROM MISTAKES
10
Predicting The Future
The Early Warning Signs
11
How Smart Executives Learn
Living—and Surviving—in a World of Mistakes

Find Items On Similar Subjects

Why CEOs Fail
: The 11 Deadly Sins and How NOT to Commit Them