Why Don't You Want What I Want?
How to Win Support for Your Ideas without Hard Sell, Manipulation, or Power Plays
Rick Maurer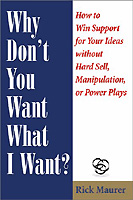 Format:
Paperback, 224pp.
ISBN:
9781885167569
Publisher:
Bard Press
Pub. Date:
April 2002
Average Customer Review:

For Bulk Orders Call: 626-441-2024

Description and Reviews
From
The Publisher:
In
Why Don't You Want What I Want?
Rick Maurer introduces you to a high integrity process that enables you and the other person to create outcomes you both fully support. Without the old-style hard sell, manipulation, and power plays, he shows you how to turn resistance into support and use 6 principles of engagement to help you persuade while you build relationships and get your ideas into action.
Drawing on theory and practice from psychology, management, theater, mediation, principled negotiation, and the philosophy of Martin Buber, Rick offers a powerful book that will enable you to build bridges and get results.
Why Don't You Want What I Want? opens with the major reasons why we get opposition instead of agreement. First, we get out ahead of others in our thinking – making it difficult for anyone to get on board our fast moving train. Second, we fail to take the other person's wishes into account. Maurer suggests that we may get so enamored with our ideas that we run the risk of losing sight of the other person.
To avoid these pitfalls, we need to pay attention to three things: the idea itself, the emotional reaction to it, and the other person's confidence in us. All three need to be in place for our idea to take hold. People need to understand the idea, get excited about it and trust that we are the one to get the job done.
If any of these are missing, resistance occurs. People might say, "I don't get it," "I don't like it," or "I don't like you." Being able to spot where any (or all) of these issues are in play is essential if we ever hope to turn opposition into agreement.
The book provides examples and things to look for to enable you to spot which of the three levels of resistance is occurring and what to do about it.
The heart of the book explores six principles of engagement: these show you how to keep the idea, the reaction to it, and your relationship with the other person in mind. These principles are not steps, but work together. Maurer's use of stories and examples helps anchor the practical application of these principles.
The principles are:
Know your intent
Consider the context.
Avoid knee jerk reactions. This may be the chapter you go back to time and again. Knee jerk reactions are those involuntary actions we take when someone opposes our idea, and knee jerks usually make matters worse. Maurer shows you how to recognize your own knee-jerk reactions, how to avoid them – and how to stop yourself in the middle of a jerk.
Pay Attention
Explore Deeply
Find Ways to Connect
The book also includes short interviews with a diverse group of experts on influence such as the actor Alan Alda who says that actors (and the rest of us) need to listen with a willingness to be changed. Senator George Mitchell discusses how he remained calm in the face of intense pressure when he was a Chair of the Northern Ireland Peace Process.

Reviews
"Rick Maurer presents a practical guide for anyone who wants to build support for new ideas quickly. He reminds readers that agreements and successful changes start with solid relationships — essential in conducting business with integrity. A succinct, useful and common-sense approach."
—John W. Loose CEO, Corning
"Rick's book gives leaders great examples, workable tools, and clear explanations of what works and what doesn't work when presenting ideas. It will help you to influence, in a positive way, a diverse group of stakeholders inside and outside your organization."
—Jolene Tornabeni Executive Vice Presdent/COO Inova Health System
"Tired of beating your head against a wall? Rick makes a persuasive argument that in our excitement over our own ideas, we forget about the other person, and that's what causes most of the problems. I think he's right. His book offers practical advice on ways to build support for our ideas."
—Gloria Barajas Manager, Training and Organization Development National Education Association
"Maurer gets it right. One of the best ways to reward and energize people is to pay attention to their ideas and concerns. This book shows you how to advance your own ideas while incorporating the best thinking of others."
—Bob Nelson author 1001 Ways to Reward Employees and Please Don't Just Do What I Tell You, Do What Needs to Be Done

About the Author
Rick Maurer
works with leaders who want to accelerate the implementation of major changes - and with people who need to build commitment to those changes. Rick Maurer consults to the leaders in organizations and their teams on how to implement change while paying attention to people. He offers tools to handle change effectively. His books, Building Capacity for Change Sourcebook, Beyond the Wall of Resistance, Caught in the Middle, and The Feedback Toolkit, offer practical tools that enable people to improve management practices. John W. Loose, CEO, Corning, Inc. said "Beyond the Wall of Resistance, captures the primary impediment to successful reengineering implementation - employee resistance to changing from old ways to new ways. It is a practical guide on how to turn a resisting organization into one that actively embraces change." Rick's articles on change and management have appeared in numerous magazines, trade publications and professional journals. Since publication of Beyond the Wall of Resistance, he has appeared on CNBC, NBC Nightly News, and been interviewed by The Wall Street Journal, Fortune, USA Today and IndustryWeek Magazine.

Find Items On Similar Subjects

Influence
: The Psychology of Persuasion

Business