The Phoenix Effect
: 9 Revitalizing Strategies No Business Can Do Without
Carter Pate and Harlan Platt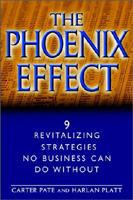 Format:
Hardcover, 256pp.
ISBN:
9780471062622
Publisher:
John Wiley & Sons
Pub. Date:
February 2002
Average Customer Review:

For Bulk Orders Call: 626-441-2024

Description and Reviews
From
The Publisher:
In this unpredictable economy,
The Phoenix Effect: 9 Revitalizing Strategies No Business Can Do Without
provides practical, strategic options to improve a struggling business or to further strengthen a healthy business. Carter Pate, a renewal specialist at PricewaterhouseCoopers, and Harlan Platt, a renowned professor of business and finance at Northeastern University, collaborate here to provide these essential strategies in accessible, highly actionable messages.
Full of insights and recommendations culled from the authors' work in rehabilitating a number of well-known companies,
The Phoenix Effect
defines the business strategies that can dramatically boost a company's performance and guides managers on how to become true leaders even in the most challenging of times. Whether your company needs a tune-up, a turnaround, or a crisis action plan, these nine pivotal concepts offer the direction and knowledge to help virtually any business not only live up to its mission statement, but thrive in it.
The Phoenix Effect
prepares business leaders for the challenges ahead. It will help guide your decision-making–when to stay in the same business, when to withdraw from one or more aspects of a business, and when to expand. Relevant case studies of successes and failures are provided to highlight the real-world effectiveness of each technique.
Why one company grows and another falters is a question with as many answers as there are businesses. Encompassing them all, however, are nine highly distilled strategies critical to business prosperity:
Identifying the precise business problems you're facing
Determining the scope of your market
Orienting your business to differentiate your products from others
Managing the scale of your operation
Handling your debt
Maximizing your assets
Managing your employees
Maximizing your products
Finding more efficient methods in the process
It takes a strong leader to hone the focus of a company and direct it toward prosperity. It takes a visionary leader to impact the seemingly well-running processes of a successful company to make it flourish even more. All too often, appropriate actions to improve organizations are overlooked because people at the helm either aren't aware of the seriousness of the issues they face or they don't know where to turn for accurate information to best address their concerns. This book offers concrete, practical techniques that leaders can use to confront, comprehend, and conquer a company's ills.
The Phoenix Effect
presents proven strategies and varied perspectives on how managers can significantly improve–even save–their companies. By constantly examining real-time data in conjunction with the authors' streamlined methodologies, the leaders of both strong and highly challenged companies can set realistic goals and achieve them. Whether your company currently dominates its market but has competition at its heels, has serious problems in need of immediate solutions, or faces potential demise, the nine strategies detailed in
The Phoenix Effect
will provide the insight to not only maintain your business, but to help it prosper.

Reviews
"..it offers good wholesome advice.."
—Financial Times, 13 February 2002

About the Authors
Carter Pate
is a world-renowned turnaround expert at Pricewaterhouse-Coopers with more than twenty years of experience providing strategic consulting and implementation strategies. He has served as both CEO and chairman of several public companies, and was a founding partner of Pate, Winters & Stone, a national consulting firm. He lives in Dallas.
Harlan Platt
is a Professor in the Finance and Insurance Group at Northeastern University College of Business Administration. His major research and consulting interests include corporate bankruptcy and crisis management. He assists companies, including those on the NYSE, Nasdaq, and Irish Stock Exchanges, by serving on their boards of directors. He lives in Boston.

Table of Contents
| | | |
| --- | --- | --- |
| | Acknowledgments | vii |
| | Introduction | xi |
| 1 | Get to the Point of Pain | 1 |
| 2 | Determine the Scope | 17 |
| 3 | Orient the Business | 45 |
| 4 | Manage Scale | 71 |
| 5 | Handle Debt | 87 |
| 6 | Get the Most from Assets | 113 |
| 7 | Get the Most from Employees | 135 |
| 8 | Get the Most from Products | 159 |
| 9 | Produce the Product | 187 |
| 10 | Change the Process | 207 |
| | Epilogue | 227 |
| | Sources and Suggested Reading | 229 |
| | Index | 239 |

Find Items On Similar Subjects

Doing What Matters
: How to Get Results That Make a Difference - The Revolutionary Old-School Approach