Leading at the Speed of Growth
: Journey from Entrepreneur to CEO
Katherine Catlin & Jana Matthews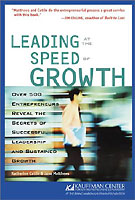 Format:
Hardcover, 220pp.
ISBN:
9780764553660
Publisher:
Hungry Minds, Inc.
Pub. Date:
May 2001
Average Customer Review:

For Bulk Orders Call: 626-441-2024

Description and Reviews
From
The Publisher:
Learn how to take your company to the next level of growth through the stories of over 500 successful entrepreneurs. Developed by the Kauffman Center for Entrepreneurial Leadership, this flagship book introduces a new series on managing growth. The authors expertly guide you through the three stages of entrepreneurial growth: initial growth, rapid growth, and continuous growth. Personal stories told by successful entrepreneurs reveal the hows and whys of evolving as a leader at each stage, identifying red flags, vital signs, and secrets of sustained growth. Become a dynamic leader by using this book as your roadmap to entrepreneurial success.
"The ultimate road guide for current and aspiring high-growth entrepreneurs." —Mark D. Gordon, CEO, Synergy Networks, Inc.
For every Bill Gates or Michael Dell, there are hundreds of entrepreneurs who fail to lead their companies from promising start-up to dominant industry player. How do you avoid getting tripped up—and keep your company on the road to success? This book provides the answers. Drawing on the resources of the Kauffman Center for Entrepreneurial Leadership as well as insights from more than 500 successful entrepreneurs, authors Katherine Catlin and Jana Matthews guide you through the three stages of entrepreneurial growth—and explain how you must evolve as a leader at each stage to ensure continuing success:
Initial Growth, the first stage after Start-up, when you need to change from a Doer and a Decision Maker to a Delegator and Direction Setter
Rapid Growth, the stage when you strive to become a market leader—and need to change yourself into a Team Builder, a Coach, a Planner, and a Communicator
Continuous Growth, the stage when you need to explore new avenues for growth—and transform yourself into a Change Catalyst, an Organization Builder, a Strategic Innovator, and the Chief of Culture
Interspersing incisive anecdotes and observations from successful CEOs, Catlin and Matthews show you how to navigate each stage of growth successfully. They identify the "red flags" that indicate that it's time to change your leadership style. They describe the personal changes you need to make and pinpoint the dangers that come with inaction. And they explain in detail what each new leadership role means— and how it will help take your company to the next level.

Reviews
Matthews and Catlin do the entrepreneurial process a great service with this book. Their single greatest contribution is the very idea that an entrepreneur can evolve through predictable stages to become a superb manager, leader and company builder.
—Jim Collins, co-author of Built to Last
This book is to entrepreneurial leadership what Geoff Moore's Crossing the Chasm was to high tech marketing.
—Tom Byers, Director, Stanford Technology Ventures Program, Stanford University

About the Authors
Katherine Catlin
has helped CEOs and their executive teams manage the challenges of fast-paced growth for the past 15 years. Founding partner of The Catlin Group, a consulting firm in Hingham, MA that works with entrepreneurial companies nationwide, she created and leads High Growth CEO Forums where CEOs regularly meet to exchange ideas, challenges, and best practices for growth. Catlin also developed Building the Profit Spiral™, a proven growth planning process that enables CEOs to avoid typical pitfalls, define winning strategies, build a cohesive management team, and gain company-wide commitment to growth goals. Her firm established a website for CEOs, ceoexchange.com, that provides ideas and information on growth issues.
Jana Matthews
left her own company in 1993 and joined the Kauffman Center for Entrepreneurial Leadership to research, design, and develop programs that would help entrepreneurs grow their companies. Working with the Young Entrepreneurs' Organization (YEO) and other successful entrepreneurs, she and her team created CD-ROMs, Kauffman Gatherings of Entrepreneurs, materials for entreworld.org, and Web-casts. Author of several books, Matthews has founded three companies, including Boulder Quantum Ventures. In her spare time she fly-fishes in New Zealand.

Table of Contents
| | | |
| --- | --- | --- |
| | List of Illustrations | xv |
| | Foreword | xvii |
| | Acknowledgements | xv |
| 1 | The Challenge of Growth | 3 |
| 2 | Initial Growth | 13 |
| 3 | Rapid Growth | 33 |
| 4 | Continuous Growth | 71 |
| 5 | Keeping it all in Perspective | 115 |
| | Index | 129 |

Find Items On Similar Subjects

Built to Last
: Successful Habits of Visionary Companies